Lauren Bacall: Sultry film-noir legend who taught Humphrey Bogart how to whistle and starred with Monroe and Grable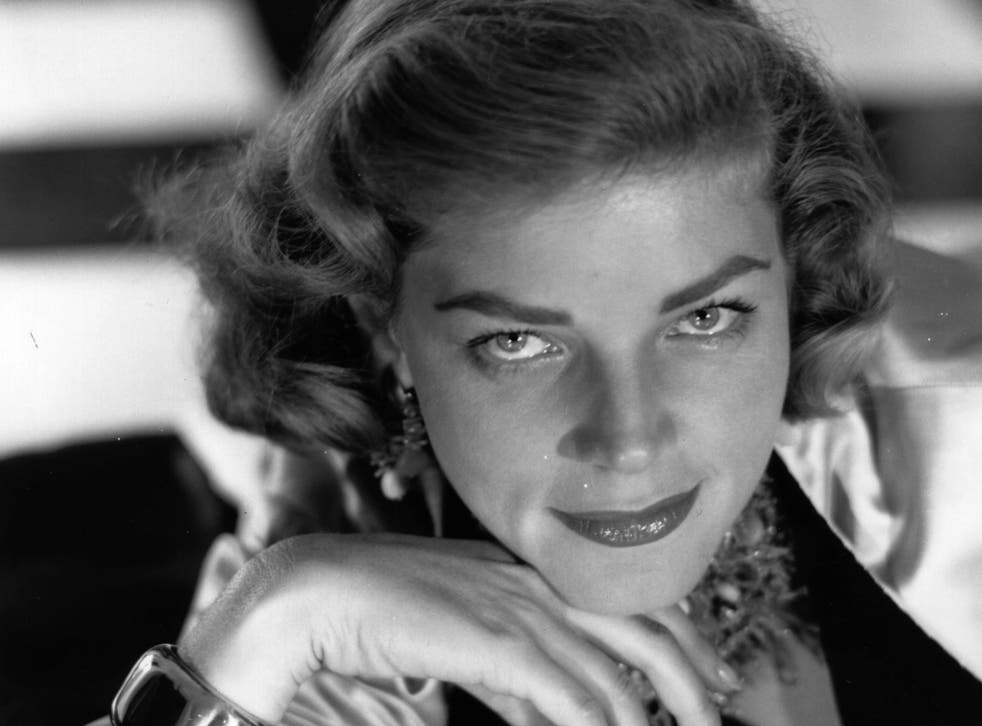 One of the cinema's greatest sirens, Lauren Bacall will be forever remembered as the sultry young actress who made a startling impact with her first film, To Have and Have Not (1944), in which her opening line was a provocative "Anyone got a match?" Later she appears in the open doorway of Humphrey Bogart's hotel room to huskily inform him, "You know, Steve, that if you want me all you have to do is whistle. You know how to do that, don't you? You just put your lips together and blow." Bogart married her just after the film's completion, and she became known (with some resentment on her part) as "Bogie's Baby".
Bacall was a new type of screen heroine, able to be on equal terms with tough-guy Bogart, and the sparring of the pair had audiences enthralled. To Have and Have Not, loosely based on the Hemingway novel, was produced and directed by Howard Hawks, who liked his films to have resilient heroines, but none had captured the combination of independence, insolence and sheer allure of Bacall.
She revealed later that her intense nervousness at acting with Bogart caused her to press her chin against her chest to hide her shaking, raising her eyes as she spoke and creating what studio publicists dubbed "The Look".
She made three further films with Bogart, notably the classic thriller, The Big Sleep (1946), and her other films included How to Marry a Millionaire (1953), Northwest Frontier (1960) and Murder on the Orient Express (1974). Bogart died in 1957, and many years later Bacall stated, "In my eleven years as his wife, I knew the greatest happiness of my life. I have never known that quality of pure happiness since."
She married once more – a stormy liaison with actor Jason Robards Jr– and had affairs with Frank Sinatra and several of her leading men (plus an alleged relationship with Adlai Stevenson).
Professionally, she had enormous success in the theatre, winning Tony Awards for the comedy Cactus Flower (1965) and the musical, Applause (1970), while personally her vitriolic candour and ambition made her as many enemies as friends. "Ruthless, yes, I admit to that," she said. "But I've got my human, tender side, believe it or not – if people deserve to be shown it."
Bacall was stage-struck from an early age. The daughter of a salesman and a secretary who divorced when she was five, she was born Betty Joan Perske in 1924 in New York City. "Bacal" was part of her mother's Romanian maiden name adopted after the divorce, and Bacall added an extra "l" to clarify its pronunciation.
Having taken dancing classes at the age of three, she took acting tuition on Saturdays while attending high school. Her idol was Bette Davis ("My fifteen-year-old idea of perfection") and after graduation in 1940 she enrolled at the American Academy of Dramatic Arts.
Lauren Bacall life in pictures

Show all 20
She made her Broadway debut with a bit part in Johnny 2 x 4 (1942), an epic portrayal of speakeasy life, which had 75 players. She appeared in all three acts as a customer, and opened the third dancing the jitterbug before taking her place at one of the tables.
It was her photograph on the cover of Harper's Bazaar's January 1943 edition that caught the eye of "Slim" Hawks, the wife of director Howard, and she suggested to her husband that he sign her to a personal contract.
Shortly afterwards, Bacall was on her way to Hollywood and her star-making role in To Have and Have Not. Howard Hawks is reported to have fallen in love with Bacall, but when she and Bogart started an affair he switched his attentions to another newcomer in the film, Dolores Moran, and sold Bacall's contract to Warner Brothers.
Hawks directed Bogart and Bacall again in The Big Sleep, which was completed early in 1945 but with the approaching end of the war it was held up while the studio rush-released films with a war theme.
Audiences therefore next saw Bacall's third film, based on Graham Greene's thriller, Confidential Agent. It was released early in 1945, and critics who had hailed the newcomer now turned on her and were scathing about her portrayal of a British diplomat's daughter. Bacall did not get along with director Herman Shumlin ("much ego and no communication") and later stated that he gave her no guidance ("I didn't know what the hell I was doing").
Meanwhile, Bacall's agent, Charles K Feldman, had seen The Big Sleep and wrote to studio head, Jack Warner, pleading him to make drastic changes, cutting out much talky exposition, building up Bacall's part considerably and giving her scenes with Bogart in which they could spar verbally much as they had in their previous partnership. Warner totally agreed, as did Bogart – provided the new scenes were directed by Hawks.
The most notorious of the new sequences, in which the couple talk ostensibly about horse-racing, demonstrated how the studios could get risqué material past the censors and has become as famous as the whistling scene in their earlier film. The judicious re-editing and new scenes of Bacall's insolent sparring with her leading man turned a good thriller into a masterwork, and put Bacall back in favour with both public and critics.
Bacall was always a staunch Democrat and an outspoken political campaigner. In 1947 she and Bogart were part of a group called The Committee for the First Amendment that marched on Washington to protest against the methods of the House Un-American Committee, though Bogart later recanted (something he was not proud of).
Bogart and Bacall made two more films together. Dark Passage (1947), was a moderately effective thriller which did not show Bogart's face until halfway through the film, when his character has plastic surgery to transform his features. Key Largo (1949), based on Maxwell Anderson's play about a notorious gangster holed up in a hurricane-swept hotel, benefited from a fine cast which included Edward G Robinson, Claire Trevor and Lionel Barrymore, with Bacall holding her own as a spiky war widow, anxious to hear from veteran Bogart about her husband's last hours.
One of her best roles was as the vindictively jealous wife of jazz trumpeter, Kirk Douglas, in Young Man With a Horn (1950), inspired by the life of Bix Beiderbecke, but she frequently went on suspension for refusing film scripts she found weak, including Storm Warning and The Girl from Jones Beach, and she was happy when her contract expired.
20th Century-Fox then gave her a good role starring with Betty Grable and Marilyn Monroe in the comedy, How to Marry a Millionaire (1953). As one of three fortune-hunting ladies, she got on well with both her co-stars, and critic Otis L Guernsey wrote, "Tall and commanding, she is the brains of the outfit. The script gives her all the brightest sarcasms and she handles them smartly."
Her husband was an executive competing for a top job in the glossy Woman's World (1954) and she was a therapist having an affair with a married doctor in a mental clinic in the over-heated melodrama, The Cobweb (1955).
She co-starred with John Wayne in Blood Alley (1955), Rock Hudson in Written on the Wind (1955) and, at the urging of Bogart, who was dying, she accepted a comedy role with Gregory Peck in Designing Woman (1957).
After Bogart's death, she made The Gift of Love (1959), an ill-advised remake of the lachrymose hit, Sentimental Journey.
Frank Sinatra, who had been one of Bogart's best friends and a comfort to Bacall, eventually became her lover, but the relationship ended when he angered her by talking about possible marriage on a broadcast.
In 1961, she married actor Jason Robards Jr, but the union was volatile and ended after 12 stormy years, during which Bacall carved a new career as a star of the theatre.
In 1959 she had a personal triumph co-starring with Sydney Chaplin in George Axelrod's comedy, Goodbye Charlie, and she had another comedy hit with Cactus Flower (1965), though she was disappointed when the film version went to Ingrid Bergman.
In 1970 she won the Tony Award for Applause, a musical version of All About Eve, playing tempestuous actress Margo Channing, a role created by her idol, Bette Davis. Her show-stopping numbers included "Who's That Girl?", in which she mocked the younger version of herself being displayed on television's late show ("Who's that girl with the cute shoulder pads, Could it be that long ago?").
A later musical, Woman of the Year (1981), was based on the vintage film starring Spencer Tracy and Katharine Hepburn, but though it had a respectable run, its score by Kander and Ebb was patchy and the show was never produced in the UK.
Bacall's infrequent movie roles included Harper (1966), with Paul Newman as the titular private-eye, the all-star Murder on the Orient Express (1974) and The Shootist (1976), with John Wayne.
In 1985 she appeared in a London production of Tennessee Williams' Sweet Bird of Youth. She received her first and only Oscar nomination in 1996 for her uncompromising portrayal of Barbra Streisand's monstrous mother in The Mirror Has Two Faces. Though she lost, she was awarded a Lifetime Achievement Award in 2009. This year she provided a voice for Family Guy.
Throughout her life, she tried to achieve recognition as an actress rather than a film star or the widow of Humphrey Bogart, but recently confessed that she knew it could never happen. The vision that will persist will be of the sultry, husky-voiced seductress who, after kissing Bogart with little response, tries again more effectively, and comments, "It's even better when you help."
Tom Vallance
Lauren Bacall (Betty Joan Perske), actress: born New York City 16 September 1924; married first Humphrey Bogart, 1945 (one son, one daughter); second Jason Robards Jr, 1962 (one son, marriage dissolved); died New York City 12 August 2014.
Join our new commenting forum
Join thought-provoking conversations, follow other Independent readers and see their replies