Lee Iacocca: Car executive who launched the Ford Mustang and saved Chrysler
He was the industry's most outsized personality since Henry Ford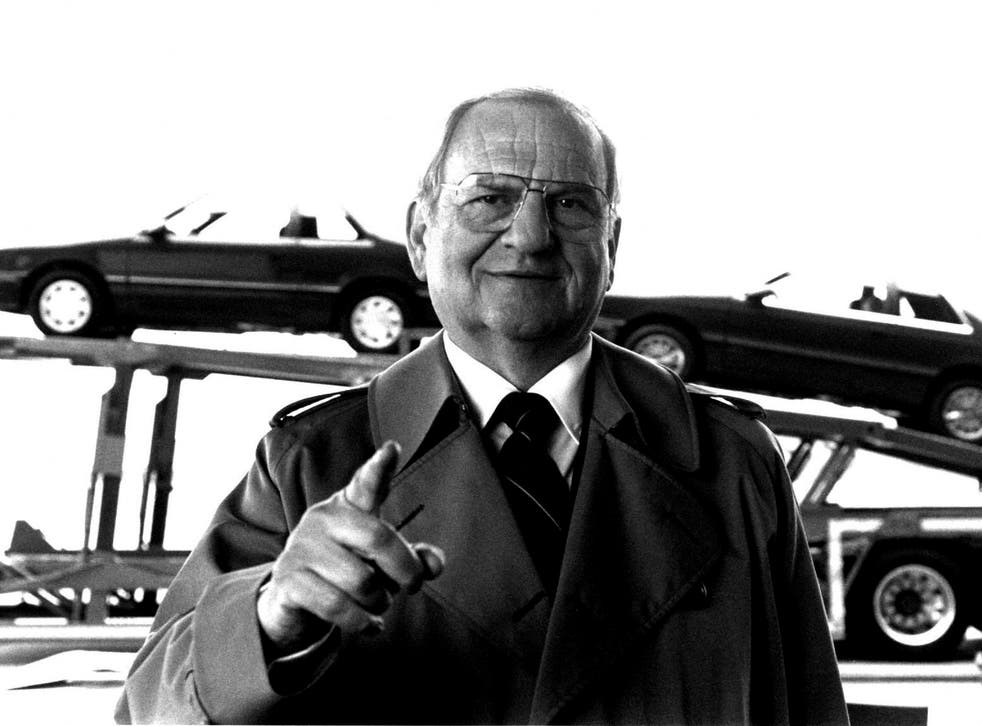 Lee Iacocca had an unusual surname – so much so that, even at the height of his fame, his employees devised a mnemonic to help them spell it right. "I Am Chairman Of Chrysler Corporation Always," it read, and in a sense it was true. More than a decade after he left the company he once so spectacularly rescued from bankruptcy, Iacocca came back in 2005 as a pitchman for a new set of Chrysler ads, as the third largest US car company faced a new fight for its life.
Iacocca, who has died aged 94, was the most outsized personality thrown up by the Detroit car industry since the first Henry Ford invented the Model T. In his mid-1980s heyday he was portrayed as the saviour not only of Chrysler but as the potential rescuer of all American industry from rout at the hands of the then apparently all conquering Japanese. His face graced the cover of Time and Newsweek magazines, and there was serious talk of a run for the presidency. He changed the conventional image of the CEO from a faceless, buttoned-down man in a grey suit to a cigar-chewing, media-loving rock star of the boardroom. Critics saw him as a shameless salesman, of ideas and cars, but above all of himself.
Iacocca was a peerless coiner of the timely quote. As Japan-angst gripped the US, Iacocca wrapped himself in the American flag and asked: "Are we going to be a services power, the double-cheeseburger-hold-the-mayo kings of the whole world?" Iacocca aphorisms like "Management is nothing more than motivating other people," abound to this day in business manuals. Never was there a better model for the American dream than the immigrant's son who broke barriers of class and race to rise to the peak of his chosen profession.
Lee Iacocca's father Nicola arrived from Italy in 1902 and settled in Pennsylvania, where he ran a hot dog business and then set up one of the first US car rental companies. After graduating in engineering, Iacocca joined Ford as an engineering trainee in 1946, before switching to sales. As manager of the company's Philadelphia office, he devised "56 for 56", the first slogan to make him famous – an offer to buyers of a 1956 Ford for 20 per cent down and the rest in monthly instalments of $56 over three years. The wildly successful scheme brought him to the notice of Ford's top management. Iacocca went to head office in Detroit, and by 1960 he became vice-president and general manager of the Ford division, the company's most important unit.
Four years later he launched the Mustang, a brilliantly designed sports car tailored for a youthful market. The car was a smash hit and Iacocca's reputation was made. By 1970 he was president of the entire group, but even Ford was not large enough to accommodate two personalities the size of Iacocca and the autocratic Henry Ford II, chair and son of the company's founder. In 1978 Iacocca was sacked.
But there was no lack of suitors. Within five months, Iacocca had become president of struggling Chrysler, where he would carry out one of the greatest corporate turnarounds in US business history. By slashing costs, selling off profitable but non-core businesses and introducing popular new models, he turned massive losses into a record $2.4bn profit by 1984. In 1979 he persuaded congress to guarantee $1.5bn of loans, arguing that airlines and other industries, where far fewer jobs were at stake, had received similar aid. The bailout was highly controversial, but so successful that the company paid back the loans by 1983, seven years ahead of schedule.
In the process Iacocca became a cult figure. For the first time, a company chair led the advertising campaign for its products, and his line of "If you can find a better car, buy it", became an American catchphrase. Chrysler went from strength to strength, acquiring the much smaller American Motor Corporation and thus adding the highly profitable Jeep marque to its stable.
He was a literary sensation as well, with the 1984 Iacocca: An Autobiography that sold two million copies, unheard of then for a work of nonfiction. As rumours flew of a bid for the White House, he followed up with another bestseller, Talking Straight in 1988. That was never realistically on the cards. But Ronald Reagan understood Iacocca's appeal well enough to name him head of the "blue-ribbon" commission to restore the Statue of Liberty and Ellis Island.
The mid-1980s in retrospect were the highwater mark of Lee Iacocca, corporate titan. He left Chrysler in 1993 to try his hand at various ventures before joining the billionaire investor Kirk Kerkorian in a failed takeover attempt of his old company. The venture sank in a sea of lawsuits. In the bitter aftermath, Iacocca was accused, not for the first time, of greed and egomania.
For a decade thereafter Iacocca lived in what for him passed as obscurity. He devoted himself to his family and throwing his still formidable energies into fundraising for the search for a cure for diabetes – the cause closest to his heart after his first wife Mary died of the disease in 1983. But the ageing warrior was not to leave the stage, as the US automobile industry collectively plunged into the greatest crisis in its history.
Chrysler, now owned by Daimler-Benz of Germany, was looking in 2005 for a pitchman in a new ad campaign as it sought to compete with General Motors' offer to sell its cars at prices hitherto reserved for its own employees.
Support free-thinking journalism and attend Independent events
There was of course only one candidate, even if he was a bit long in the tooth. Under the deal, Iacocca was paid a fee of $1m, plus $1 for every car sold, with the entire proceeds going towards his diabetes initiative. In what surely ranked as the oddest car commercial in history, the industry's most legendary salesman teamed up with the rap superstar Snoop Dogg to extol Chrysler's products. But the slogan had not changed: "If you can find a better car, buy it." He followed this with another book, Where Have All the Leaders Gone (2007). As Iacocca put it: "I flunked my retirement."
His second and third marriages ended in divorce. He is survived by two daughters.
Lido 'Lee' Anthony Iacocca, businessman. Born 15 October 1924, died 2 July 2019
Rupert Cornwell died in 2017
Join our new commenting forum
Join thought-provoking conversations, follow other Independent readers and see their replies