Leo Blair: Barrister who began as a Conservative but followed his son into the Labour Party
Martin Childs
Monday 19 November 2012 01:01 Comments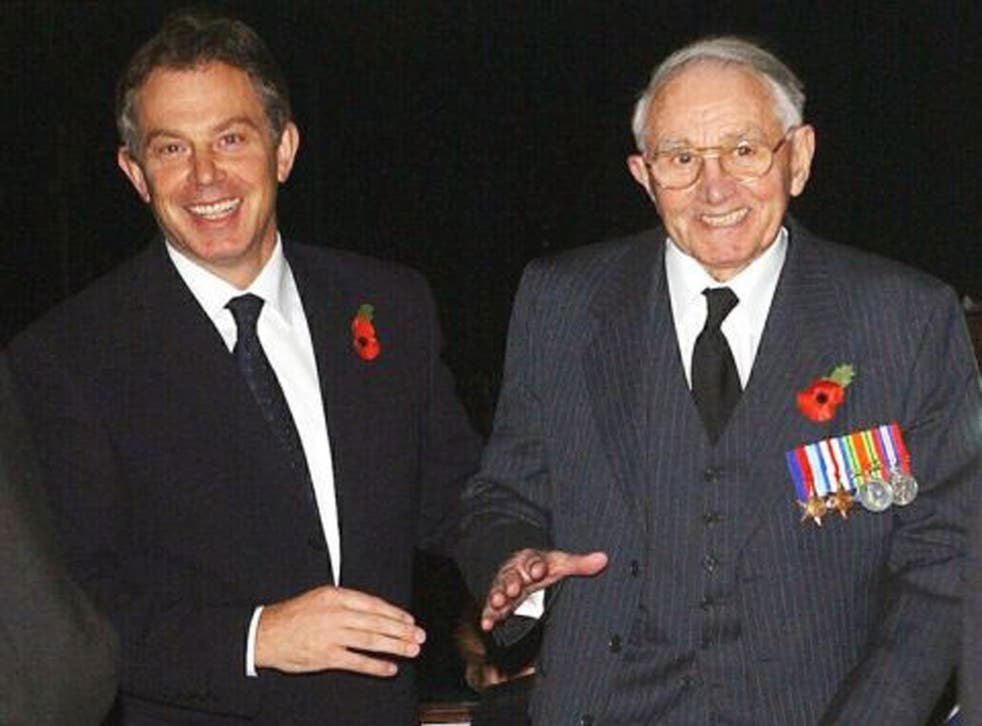 Leo Blair, father of the former Labour Prime Minister Tony Blair, overcame his humble working class beginnings as a foster child in the slums of West Glasgow, and two strokes which ended his fledgling political ambitions, to become a respected and successful barrister.
He epitomised the dogged determinedness shown by many in the inter- and post-war years and was described by his son as "a driven, very ambitious man, a go-getter… a classic working-class Conservative in the Norman Tebbit mould."
Born in 1923 in the coastal town of Filey on the North Sea coast, between Scarborough and Bridlington, North Yorkshire, Leo Charles Augustus Parsons was the illegitimate son of two travelling entertainers, Celia Ridgeway (née Augusta Bridson), a dancer, and Charles Parsons, an actor. His mother, the daughter of a middle class Army officer, had a somewhat chequered background, having been married at 17 with two daughters (Jenefee and Pauline), then re-marrying and divorcing her second husband before conceiving Leo.
The social stigma of having a child out of wedlock, coupled with their hectic lifestyles prompted Leo's parents to give him up for fostering at three months old to James Blair and his wife, Mary, a childless couple they had met while on tour in Glasgow. Although desperately poor, living off 18 shillings a week – about £43 today – the shipyard rigger and his wife, who had had two miscarriages, embraced Leo as their own.
Leo's biological parents remained in contact via a steady flow of letters and photographs, but when he was 13 and they were now married with two daughters, they visited Glasgow in an attempt to take him back with them to London. Mary, however, threatened to commit suicide or barricade herself in the house and Leo resolutely decided to remain with the only mother he knew, "Ma Blair".
While growing up in their Glasgow tenement where up to six families shared a lavatory, Leo witnessed the impact of the post-First World War recession and later the Great Depression, which also led to a rise of radical socialism and the "Red Clydeside" movement. His mother, an ardent Communist, took Leo on left-wing rallies and, upon leaving school, he worked as a copy boy on the Communist Party newspaper the Daily Worker until it was shut down by the wartime Home Secretary, Herbert Morrison; he also joined the Young Communist League, for whom he became secretary from 1938 to 1941, and wanted to become a Communist MP.
In 1942, following a brief stint as a clerk for Glasgow Corporation's Public Assistance Department, Leo enlisted and joined the Royal Signals as a private. He was promoted to Lieutenant and before being demobbed in 1947 was an acting Major. Over this period, his politics were transformed by his experience of life in the Officers' Mess, and he became a Conservative.
During Leo's war years, Mary had written to Leo's natural family, the Parsons, to say that he was missing in action, presumed dead. At the same time, she also destroyed Leo's box of family trinkets so as to cut all ties with his natural family irreversibly. Unaware of any of this, Leo simply believed that his family had lost interest. A year after he returned from the army, he changed his name by deed poll to Leo Charles Lynton Blair. Following much publicity, he was finally reunited with his two half-sisters in 1994.
He secured a job as a clerk working at the Ministry of National Insurance in Glasgow, where he met his future wife, Hazel. After a brief courtship, they married in 1948. Leo then joined the Inland Revenue working as a tax inspector while studying at night for a law degree at Edinburgh University. Upon qualifying he secured a position lecturing in Law at Adelaide University. After three years in Australia, the family returned and Leo took up a lectureship at Durham University, qualified as a barrister for the Bar and became active in local Conservative politics becoming a popular and effective performer.
He eventually rose to chair the Durham Conservative Association; this also led to his dream of becoming an MP. This, however, was dashed when he suffered a massive stroke at 40, which rendered him speechless for three years.
Tony Blair was then 11. He recalled, "I woke to be told he had had a stroke in the middle of the night and might not live through the day, and my whole world fell apart. It taught me the value of the family, because my mother worked for three years to help him talk and walk again." Consequently, with his own political ambitions in tatters, Leo concentrated on his children.
Leo Blair became a guest lecturer and chaired industrial tribunals in Shrewsbury, where he took up residence. One of his most notable decisions, concerning the rights of bus drivers in Wrexham sacked in 1991 following a strike, was challenged by the Crosville Company but upheld by the House of Lords.
In 1994, Tony became leader of the Labour Party and Leo underwent another political conversion and, at 71, joined the Labour Party, citing objections to rail privatisation and pride in his son's achievement. Leo's daughter-in-law, Cherie, talking about her husband's drive, determination and ease with public speaking once explained, "If you met his father, you'd see where he gets it."
Leo suffered a second stroke in 1997 and was nursed back to health by his second wife, Olwen. He suffered from partial paralysis and speech difficulties.
Leo is survived by his three children, William, Tony and Sarah. All three children followed their father into the law, William becoming a high court judge.
Charles Leonard Augustus Parsons (Leo Charles Lynton Blair), lawyer and academic: born Filey, Yorkshire 4 August 1923; married 1948 Hazel (died 1975; two sons and one daughter), secondly Olwen (died 2012); died Shrewsbury 16 November 2012.
Register for free to continue reading
Registration is a free and easy way to support our truly independent journalism
By registering, you will also enjoy limited access to Premium articles, exclusive newsletters, commenting, and virtual events with our leading journalists
Already have an account? sign in
Join our new commenting forum
Join thought-provoking conversations, follow other Independent readers and see their replies