Leonard Rosoman: Painter whose work profited fromhis oblique approach to life
During the Blitz he spent hours fighting a blaze, then was ordered to leave it. The boy replacing him died
Cathy Courtney
Saturday 03 March 2012 01:00 Comments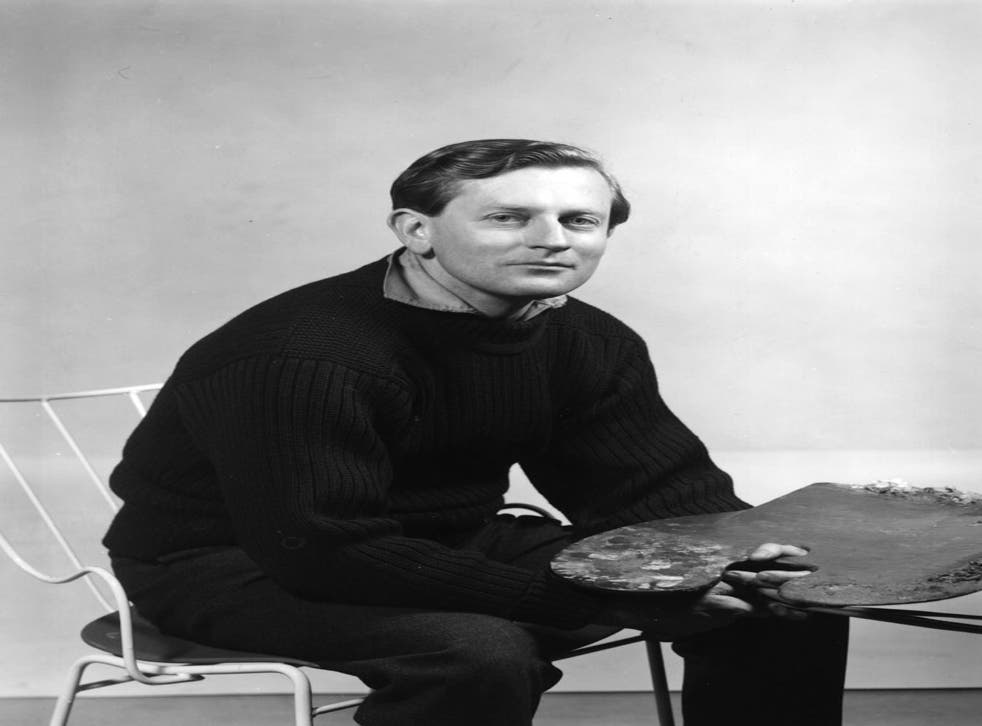 For his luxury on Desert Island Discs Leonard Rosoman requested a sloping lawn. It was the lawn from the Hamptons, Long Island, where he shared a holiday home with Roxanne Wruble, the American pianist who became his second wife. However much he may have liked the grass, it was the effect of the slant on the way people held their balance that attracted him. As his paintings show, Rosoman's view of the world was frequently poised at a disconcerting angle, and he seized delightedly on incidents where life met his vision so perfectly.
In Roxanne, with whom he lived from the 1970s ,Rosoman found his soul-mate and a sense of belonging. He was born in London in 1913, the only offspring of a bleak marriage. With generous understatement he described his parents as being "miscast" in their relation to him; when the divorce came he was farmed out to an uncle and aunt.
At school he was popular and achieved success in the art room and at boxing (a friend quipped that he was papier-mâché weight) but did badly academically. His boxing skills – the fleet footwork and the containment of energy until ready to project it – were characteristic of him in later life where he excelled at the avoidance of the unnecessary. He wasn't a man to engage in small-talk, yet could be witheringly funny, precise and perceptive. He had lasting friendships but didn't invest excess energy in random encounters, conserving his concentration and commitment for his painting and for Roxanne.
In 1930 his father supported him for a year at King Edward VII School of Art in Newcastle. Rosoman won a scholarship enabling him to remain for a further four years, a training which was augmented at the Royal Academy Schools and at Central School of Arts and Crafts (1936-37), where his tutor, Bernard Meninsky, jolted him out of techniques he had begun to use unthinkingly. Noticing his student was ill-fed, Meninsky took him to meals at home with his wife as well as to Lyons Corner House. His suicide in 1950 was a cause of profound sadness.
Before the outbreak of war, Rosoman earned his living from teaching and commercial work, an important early commission being for Shell-Mex (a poster for the series "To Visit Britain's Landmarks You Can be Sure of Shell"). Enlisting before hostilities, he joined the Auxiliary Fire Service, experiencing the ferocity of the London Blitz. He achieved what he regarded as one of his first successful paintings, A Burnt-out Fire Appliance (1943), in which the twisted remains of a fire engine evoke the pity and destruction of the period.
A House Collapsing on Two Firemen, Shoe Lane, London, EC4 (1940) was an attempt to exorcise hours battling a conflagration when he was ordered to give up his post to a young replacement minutes before a stack of red-hot bricks imploded, killing the boy. Both these works are held by the Imperial War Museum, along with letters, sketchbooks and paintings following his posting to the Pacific as an Official War Artist.
Perhaps because the scenes he had witnessed made overt the precariousness he sensed underlying his civilian life, he settled well aboard the aircraft carrier HMS Formidable. The paintings of this period show him developing the vocabulary that was to make his work so recognisable, anchoring multiple perspectives and distortions of scale within a grammar rooted in reality. "I have my depressions but work goes on," he wrote in a letter of 1945. Depression remained a danger, mercifully balanced by a great deal of happiness.
Rosoman began teaching part-time at Camberwell in 1946 before moving to Edinburgh College of Art (1948-56), where he ran the Mural Painting Department. Among external achievements during these years were murals for the 1951 Festival of Britain and 1958 British Pavilion at the Brussels World Fair, and his role as the main designer of Richard Buckle's Diaghilev exhibitions in Edinburgh and London (1954).
In 1957 he joined the Royal College of Art and remained until 1978, numbering David Hockney and Peter Blake among his students. He was one of the artists Rowney approached to experiment with the first acrylic paints in the 1960s, and he set aside oils in favour of the new medium with its quick drying and ability to lend a unifying luminosity to his layered surfaces.
Carel Weight, head of Painting at the College, helped Rosoman find the double-height space in Pembroke Studios, Kensington, in which he worked for the rest of his life. Always attracted to strong personalities and "larky" (a favourite word of his) people, Rosoman lived at Pembroke Studios with his first wife, the Australian film and theatre designer Jocelyn Rickards, through whom he became friendly with her previous lover, John Osborne, whose 1965 play, A Patriot for Me, was the trigger for a series of over 40 paintings. One of this series, The Promotion No 1 (1969) became Rosoman's Diploma work when he was elected Royal Academician in 1970.
Rosoman's fingers were afflicted by Dupuytren's Contracture, but this did not prevent a prolific output documenting his private life, frequently notching up the register by conflating biographical experience with his imagination. Making written notes, sketches and small studies, he travelled in Europe and Africa and, once Roxanne came into his life, spent part of each year in the US. Many of the preliminary works evolved into full-scale paintings.
Pencil, pen and ink, gouache and watercolour were favoured materials and, towards the end of his life, Rosoman used biro to make detailed drawings. Commissioned work embraced an idiosyncratic approach to portraiture, illustrating books for the Folio Society, and the task undertaken, in his mid-seventies, of decorating the vaulted ceiling of the Chapel at Lambeth Palace. Tate Britain and the National Portrait Gallery are among the national collections holding his work, and his oral life-story recording is in the British Library.
Leonard Henry Rosoman, artist and teacher: born London 27 October 1913; Tutor, Royal College of Art 1957–78; OBE 1981; married 1963 Jocelyn Rickards (divorced 1969; died 2005), 1994 Roxanne Wruble; died 21 February 2012.
Register for free to continue reading
Registration is a free and easy way to support our truly independent journalism
By registering, you will also enjoy limited access to Premium articles, exclusive newsletters, commenting, and virtual events with our leading journalists
Already have an account? sign in
Join our new commenting forum
Join thought-provoking conversations, follow other Independent readers and see their replies