Leonard White: Television producer who helped create 'The Avengers', in charge as it developed from gritty drama to witty escapism
White produced the first 40 episodes of The Avengers. In common with most series at the time, the shows went out live or were recorded "as live"
Dick Fiddy
Monday 29 February 2016 19:59 Comments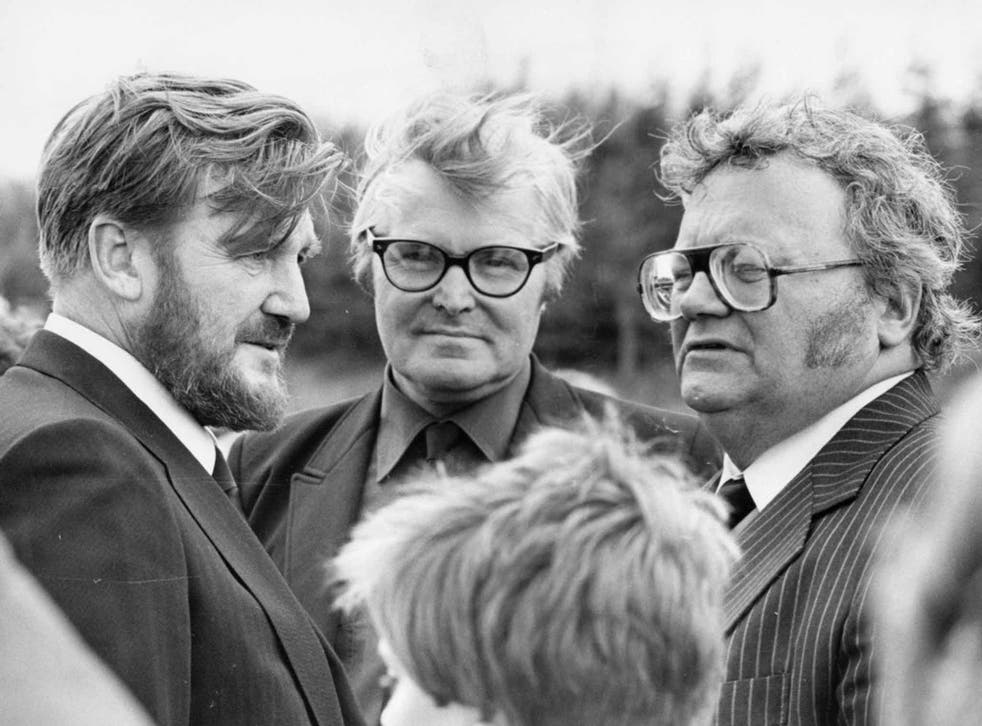 Although he had early aspirations to be an actor, it was as a producer at a crucial time for British television that Leonard White made his mark. In a long list of credits, he is probably best known for his work on The Avengers and Armchair Theatre.
He was born in Newhaven, East Sussex in 1916, and it was thought that he might go into the family business (his father was a bookmaker and racehorse owner) but a brush with theatre in a school drama group convinced him he wanted to be an actor. After school he moved to London and joined the Tavistock Rep Company in Bloomsbury, where he learnt important aspects of the actor's craft.
The war interrupted and he served in the infantry before returning to the theatre. By the early 1950s he was getting roles on television and decided he wanted to be a director but failed to get on to the BBC's directing courses.
Fate intervened when one of the stage plays he was in, Christopher Fry's A Sleep of Prisoners, was being produced in Toronto. White was asked both to direct and to reprise his original role. While in Toronto he got on to the CBC's (Canadian Broadcasting Corporation) first course for producers and directors.
Returning to the UK, he joined the newly launched ITV, working as a director on many different productions before settling down in 1960) as a full-time producer for ABC, the powerhouse broadcaster servicing the Midlands and the North at weekends. He was headhunted by the drama supremo Sydney Newman, a Canadian whom White had first encountered during his time in Canada.
White's first job as producer at ABC was on an existing show, Inside Story, set inside a modern block of flats with each episode dealing with a different flat-dweller. From there he went on to the prestigious Armchair Mystery Theatre, a summer re-formatting of ABC's flagship Armchair Theatre. Though Newman jealously guarded his role as producer of Armchair Theatre he was happy for White to take the reins on the summer replacement.
Here, White worked with some of the finest TV writers of the time, like James Mitchell, Philip Levene and Ray Rigby, and with first class directors like Philip Saville, Dennis Vance, Charles Jarrott and Robert Tronson. Later, he moved on to the drama series Police Surgeon, a vehicle for one of TV's then hottest properties, Ian Hendry.
After an initial run of 13, the plug was pulled, however, reputedly because of a contractual dispute, but ABC were anxious to keep Hendry on screen and Newman suggested they build a new show around him. They decided to keep Hendry as a doctor (though a different character from Police Surgeon), and the production team went about crafting a series around this premise.
They debated various titles for the new project before White suggested The Avengers. Newman was initially unsure of the name, thinking that revenge was a unsavoury concept, but White convinced him that "Avenging" was something different and showed him a dictionary definition: "retribution on behalf of another". Newman was convinced.
White suggested Patrick Macnee as a co-star for Hendry (he had worked with Macnee in London and Canada), and he was cast as the shadowy secret agent John Steed, who would inveigle Hendry's Dr Keel into dangerous adventures. White was always adamant that the creation of The Avengers was truly a team effort, with a dedicated crew all working on Newman's simple instruction to craft something for Hendry.
White produced the first 40 episodes of The Avengers, overseeing its development from gritty crime drama to something altogether stranger and more stylish. In common with most series at the time the shows went out live or were recorded "as live", and were vastly different from the later filmed series.
The show became popular quickly but was in danger of being derailed at the end of its first season. Equity, in dispute over payments from the commercial broadcaster, called a strike against ITV, bringing production to a virtual standstill. What at first seemed like a blessing – extra time to polish scripts and build up a stock – soon turned sour when Hendry announced he had secured a lucrative film contract and would be leaving.
Newman again turned to the production team and asked them to create a new character to co-star with Patrick Macnee. He toyed with the idea of getting in a woman to partner Steed, thinking that this might create a new dynamic. In the end they went for three different partners: a male medic, Dr King (Jon Rollason), a chirpy nightclub singer, Venus Smith (Julie Stevens) and a leather-clad renaissance woman, Cathy Gale (Honor Blackman).
They used the scripts that had been intended for Macnee and Hendry so often that Cathy Gale would find herself in situations written for a male, dealing with villains with judo and fisticuffs. The result caused a sensation. The third series partnered Steed and Gale full-time and when White left the series midway through that third season, it was in robust health.
At the same time, White was also running the ITV sci-fi anthology series, Out of This World, but he had a much bigger mission to come. At the end of 1962, unhappy with the decision to make Armchair Theatre fortnightly, Sydney Newman abruptly left ABC to become Head of Drama at the BBC.
White was the ideal candidate to take over Armchair Theatre, then the biggest drama job in British television. The shift was seamless and the series continued with the same strengths as before, gathering ever bigger audiences and winning many awards.
Following Armchair Theatre, White worked until the mid-1990s at HTV, Scottish Television and BBC Scotland.
Leonard White, producer, director and actor: born Newhaven 5 November 1916: married 1942 Margaret Kent (died 2013; two sons deceased); died Seaford, East Sussex 2 January 2016.
Register for free to continue reading
Registration is a free and easy way to support our truly independent journalism
By registering, you will also enjoy limited access to Premium articles, exclusive newsletters, commenting, and virtual events with our leading journalists
Already have an account? sign in
Join our new commenting forum
Join thought-provoking conversations, follow other Independent readers and see their replies