Lesley Fitz-Simons: Scottish actress known for her role in Take the High Road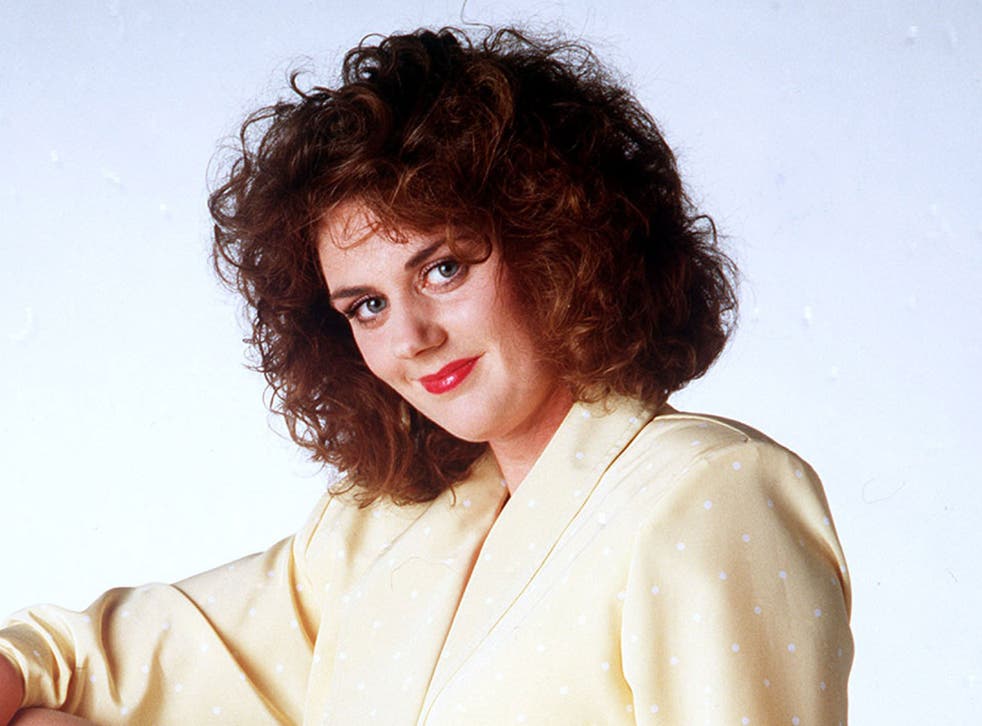 The actress Lesley Fitz-Simons literally sailed into the Scottish soap opera Take the High Road in 1983. She was first seen stepping on to land in the fictional village of Glendarroch from the ferry boat that took her character, Sheila Lamont (later Ramsay), to and from school across the water in Auchtarn. The bright teenager soon brought scandal to the tightly knit community, becoming pregnant by Eddie Ramsay, a petty criminal, during her final year at school. With her father furious, mother distressed and chances of going to university dashed, she left for Glasgow, had the baby and gave it up for adoption – not even knowing whether it was a boy or a girl.
On her return to Glendarroch, Sheila and Eddie (Robin Cameron) were reunited and married in 1985. They split up after she had an affair, then other romances followed, including a broken engagement. The couple were brought together once more after Eddie discovered the identity of their child, a girl, on being approached by her adoptive father when she needed a bone-marrow transplant. This led to the couple's remarriage in 1994.
Experiencing difficulties in having more children, they later fostered several, but parted again when Eddie had an affair with a prostitute. Sheila had to go through the indignity of taking an Aids test and, at rock bottom, became pregnant after sleeping with Davie Sneddon (Derek Lord) when he offered her a shoulder to cry on. She gave birth to a son, Robbie, and relished life as an independent single mother – at the same time as her career was thriving.
Having previously worked as a shop assistant, a local newspaper reporter and a secretary, Sheila was eventually given management responsibilities at the Glendarroch estate office, fulfilling the promise of her teenage years.
Take the High Road, which began in 1980, was dropped by the ITV network in 1993, but producer Scottish Television continued to make the soap and many other regional companies showed it. The programme was retitled High Road in 1994 and Fitz-Simons stayed on until it was finally axed in 2003, making her one of its longest-serving cast members.
She was born in Glasgow and brought up in the village of Milton of Campsie, in East Dunbartonshire. Ignoring the advice of her careers teachers at Kilsyth academy, she decided to go into acting, something her father had done as an amateur.
Fitz-Simons was just 16 when, in 1978, she was cast as a schoolgirl in the first episode of Scottish Television's adaptation of The Prime of Miss Jean Brodie. She also took voice and movement lessons at the Jeanne Gourlay Studio Theatre of Dramatic Art in Glasgow.
In 1979, she had the regular role of Emily Cameron in The Camerons, a BBC Scotland drama about life in a late-19th-century Scottish mining community. This was followed by small parts in Square Mile of Murder, Mendelssohn in Scotland (both 1980) and The Walls of Jericho (1981).
Fitz-Simons' big break came in 1981, when she was cast as a bright-eyed girl assaulted on her way home from school in the Alma Cullen play Credits and Distinctions (in The House on the Hill anthology series), in which Annette Crosbie played her mother.
Her 20-year run in Take the High Road followed. Over her time in the serial, Fitz-Simons' hair colour changed from brunette to blonde. With the serial not screened all year round in the early days, she was able to take other screen and stage work. She starred with John Gordon Sinclair in the television film The Spaver Connection (1984), and the same year acted in The Kitchen with the Perth Repertory Company.
Fitz-Simons, who supported Unicef and animal charities, was diagnosed with cervical cancer in 2000. She fought back to continue her career and, following the axing of High Road, regularly appeared in plays and pantomimes at the Pavilion Theatre, Glasgow. She said she had no ambitions to move to London, where there were more acting opportunities, and continued to live in the Milton of Campsie house in which she grew up.
In 2009, Fitz-Simons was diagnosed with breast cancer and underwent a mastectomy. The cancer later spread and she died just days after being admitted to hospital.
The actress's marriage to Peter McIntyre, a building company sales director, ended in divorce, but she subsequently gave birth to a daughter with her partner, Calum Thomson, a sales rep. That relationship eventually ended and she is survived by her daughter, Marnie, and the actor Paddy Bonner, her partner of six and a half years.
Anthony Hayward
Lesley Fitz-Simons, actress: born Glasgow 23 September 1961; married 1989 Peter McIntyre (marriage dissolved); one daughter; died Glasgow 26 January 2013.
Join our new commenting forum
Join thought-provoking conversations, follow other Independent readers and see their replies