Leslie Waddington: Gallerist whose superb eye and sense of ethics transformed London's art market
For more than 50 years Waddington showed some of the best recent and contemporary painting and sculpture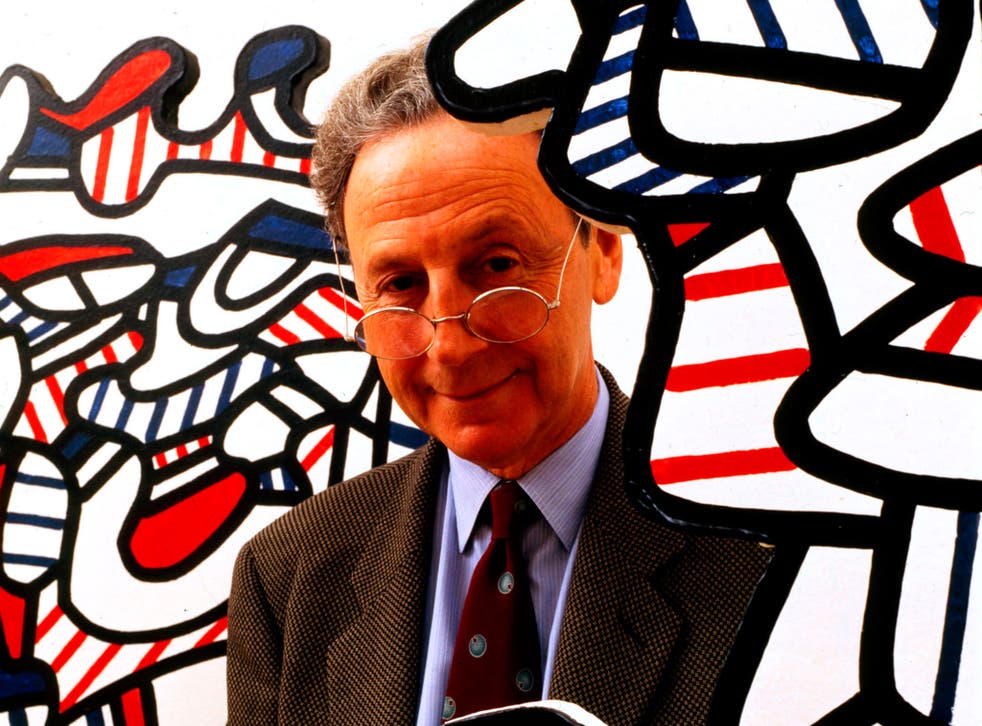 It is difficult to say which of his qualities made Leslie Waddington such a great art dealer – his superb, discriminating eye, his intellectual hinterland, sparky humour, or his profound ethical values. Le Figaro headed its obituary of him "A Lord of Art… who represented all the great post-war artists." For more than 50 years he showed some of the best recent and contemporary painting and sculpture, from 1957 at the London gallery of his father, Victor Waddington, and from 1966 at his own Cork Street address (which has been Waddington Custot since 2010).
The family was Jewish; his grandfather had some Scottish blood, and decided to move to Ireland about 1920, expecting a cultural revolution to follow the 1916 Rebellion. His father and mother, Zelda (née Levine), moved from London to Dublin, where Victor established his successful gallery in 1927. For 30 years there he dealt mostly in Irish artists, representing Jack Butler Yeats, and showing works from the School of Paris – notably small paintings and works on paper by Matisse, Picasso, Georges Rouault and Chaim Soutine.
Leslie was born in 1934; his siblings, Theo and Max, were both also dealers. He was educated at Portora Royal School in Enniskillen, Northern Ireland, then at the Sorbonne, and took the Diplôme at l'École du Louvre. Theo said that when they were in Paris he and Leslie, the Irish Jew mad about Joyce, played chess with Samuel Beckett.
Sir Nicholas Serota said, when giving Leslie the Federation of European Art Galleries Association's lifetime achievement award in Basel in 2013: "Leslie's spiritual and intellectual root lies in the literature rather than the art of Ireland, especially in the writings of James Joyce and in the modernist tradition as it developed in Paris between the wars. It was this interest that took him to Paris and the Sorbonne in the early '50s, rather than to a British university.
"There he encountered existentialism, Sartre, Giacometti and Camus, and gained a respect for the intellectual that has conditioned the whole way he has lived his life. It made him open to the work of Samuel Beckett in a way that was unusual in Britain in the '50s and '60s, but it also gave him an abiding interest in words and literature that has allowed him to keep the daily machinations of the art world at a distance."
Figaro quotes his long-time friend and fellow London dealer David Juda: "Apart from his intimate acquaintance with English and Irish literature, Leslie was a true francophone. He spoke very good French, reciting Verlaine and Baudelaire without hesitation. His library at home showed he had the spirit of a bibliophile."
Waddington was 24 when he joined the family business in London, and within a couple of years he had made his mark on it, holding one-man shows for the St Ives painters Patrick Heron, Roger Hilton, Terry Frost and Bryan Wynter; to these he added Elisabeth Frink and Ivon Hitchens. When London discovered American art in the early 1960s, Waddington was a pioneer gallerist, along with John Kasmin and James Mayor, in showing the post-war Abstract Expressionists, the Pop artists and Colour Field artists such as Morris Louis, Kenneth Noland, Jules Olitski.
With Kasmin and Alex Gregory Hood (at his Rowan Gallery), Waddington showed Anthony Caro's radical sculptures of coloured welded steel. Following the lead of Bryan Robertson's Whitechapel Gallery show "The New Generation: 1964" this new breed of dealers also showed paintings by Derek Boshier, David Hockney, John Hoyland, Paul Huxley and Bridget Riley. "The New Generation: 1965" led sculptors such as William Tucker, Tim Scott and Philip King to these dealers.
In 1966 Waddington opened his own London gallery on Cork Street, jointly with his father, and Alex Bernstein (Lord Bernstein of Craigweil) of the Granada media group. One of Waddington's great friends and important clients was Alistair McAlpine (Lord McAlpine of West Green), who was helped by him to form the major collection of contemporary sculpture he then gave to the Tate.
Waddington's galleries (and those of his brother, Theo) were dotted around Cork Street, and with their glass fronts had a particularly welcoming, unintimidating air; many current art lovers and buyers were gallery virgins when they first set foot in Waddington's. You never knew what you might see in a mixed exhibition – an unfamiliar Picasso painting; a wonderful Matisse print that you might fantasise about owning; a thrilling Morandi still life; two or three compelling Patrick Caulfield paintings; covetable Barry Flanagan sculptures ranging from small carvings to a giant hare cast in bronze; an early Howard Hodgkin you'd never seen before; a huge upside-down Baselitz; the out-of-scale, wildly coloured contents of a toolkit by Michael Craig-Martin; a procession of works by Arp, Dubuffet, Léger, Miró; a shocking Balthus; a really choice Milton Avery; a sly, funny Allen Jones piece; or a whole wall of Josef Albers or Peter Blake.
A great conversationalist with a quick wit, Waddington was a man of complete integrity. I was once forced to sell a much-loved picture; the artist himself advised me to take it to Waddington. Another of Waddington's traits was that he made up his mind rapidly. He offered me so much that I was startled, and left the picture with him, as I could not afford to insure it for that sum. Some days later he rang, and said that he'd been offered even more for it by a client, and was adding half the difference to my cheque. Later still I heard that the sale had fallen through, and offered to return at least the "bonus" amount. "Certainly not," said Leslie, "you received the correct amount." He was as generous as he was principled.
I had the pleasure, some years later, of working with him. Barry Flanagan had insisted that I write the introduction to a catalogue of one of his Waddington solo shows, and Leslie and I so enjoyed the experience that he asked me to do more, including Craigie Aitchison and Robert Indiana. The agents for the last insisted that some of my material be cut, for no reason that Leslie or I could see. He encouraged me not to compromise by putting my by-line to what remained of the text; and instead printed my name very small in the acknowledgments, but paid the full fee.
In 1967 he married Ferriel Lyle; they had two daughters, and were divorced in 1983. In 1985 he married Clodagh, from whom he was inseparable. The writer Allegra Huston is a god-daughter. In 2011, following Lord Bernstein's death, his 50 per cent of the shares in the gallery were sold to the London-based French dealer, Stéphane Custot, and the business was renamed Waddington Custot. Among today's prominent London dealers, said Nick Serota, Alan Cristea and Tim Taylor can be said to have "learned their craft" with Waddington, while Hester van Royen worked alongside him for several years.
Critics, clients, curators, colleagues and fellow dealers loved Waddington equally. As Serota said, bestowing his lifetime award, they all "honour him for his energy and imagination, for his loyalty to artists rather than fashion and for his commitment to transparent, fair and ethical practice. I have never ever heard anyone complaining about a poor or sharp deal from Leslie Waddington."
Leslie Waddington, art dealer: born Dublin 9 February 1934; married 1967 Ferriel Lyle (divorced 1983; two daughters), 1985 Clodagh Frances Fanshawe; died London 30 November 2015.
Join our new commenting forum
Join thought-provoking conversations, follow other Independent readers and see their replies