Lino Oviedo: Politician who helped lead the 1989 coup in Paraguay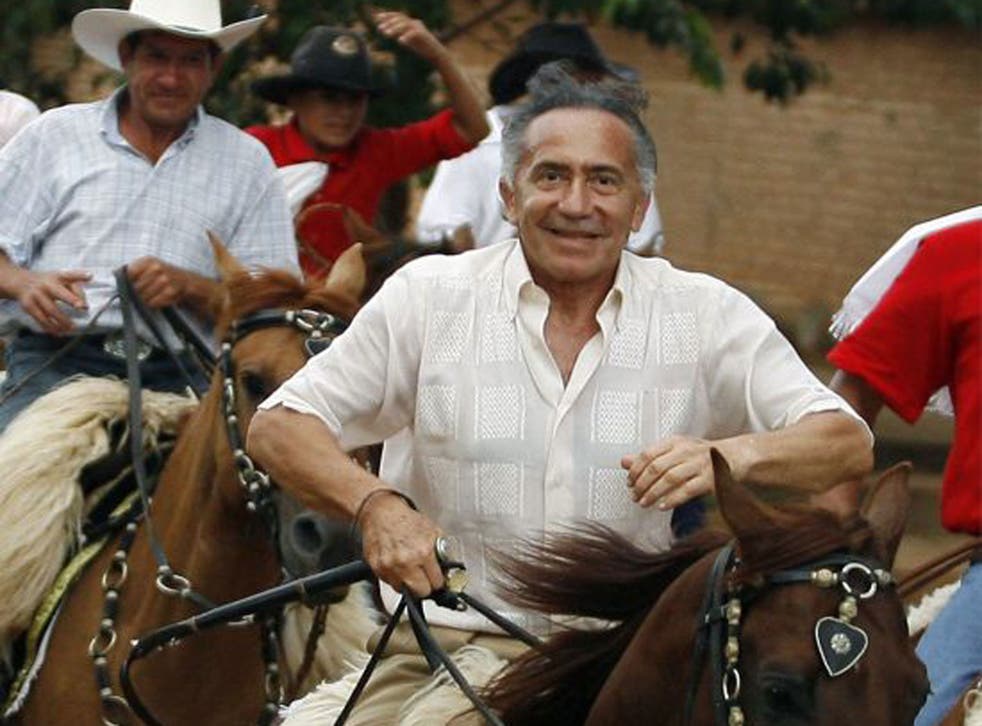 Lino Oviedo, who died in a helicopter crash on 2 February at the age of 69, was a Paraguayan presidential candidate who helped the lead the 1989 coup that overthrew the former dictator Alfredo Stroessner. A retired general known as a dynamic public speaker – and the country's most controversial politician – Oviedo was running in the April presidential election in the impoverished and politically unstable South American country.
Police rescuers found his body the following day in the wreckage in northern Paraguay, where he was travelling for a campaign event. It was exactly 24 years since the coup that ended Stroessner's dictatorship. Six months after being sworn in for his eighth full term, Stroessner was overthrown in a bloody coup d'état led by General Andres Rodriguez; it was rumoured, though never confirmed, that Oviedo had threatened Rodriguez with a grenade if he did not launch the coup.
Oviedo – known as "the Bonsai horseman" because of his height – was also accused of plotting to overthrow governments in the 1990s and jailed. He was pardoned and returned to politics as leader of the National Union of Ethical Citizens party.
Born into poverty in 1943. Oviedo went into the military, studying in Germany and eventually becoming a close aide to General Rodriguez. He was named Chief of the Army in 1993 but jeopardised the fragile democracy in April 1996 when President Juan Carlos Wasmosy – the country's first elected leader since the 1950s – asked him to step down.
Oviedo refused and threatened a coup; after days of tension, Wasmosy offered him the Defence Ministry, but when Oviedo went to the presidential palace to take the oath the President, backed by popular demonstrations, withdrew the offer. Oviedo set up his own faction within the governing Colorado Party, rapidly becoming its most popular politician thanks partly to his rhetorical skills.
A month before the national elections, and while leading the polls, he received a 10-year prison sentence for his 1996 mutiny. His running mate Raul Cubas won the 1998 presidential election, largely based on the promise to free Oviedo, which he did days after taking office, over the protest of the Paraguayan Supreme Court and opposition leaders.
In March 1999, the vice president Luis María Argaña, a key political enemy of Oviedo and Cubas, was assassinated. Amid riots and political turmoil, Cubas resigned, abandoning Oviedo, who fled into exile, first in Argentina and then in Brazil.
In 2004 he returned to Paraguay and was sentenced to 10 years in jail. In 2006, a Paraguayan man, Tomas Velázquez, held a hunger strike before he crucified himself publicly as a protest in Asuncion. He maintained that Oviedo was the target of persecution and that the military tribunal that convicted him was illegal according to the constitution, as it had been conducted in time of peace.
Oviedo was released in 2007, initially on parole for good behaviour; his conviction was then overturned in a majority ruling by the country's Supreme Court following testimony from former officers that there had been no coup attempt.
Register for free to continue reading
Registration is a free and easy way to support our truly independent journalism
By registering, you will also enjoy limited access to Premium articles, exclusive newsletters, commenting, and virtual events with our leading journalists
Already have an account? sign in
Register for free to continue reading
Registration is a free and easy way to support our truly independent journalism
By registering, you will also enjoy limited access to Premium articles, exclusive newsletters, commenting, and virtual events with our leading journalists
Already have an account? sign in
Join our new commenting forum
Join thought-provoking conversations, follow other Independent readers and see their replies