Lionel Davidson: Crime and thriller writer celebrated for his intricate plots and tongue-in-cheek humour
Wednesday 02 December 2009 01:00 GMT
Comments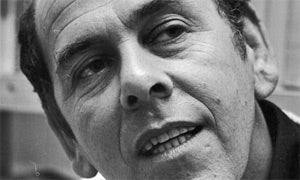 Although Lionel Davidson, who has died aged 87, was usually categorised as a crime novelist, or thriller writer, his eight adult novels stretch those definitions; Graham Greene compared him to H. Rider Haggard and Rebecca West likened his work to Kipling's. Yet three of those eight books won the Crime Writers' Association Gold Dagger for best novel, a strike rate unmatched by any of his better-known contemporaries. Davidson's peers recognised his unmatched talent for both intricate, complex plots and for tongue-in-cheek humour which never seemed to detract from his novels' suspense. Davidson's novels generally involved multiple protagonists working together for different reasons, with hidden motives and potential betrayal at their core. Some of this may reflect his own position as something of an outsider in English society.
Davidson's father, originally named Davidowitz, was a Polish tailor and union organiser who emigrated to Hull where he met Davidson's mother, an immigrant from Lithuania. Lionel was the youngest of nine children, but his father died when he was two, and soon the family moved to London, where Lionel eventually taught his illiterate mother to read. Giving up his own schooling at 15, he worked as an office boy at The Spectator, where he published his first short story. By 17 he was churning out children's magazine stories and features for an agency. He moved to the Keystone Press, writing captions for photo-journalism, before serving during the Second World War as a submarine wireless operator; he claimed to have been one of only two Jews in the submarine service.
After the war he returned to Keystone as a photo-journalist. His work in Czechoslovakia, and his deportation as the Soviets took control, formed the basis of his first novel. In 1949 he married Fay Jacobs, and began working on the magazine John Bull as a feature writer and fiction editor. He struggled to support his family before Night Of Wencelas, in which a bumbling British businessman gets caught up in intrigue in Prague, became an immediate hit in 1960. It was reprinted by Penguin, won the Authors' Club's First Novel award and the Gold Dagger and was turned into a rather more farcical film, Hot Enough For June (1964), with Dirk Bogarde.
His second novel, The Rose Of Tibet (1962) follows the same pattern, set amid the Chinese invasion of that country. Writing it completely from secondary research, Davidson resented the pressure to produce a quick "sequel" and the book contains a notably unflattering portrait of his publisher, Victor Gollancz. Davidson turned out a couple of what would now be called "young adult" novels, under the pen name David Line, which allowed him a move to Jonathan Cape after his third novel, A Long Way To Shiloh (retitled The Menorah Men in the US) was published in 1966. Davidson, who lost 37 relatives at Auschwitz, was growing more involved in his Jewish heritage; the hunt by Israeli archaeologists for the true Menorah from the first Temple is very much in the Haggard tradition, one that foreshadows later works like the Indiana Jones films; it won his second Gold Dagger.
After the 1967 war, Davidson moved to Israel, where the government provided him with an office in Jaffa. In the next decade he would work, uncredited, on film scripts, write another Line novel, Run For Your Life (1975), in which two boys try to prevent a murder whose plotting they've overheard, and release three more adult books, all concerned with Jewishness. Making Good Again (1968) was a spy thriller concerning a Jewish banker's lost fortune and set against the question of German reparations for the Holocaust; for years Davidson refused to sell translation rights to his books in Germany. Smith's Gazelle (1971) is a touching fable that could easily have been labelled as by David Line; against the backdrop of the Six Days War a young Israeli boy and an old Palestinian shepherd work together to save the eponymous gazelle from extinction. The Sun Chemist (1976) was another adventurous quest, this time for a chemical formula in the lost papers of Chaim Weitzman, first president of Israel. Davidson would receive the Israeli President's Prize for Literature, but perhaps having exhausted his investigations into his own identity, he returned to London.
His next novel would win his final Gold Dagger. The Chelsea Murders (1978, published in the US as Murder Games) involves clues recalling 19th century authors, but its characters conspire with and against each other amid an evocative portrait of London at its most louche. It would eventually be adapted for Thames TV's "Armchair Thrillers" series in 1981. In 1980 he published Under Plum Lake, another young adult novel, under his own name; a final Line novel would follow in 1985. Meanwhile he was nursing his wife through a long illness; Fay died in 1988.
Davidson married Frances Ullman in 1989. His final novel, Kolymysky Heights (1994) involves the efforts of a Canadian linguist, who happens to be a Gitxsan Indian, to infiltrate, and more challengingly, then escape from, a secret Russian installation in Siberia. The thriller writer James Carroll called it "an icy marvel of invention". In 2001 he was presented the Crime Writers Association's Diamond Dagger for lifetime achievement. He died, after a long struggle with lung cancer, and is survived by Frances and two sons from his first marriage.
Michael Carlson
Lionel Davidson, writer: born Hull 31 March 1922; married 1949 Fay Jacobs (two sons), 1989 Frances Ullman; died London 21 October 2009.
Join our commenting forum
Join thought-provoking conversations, follow other Independent readers and see their replies