Lord Janner of Braunstone: Politician who fought for good causes but whose career was overshadowed by allegations of child abuse
Janner's causes in Parliament were innumerable: the factor they had in common is that all were worthwhile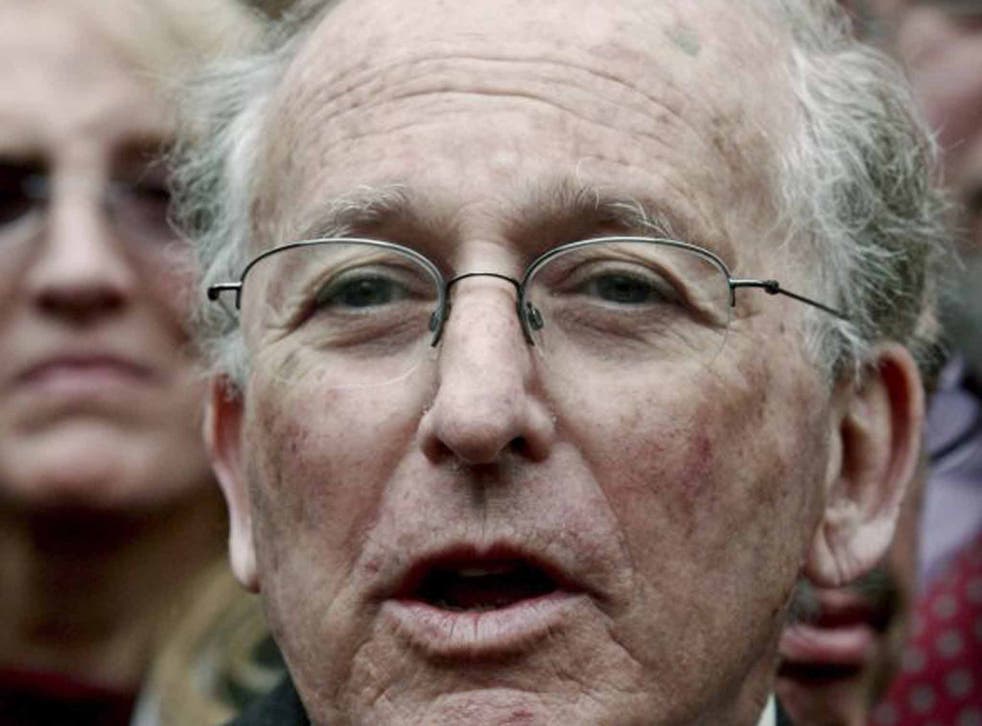 Greville Janner had many enemies – and more friends. Ever since I first encountered him, in his capacity as President of the Cambridge Union, 63 years ago, he aroused animosity in some quarters and admiring friendship in others. And as in his undergraduate days, in Parliament and in Law few of his contemporaries were neutral about him.
He was a one-off. Eccentric he was not. But he was an original. Bustling with energy, he was a force of nature. And from the moment he was elected to the House of Commons he was one of those politicians, increasingly rare in modern times, who genuinely did not harbour ministerial ambitions. His career, however, was cast into shadow by allegations of child abuse that were in the process of being investigated when he died.
He was the only son of two remarkable parents. His father, Sir Barnett Janner, had been a Liberal MP in East London from 1931-35, then joined the Labour Party in 1936 and represented Leicester constituencies from 1945-70. At the age of 77, he assured the North-West Leicester constituency Labour Party that he would be their candidate in the 1970 General Election. Two days before nomination closed, he changed his mind, but by that time the CLP had gone to enormous expense in producing "Vote Janner" posters. The CLP's only solution was to nominate Janner's son – amid much discontent about being tricked into a dynastic succession.
Characteristically, Greville worked like the beaver he was to mitigate the ill-will. His mother, Elsie Cohen, CBE, served as chairman of the Juvenile Courts Panel and was life president of the Central Council for Jewish Religious Education. It was understandable that at the age of 11, anticipating a Nazi invasion of Britain, they should send their son to friends in Canada, who saw to it that he received a religious education. Returning to Britain in 1942, Greville went to an even more rigorous education at St Paul's School, London.
After National Service basic training with the Royal Artillery at Oswestry, he had wangled – his word – a posting as a sergeant, on account of his linguistic skills (he was fluent in nine languages), to the British Army of the Rhine, in the War Crimes Investigation Department. "I was driven by vengeance over what had happened to my Jewish people," he told me; he described himself as a disciple of the Nazi-hunter, Simon Wiesenthal.
He took up an exhibition place at Trinity Hall, arguably the leading law college in the Cambridge of the day, and threw himself into his studies, but still found time – he was a competitive swimmer – to become president of the college athletic club and of the Cambridge Union for the Easter term of 1952.
Fresh from a year as a Fulbright and Smith-Mundt scholar at Harvard, Janner returned to a Harmsworth Scholarship at the Middle Temple and a contest in the 1955 General Election in which he was drubbed by the Conservative MP, Sir Cyril Black. For the next 15 years he was a successful barrister and a prolific author and journalist. Over a lifetime he published more than 60 books, mostly on employment and industrial law.
Through his father, a close associate of Chaim Weizmann, David Ben-Gurion and Moshe Dayan, Janner was on intimate terms not only with every Israeli leader since 1948 but with every significant Israeli politician. Frankly, one never quite knew where he stood as an "Infernal Israeli". What I do remember is when as a Gentile I opined that I shared Gerald Kaufman's view that the whole Middle Eastern situation would have been for the better if Yitzhak Rabin had not been assassinated. Janner gently demurred.
He loved to talk about Golda Meir, and often repeated the story of how a distinguished BBC correspondent had said on air something less than flattering about the Israeli prime minister. Summoned to her office, and anticipating a dressing-down, he was greeted, "Robert, remember I am a woman. That's all." Exit the World Service.
My wife and I went on holiday to Israel, and I was hugely impressed by his encyclopaedic knowledge of the sites we had visited. But, staying with my old student friend Michael Bruno, who had become Governor of the Bank of Israel, we were told that Janner's hard-line views about the Arabs were not wise for the future of the Jews. Janner cared not in the least that he incurred the irritation of parliamentary colleagues sympathetic to the Palestinians.
Janner's causes in Parliament were innumerable: the factor they had in common is that all were worthwhile. Changes in employment law, particularly to protect part-time workers; industrial safety; homeless and rootless people; consumer protection; the care of the elderly; race relations; relations with India – he was a founding member of the Curry Club, under the auspices of which the Indian High Commission hosted MPs once a month; human rights in Romania; civil rights in Lithuania; the education of ethnic minorities (for which he was awarded an honorary degree by De Montfort University). But above all was his presidency of the National Council for Soviet Jewry from 1979-85, the position for which he would wish to be remembered.
Whether Janner was guilty of child abuse, I simply do not know. But I spoke to two colleagues who were in a position to know about him, Patricia Hewitt, who succeeded him in Leicester West, and Derek Foster, Labour's Chief Whip from 1985-95. They were both likely receptacles for complaints against Janner, but neither had heard a whisper.
Allegations of child abuse first surfaced in the early 1990s, but were not investigated. In the months before he died they re-emerged; the Crown Prosecution Service decided that a prosecution would not be in the public interest as he was suffering from dementia.
The decision was overturned but Janner was ruled unfit to plead. A trial of the facts – which determines the truth of allegations but can give no verdict of guilt or innocence – was due to be held in April, but it is thought unlikely that the case will go ahead.
Greville Ewan Janner, politician: born 11 July 1928; MP for Leicester North-West 1970–74, Leicester West 1974–97; cr. 1997 Life Peer, of Braunstone; married 1955 Myra Louise Sheink (died 1996; two daughters, one son); died 19 December 2015.
Register for free to continue reading
Registration is a free and easy way to support our truly independent journalism
By registering, you will also enjoy limited access to Premium articles, exclusive newsletters, commenting, and virtual events with our leading journalists
Already have an account? sign in