Lord Kimball: Farmer, MP and the last of the 'Knights of the Shires'
The man who devoted most of his parliamentary career to animal issues
Sunday 06 April 2014 20:20 Comments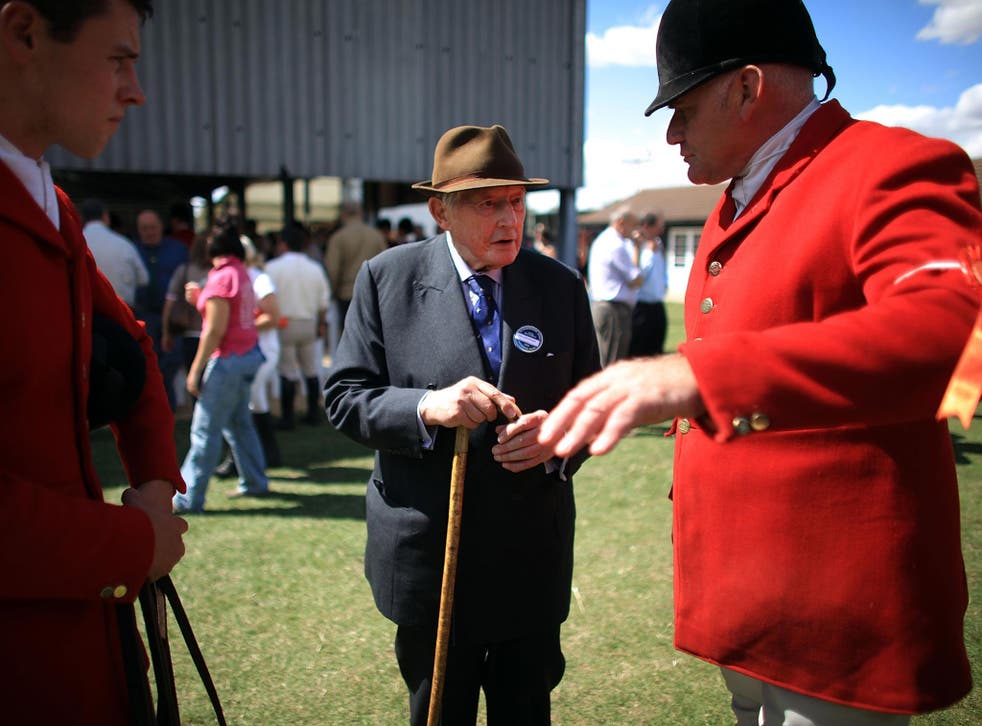 It is 59 years since Marcus Kimball was elected to the House of Commons; Anthony Eden was his first prime minister. Talking to me in 1982 as an old schoolfriend when he had decided to retire at the forthcoming election, he said in his usual matter-of-fact tones, "Today's Tory party is no longer my scene. Most of them do not care for me, and I don't care for most of them."
Kimball was one of the last of an almost extinct species, the Knight of the Shire. This is not to be derogatory: as the docker and Labour's chief whip Bob Mellish put it in his Bermondsey lingo, "Give us a bleeding Knight of the Shire any day rather than bleeding city-slickers on the make!"
The son of Major and Mrs Kimball of Whissenthorpe, Melton Mowbray, Kimball was mainly brought up by his mother, as his father was away on active service. She was an immensely capable lady who managed the extensive family estates in the east Midlands and the far north of Scotland.
In 1942 he went to Eton, and the House of LH Jaques. "LHJ" was an imposing and authoritative "beak" who would take no nonsense; but he was a wonderful encourager of his pupils "to do their own thing". Jaques encouraged his activities as Keeper of the Beagles – a position of some standing at 1940s Eton – and his captaincy of the shooting Eight.
He liked to give the impression of being idle, but he was not, and he entered Trinity College, Cambridge. He flourished as a member of the Hawks Club for the university's sporting elite. Well-prepared at Eton by his history teacher, David Graham-Campbell , he survived the taxing supervision of the scholarly historian Walter Ullmann.
In the 1955 general election Kimball lost in Derby South to the future Nobel Peace Prize laureate Philip Noel-Baker, but he was considered a good candidate, and when the Leader of the Commons, Harry Crookshank, died, he won the by-election in February 1956. Lord Cormack told me that as chairman of the Lincolnshire Young Conservatives he remembers Kimball at a meeting in Louth as an ebullient, thrusting young politician full of good ideas.
Crookshank had been MP for Gainsborough since 1921. Rural life in those days was a different political universe. It is factual, not apocryphal, that the station master at Gainsborough railway station would doff his cap to Crookshank with the words, "I look forward, sir, to your next annual visit."
The present MP, Sir Edward Leigh, told me that in 1983 Kimball handed him three boxes of constituency files from his car boot with the words, "Edward, I have left you a virgin bailiwick. Don't spoil it by doing anything." Kimball took the view that canvassing was undignified. Equally, in 28 years he never voted against his government, and rebuked Leigh when he dared to vote against John Major's wishes.
Kimball displayed no great appetite for ministerial office – though had Reginald Maudling beaten Ted Heath to the Tory leadership it is likely that Kimball's knowledge of forestry and land management would have made him a candidate for a junior post at the Ministry of Agriculture. In those days I sat for hours through a series of agricultural provision bills on the Opposition Committee back benches. Kimball, encouraged by the whips, would keep quiet and get on with his constituency correspondence. Every now and then he would come to life and make a concise, pertinent contribution. He had become a self-styled "backwoodsman" who opened his parliamentary mouth only when he had something worth saying. He seldom spoke on the floor of the House.
My first recollection of Kimball's parliamentary activity, in 1962, encapsulates the issue, vital to agriculture, that he was to raise often. He asked how many experiments usingpoison to kill pigeons had been allowed in East Anglia and London. The Agriculture Minister James Scott-Hopkins told him that in view of the damage the experiments should continue. Fifteen years later I raised the issue of Newcastle Disease, transmitted by defecating pigeons, in the European Parliament. Scott-Hopkins, by then leader of the Conservative delegation, chuckled, "Pigeons! The man who really knew about pigeons was Marcus Kimball!"
He recalled that as a sequel to his PQs in 1962, Kimball met Christopher Soames, the Minister for Agriculture. Afterwards, Soames said to Scott-Hopkins, "James, Marcus knows more about pigeons than you, me and our Min Ag officials! We would be prudent to do as he suggests." And government policy changed thanks to Kimball's representation.
It is a fact that from the mid-1960s he was more interested in his role as a Master of Hounds (with the Fitzwilliam and the Cottesmore hunts) than in political advancement. From 1966-82 he was chairman of the British Field Sports Society and from 1999 deputy president of the Countryside Alliance; in Parliament he was instrumental in blocking bills to outlaw hunting and hare coursing. Douglas Hogg, who will deliver the encomium at his memorial service at Oakham on 24 April, emphasised to me Kimball's contribution over a lifetime to country sports. µ TAM DALYELL
Marcus Richard Kimball, farmer and politician: born 18 October 1928; MP for Gainsborough 1956–1983; Kt 1981; cr. 1985 Life Peer; married 1956 June Mary Fenwick (two daughters); died Market Harborough 27 March 2014.
Register for free to continue reading
Registration is a free and easy way to support our truly independent journalism
By registering, you will also enjoy limited access to Premium articles, exclusive newsletters, commenting, and virtual events with our leading journalists
Already have an account? sign in
Join our new commenting forum
Join thought-provoking conversations, follow other Independent readers and see their replies