Lord Marshall: Executive who turned British Airways from a sleeping giant into a world leader
At BA he began a programme, 'Putting People First'. Staff were invited to learn the new mantra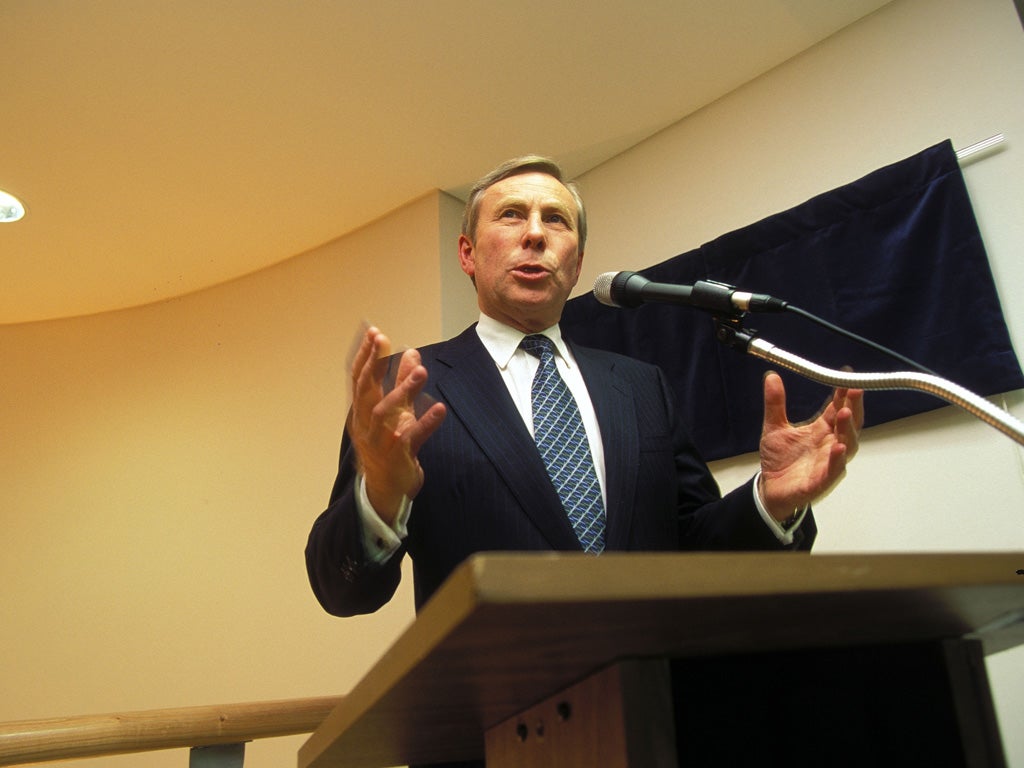 Thirty years ago, British Airways was a loss-making discredit to the nation. Good people within the organisation were stifled by a bloated bureaucracy and a shocking lack of corporate focus on the long-suffering passenger. In common with state airlines from Afghanistan to Zimbabwe, BA was operated largely for the benefit of staff and civil servants (between whom it was sometimes difficult to distinguish). The route network was propped up by restrictive bilateral agreements signed between governments distrustful of competition. Airlines cosily agreed fares between themselves – any enterprising carrier that dared cut prices unofficially to fill spare capacity risked a hefty fine from the Board of Trade. Meetings were convened to ensure that no airline gained a competitive advantage over its equally flabby rivals, with details down to the maximum permissible dimensions of a salt cellar.
The arrival in 1983 from New York of an outsider, Colin Marshall, made many BA employees nervous – with good reason. Margaret Thatcher and her buccaneering free-market favourite, John King, had recruited a man to rouse British Airways from its complacent slumber and prepare the airline for the first privatisation of major state airline.
Marshall was in his 50th year. Despite the name of his north London school, University College School, he left formal education at 16. He soon entered the travel business as a cadet purser with the Orient Line, where his passion for customer service began. He spent two decades working in the competitive cauldron of car rental in the biggest market in the world, the US, for the largest players: first Hertz, then later its smaller rival, Avis. At the latter, the advertising slogan "We're No 2. We try harder" epitomised a firm that put the customer first.
The British Airways that Marshall joined had existed for less than a decade: BOAC and BEA had been hamfistedly welded together in 1974, and mutual suspicion between long- and short-haul staff was rife. Management was hobbled by a web of restrictive practices.
Lord King culled 22,000 staff to reduce an absurdly inflated wage bill. The mindset of those who remained was summed up by the contemporary joke that "A BA 747 is the best way of transporting four engines around the world". There was no emphasis on caring for the passengers on board, nor the need to turn a profit. Marshall saw that these virtues were interdependent.
The Marshall plan to transform BA from a lamentable waste of taxpayers' money to a profitable premier-league airline was far reaching. He instigated a pioneering programme called "Putting People First," in which every employee was invited to spend a day learning the airline's new mantra – and meeting the man responsible. One of his key messages was on service recovery: "The customer doesn't expect everything will go right all of the time – the big test is what you do when things go wrong".
Many of the developments that 21st-century passengers take for granted were born from Marshall's pre- and post-privatisation evangelism. Significant elements of the British Airways livery created in 1984 (controversially, by Californians) have endured to the present. Club Europe and Club World were BA innovations in 1988; "club" has since become a synonym for business class. Marshall also realised that the airline-customer relationship did not end with touchdown and passport control, and introduced the first arrivals lounges.
BA's privatisation in 1987 was heavily oversubscribed. Staff were invited to invest heavily in the airline's future. Before the sale could go ahead, though, a lingering dispute over BA's alleged part in the downfall of Laker Airways had to be resolved, with Sir Freddie Laker winning a large pay-off. Within a few years, allegations of corporate misconduct were to surface again, this time made by Virgin Atlantic – a rival who seems to have been a blind spot in the free-market vision shared by King and Marshall. A year of after Marshall joined BA, a music-business entrepreneur named Richard Branson had launched an airline to take on the existing transatlantic carriers.
The challenger's single Boeing 747 shuttling between Gatwick and Newark (then a New York backwater) was mocked by some at BA. But in 1991, Virgin Atlantic won access to Heathrow and began to entice BA's premium customers.
Branson cherry-picked the incumbent's most profitable routes. The appeal of "Upper Class" – offering a fresh, dressed-down approximation to first class at business-class prices – triggered defections from among BA's premium passengers. A small, secret unit within BA launched a campaign that involved hacking into the Virgin reservations computer and diverting prospective passengers with tall stories and free upgrades. "British Airways paid £610,000 in settlement of a libel action brought by Mr Richard Branson and Virgin Atlantic Airways Limited," BA's official history tersely notes for January 1993.
King retired early a few months later, with Marshall taking over as chairman, which he remained until 2004. Initially he combined the role with that of chief executive. But he stepped back from the front line, promoting Bob Ayling (a former civil servant and BA legal director) to group managing director and later CEO. Marshall sacked Ayling in 2000 in the wake of several acrimonious battles, including one with the political establishment over the "ethnic tailfins" and another with BA cabin crew.
A corporate unwillingness to address cabin-crew costs continued to dog the airline, and led ultimately to the bitter dispute that ended only a year ago. Under Marshall's chairmanship, BA was also slow in tackling the ascendancy of no-frills airlines in the late 1990s and early 21st century, and the airline now lags ignominiously behind easyJet at Gatwick. But the airline that Marshall transformed was robust enough to weather the severe shocks to aviation that began on 11 September 2011.
He was created Baron Marshall of Knightsbridge in 1998, and in the following decade held a number of senior non-executive posts. He was Chairman of VisitBritain in 2005 and 2006, and was the well-respected Chairman of the Board of Governors of Birkbeck College, part of the University of London. But his longest-lasting legacy was to create a carrier deserving of national pride – as Marshall put it, "the world's favourite airline".
Colin Marsh Marshall, business executive: born 16 November 1933; British Airways 1983–2004 (Chief Executive 1983–95, Deputy Chairman 1989–93, Chairman 1993–2004; cr. 1992 life peer; married 1958 Janet Cracknell (one daughter); died 5 July 2012.
Join our commenting forum
Join thought-provoking conversations, follow other Independent readers and see their replies