Louise Hay, motivational author who survived childhood abuse to become early advocate for Aids patients
Selling more than 50 million self-help books, 'the queen of the New Age'  became a prominent Aids advocate
Harrison Smith
Wednesday 06 September 2017 15:44 Comments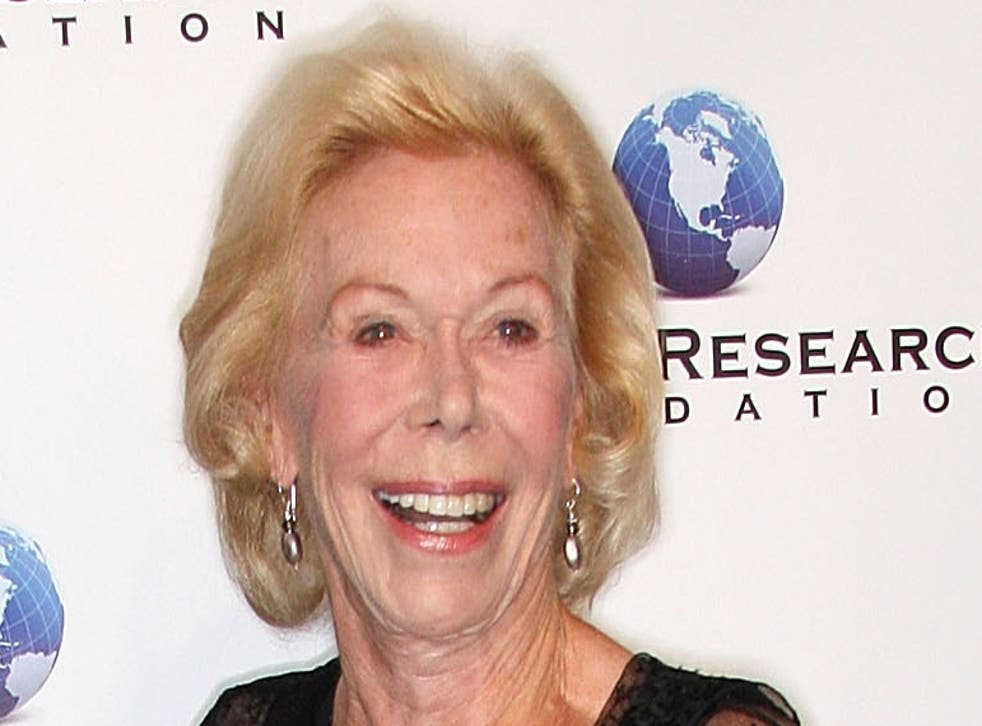 Louise Hay, whose book You Can Heal Your Life preached the power of love and affirmation, sold tens of millions of copies and made her a leading voice of the New Age movement in the 1980s, died – or rather, "transitioned" – on 30 August at her home in San Diego, California. She was 90.
Described in a 2008 New York Times profile as "the queen of the New Age", Hay was a child-abuse victim who had dropped out of high school, given a baby up for adoption, worked as a model and divorced an international-trade expert by the time she discovered "the power of positive thinking" in her forties.
She read the works of Norman Vincent Peale and early 20th-century mystics, attended the Church of Religious Science in Manhattan, and studied with Maharishi Mahesh Yogi, the one-time guru to the Beatles, at his "Vedic city" in Iowa.
Eventually, she developed a belief system based on the idea that medical maladies are inextricably linked with negative thoughts. Alzheimer's disease, she wrote in her "little blue book", the 1976 pamphlet Heal Your Body, was caused by "a desire to leave the planet." Leprosy, she said, was related to an "inability to handle life at all".
Wellness – relief from disease, depression, anxiety and stress – was merely a matter of positive thinking, honed by reciting mantras such as "I approve of myself" several hundred times each day.
It was a lesson that, Hay said, came from her own personal experience. Diagnosed with cervical cancer in the late 1970s, she chose to go against the advice of doctors and begin what her website described as "an intensive programme of affirmations, visualisation, nutritional cleansing and psychotherapy", focusing especially on childhood memories of sexual abuse.
"I ... had to love myself a great deal more than I did, and I had to clear the patterns of resentment that I had held from when I had been a battered and sexually abused child," she said in one audiobook, Cancer: Discovering Your Healing Power. "It was imperative for me to let go of the blame." Within six months, she said, the cancer was gone.
Hay founded Hay House in 1987 – and her account of the disease was central to the rise of this publishing empire, which also offers self-affirming colouring books, can-do desk calendars, inspirational card decks, meditative audio recordings and mobile apps.
A website for Hay offers daily "affirmations" ("in the infinity of life where I am, all is perfect, whole and complete"), and her company organises conferences and seminars featuring self-described psychics, clairvoyants, "angel therapists" and holistic healers. A streaming radio station was launched in 2005.
Hay House grossed $100m (£77m) in 2007, The New York Times reported, and Hay's second book – You Can Heal Your Life (1984) – has remained a strong performer in print, selling more than 50 million copies around the world, according to its publisher.
The book was given a boost when Hay appeared on daytime talk shows with Phil Donahue and Oprah Winfrey in March 1988, discussing her advocacy for people with Aids.
She had been a relatively unknown spiritual counsellor in Southern California when, in 1985, she began holding small gatherings in her living room for gay men with the disease. The support group, known as the Hayride, soon ballooned to a Wednesday night gathering of more than 800 people, filling an auditorium in West Hollywood.
Held at a time when Aids was widely stigmatised, the meetings were "often the only time a person with Aids might be touched, hugged or massaged with care, not rough disdain," the Los Angeles Blade wrote in an obituary of Hay.
Hay reportedly presided over the funerals of some Aids patients – "Who else was going to do it?" she said – but drew the ire of doctors and some members of the gay community for giving the impression that the disease could be cured, and cured with love.
"Love is the most powerful stimulant to the immune system," she said at one gathering in 1988, the LA Times reported. "What we're doing here is practising love, unconditional love."
She was born in Los Angeles on 8 October 1926, and for decades kept her birth name closely guarded. Eventually she acknowledged that it was Lunney – "the kids used to call me 'lunatic', " she wrote in one book – and said that she was beaten by her stepfather and raped by a neighbour when she was about five.
She dropped out of high school at 15 and became pregnant, giving her infant daughter up for adoption on the day she turned 16. Louise Hay was a name she took after moving to New York in 1950, where she became a model for Bill Blass, Pauline Trigère and Oleg Cassini and married Andrew Hay, an Englishman, in 1954.
Andrew reportedly left her for another woman 14 years later, leading Hay to begin visiting the First Church of Religious Science, a metaphysical institution led by Raymond Charles Barker. She returned to California in 1980, and, according to Hay House, left no immediate survivors.
Hay founded a charity organisation, the Hay Foundation, in 1986, and appeared in a 2007 movie adaptation of You Can Heal Your Life. For many years, she travelled the country delivering lectures, finishing them by spending hours behind a lectern, standing on her feet while signing books for her fans. She always stood, she told The New York Times, "because they all want to hug me".
Louise Hay, positive thinker: born 8 October 1926; died 30 August 2017
© Washington Post
Register for free to continue reading
Registration is a free and easy way to support our truly independent journalism
By registering, you will also enjoy limited access to Premium articles, exclusive newsletters, commenting, and virtual events with our leading journalists
Already have an account? sign in
Join our new commenting forum
Join thought-provoking conversations, follow other Independent readers and see their replies