Loulou de la Falaise: Muse, confidante and jewellery designer for Yves Saint Laurent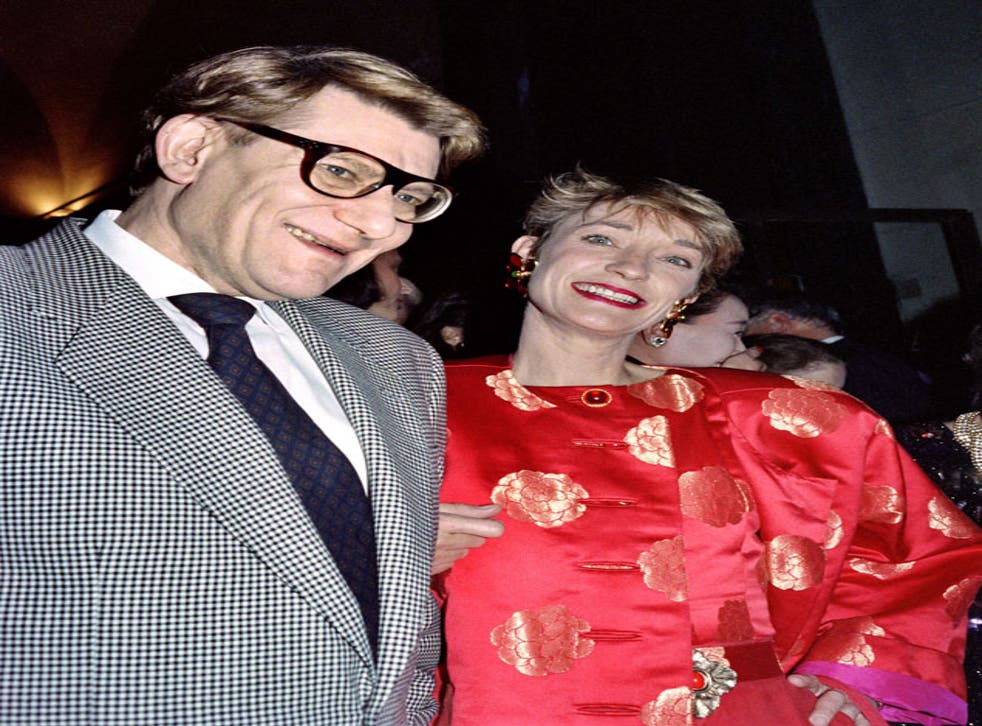 Between 1972 and 2002, Loulou de la Falaise was an important member of the team behind the French fashion designer Yves Saint Laurent, along with the industrialist Pierre Bergé and the androgynous Betty Catroux, his other muse and confidante.
Slim, elegant and of aristocratic descent, De la Falaise had a penchant for trouser suits, brocade pants and colourful, clanking, chunky jewellery. She brought from London to Paris an "It" girl look that undoubtedly influenced the subsequent creations of Saint Laurent, whom she first met in 1968. "It is important to have Loulou beside me when I work on a collection," he told his biographer Axel Madsen in 1979. "I can't explain her job. It has to do with her manner, her straightforwardness."
Indeed, De la Falaise admitted that when she began working for the somewhat neurotic designer, who broke the mould by creating parallel haute couture and prêt-à-porter collections, "Yves didn't tell anyone why he had hired me. And I didn't know what he had hired me as. But back then, we were all friends. Fashion wasn't run by businessmen who kick a designer out and put in a robot instead. It wasn't traumatic then. One just did one's thing."
She soon found her niche designing jewellery, hats and other accessories that became as chic and collectable as Saint Laurent's iconic creations. "Accessories have an important role to play in our stressful lives," she explained. "If you're going out to dinner and you don't have time to go home and change, you can take your jacket off and add a piece of jewellery to what you're already wearing. It's a lot easier than carrying an evening dress on the underground."
Born Louise Vava Lucia Henriette le Bailly de la Falaise in 1948, she was the only daughter of a French count whose brother married the actresses Gloria Swanson and Constance Bennett, and a socialite mother, Maxime Birley, whose brother founded Annabel's, the London nightclub and private members' restaurant. Her parents divorced when she was three, and after a French court declared Maxime "an unfit mother", she and her brother Alexis shuffled between foster families. "I hated clothes as a child. I thought skirts were pathetic," she recalled. "I stuck with my brother. We felt very abandoned, so we were close in everything we did."
A free-spirited teenager, she was expelled from boarding schools in Sussex, Switzerland and New York, and seemed to be following in her mother's footsteps when, aged 18, she married Desmond FitzGerald (obituary, 13 October 2011), an Irish nobleman, only to divorce him three years later. By then, she was the mini-skirt-wearing junior fashion editor of Queen magazine, writing about Mary Quant and Ossie Clark and very much part of the Swinging London set. In Paris, her friend Fernando Sanchez invited her to a goûter – the chi-chi equivalent of a tea party – at his apartment, other guests to include Pierre and Yves. She expected to be introduced to Pierre Cardin, only to meet Bergé and Saint Laurent, with whom she got on famously. "People in Paris thought I was an eccentric, extravagant creature," she said. "Meeting Yves didn't impress me that much. In London, we thought France was stuffy. We didn't have the cult of the couturier."
They became firm friends and stayed in touch when De la Falaise relocated to New York, where she designed printed fabrics for Halston and also worked with Giorgio di Sant'Angelo. While holidaying in Sardinia in 1972 she received a phone call from Saint Laurent inviting her to join his fashion house. The fact that his spring 1971 collection, inspired by the Forties, had bombed might have played a part in the decision to hire her, and she acted as a sounding board, fixer and ambassador for the YSL brand over the next three decades.
She was always a party girl and had no trouble keeping up with Saint Laurent's jet-set lifestyle and excesses at his villa in Morocco and at branché, trendy nightclubs like Le Palace in Paris. When she married Thadée Klossowski, the youngest son of the painter Balthus, in 1977, the designer threw the couple a lavish reception in the Bois de Boulogne. The 2,000 guests were taken by boat to an island on one of the park's two lakes. The bride wore a white and gold outfit and a feathered, bejewelled turban from Yves Saint Laurent Rive Gauche for the ceremony and changed into a navy blue and gold dress with a jewelled crescent-moon headdress for the Bois de Boulogne party.
De la Falaise liked to remind interviewers about the long hours she worked, and the tears she shed at the end of every défilé de mode. "Everyone cried, in the room and backstage," she remarked. "Yves could create this sense of heightened emotion in people. It was totally out of the ordinary."
The production of her jewellery designs incorporating colourful, semi-precious stones, enamel, wood and rock crystal was rather labour-intensive and kept a host of small Paris workshops in business for many years. When Saint Laurent retired in 2002, six years before his death, she opened two boutiques in Paris but struggled with the humdrum nature of running a business until the recession did for them. However, she still managed to combine high-end and low-end ranges and had recently designed a line of jewellery to be sold exclusively at the Majorelle Garden in Marrakech, the place where Saint Laurent's ashes were scattered, and accessories and ready-to-wear clothes for the Home Shopping Network in the US.
Arguably, De la Falaise's lasting contribution to fashion was taking the mix-and-match, off-hand style of Carnaby Street in the Sixties into the mainstream. "I'll keep on mixing because it's more inspiring," she said.
"Loulou was poetry," Catroux said in tribute to De la Falaise. "We were the opposite. She saw everything in pink and I saw everything in black. We shared a life together with such complicity. If I could choose a dream sister, it would be Loulou."
Louise Vava Lucia Henriette le Bailly de la Falaise, accessory designer: born Sussex 4 May 1948; married 1966 Desmond FitzGerald (divorced 1970); married 1977 Thadée Klossowski (one daughter); died Boury-en-Vexin, France 5 November 2011.
04.05.1948
On the day she was born...
King Abdullah of Transjordan sent in the Arab Legion to attack Israeli settlements. Ten days later the Arab-Israeli War broke out
Register for free to continue reading
Registration is a free and easy way to support our truly independent journalism
By registering, you will also enjoy limited access to Premium articles, exclusive newsletters, commenting, and virtual events with our leading journalists
Already have an account? sign in
Register for free to continue reading
Registration is a free and easy way to support our truly independent journalism
By registering, you will also enjoy limited access to Premium articles, exclusive newsletters, commenting, and virtual events with our leading journalists
Already have an account? sign in
Join our new commenting forum
Join thought-provoking conversations, follow other Independent readers and see their replies