Lynn ten Kate: BBC radio presenter and Oxfam organiser whose innovation improved the lives of millions
She created opportunities for people in developing countries whose handicrafts are sold through charity shops to this day and made more than 600 broadcasts for BBC radio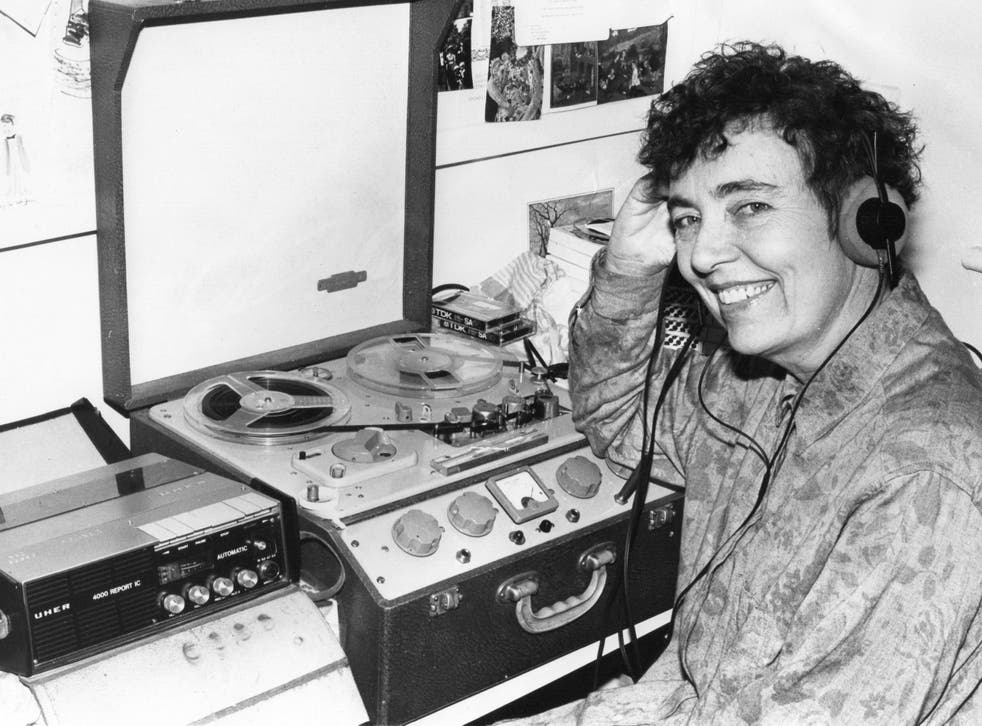 During her time working for Oxfam, Lynn ten Kate, who has died aged 82, came up with a radical idea that has improved the lives of countless people.
Noticing the skills of many of the individuals the charity was supporting, she realised that Oxfam could sell handicrafts and goods that people in developing countries could make for themselves, linking the charity's fundraising with self-sufficiency for its beneficiaries.
Her idea was developed into a major charitable enterprise by Oxfam, and is a pattern followed by many charities today.
Born Lilwen Elias Hughes in High Wycombe, to Alfred Hughes, originally from Llanelli, and Betty Elias, from the mining village of Blaengwynfi, she was a precocious child, singing and dancing from an early age. At the age of three, she won a Daily Express competition to find the "cleverest child in Britain" and made her first record, singing in a strong Welsh accent. Seeing a picture of this new Shirley Temple in the paper, the composer Lawrence Wright wrote a song especially for her: "Buy Me a Rocking Horse".
From the age of seven, Lilwen would travel alone by train every day to London, where she attended the Cone Ripman School of Drama in Baker Street and hid in the cellar during bombing raids.
At 16 she joined a repertory company, adopting the name Lynn when she found that people couldn't pronounce Lilwen. She toured Scotland during a snowy winter in the back of the theatre company's open lorry, performing a different play every night in village halls. Being the youngest member, she was sent to knock on doors and find accommodation for the troupe before playing the ingenue in the evening's performance.
At 18, she returned to London, lodging with her aunt, the soprano Lucille Graham. She auditioned for the BBC's Home Service and its Light Programme and was soon broadcasting music hall numbers in programmes such as "Those were the Days", and in dramas such as Under Milk Wood.
This led to a number of requests to be in pantomime, always as Principal Boy. In one theatre, she played the lead in Jack and the Beanstalk. The projectionist was regularly drunk, and failed to turn on his spotlight at his cue, "the face of Jack will magically appear". She waited for some time, then gave up on the projectionist and turned around to crawl away and get ready for her next entrance. At this moment, the projectionist awoke, giving the audience a spot-lit view of her receding bottom.
She met her future husband Erik, a Dutch engineer, and helped run his business, Brimpex, manufacturing and exporting hydraulic lifting equipment. She manned his exhibition stand, planned the move of the factory from London to Camberley, organised the wages, and ran the sales organisation.
During a romantic honeymoon visiting the coal yards of Scotland, the couple were struck by an article in a piece of newspaper lying beneath an oily spare part on the factory floor. It announced the opening of the "Asia 1" route to India and beyond, and they promised each other to drive that route one day.
Using her experience with Brimpex, she applied to Oxfam and was appointed as one of its six Sector Organisers, to spread their shops beyond their home in Oxford. She set up campaigns around the country, typically forming a local committee to run a flag day and pop-up shop, then leaving it as a functioning organisation when she moved on to the next town.
In 1964 she was appointed International Appeals Organiser and went abroad to set up Oxfam of Canada, then to Belgium where she set up Oxfam Belgique, which flourish to this day.
In the early 1960s, Lynn and Erik restored a ruined 17th century hunting lodge that is said to have belonged to King Charles I. They rebuilt it lovingly by hand while living in a caravan in the garden and Lynn was the expert with the concrete mixer.
In 1966, Lynn had her daughter Kerry, and turned to freelance journalism as work she could do from home while looking after a baby. She gave hundreds of broadcasts on current affairs, arts and travel for BBC Radio 4, particularly for Woman's Hour, Does He Take Sugar and You and Yours, and also for the World Service and Radio 3.
She was one of a small number of independent journalists trained by the BBC to do their own sound editing.
Lynn could write a song at the drop of a hat. While researching an item for Woman's Hour on Kirkpatrick Macmillan, arguably the inventor of the pedal cycle, she stopped for a pub lunch, writing an instant "folk" song about him during her meal. Then, with typical nerve, charm and persuasiveness, she taught it to the people in the bar around her, recorded it, and included it in her broadcast.
In 1977, Lynn, Erik and Kerry fulfilled the couple's honeymoon dream, driving from England to India, through Turkey, Iraq, Iran, Afghanistan, Pakistan and India to Sri Lanka, while Lynn made radio programmes, wrote for papers and magazines and made countless friends along the way, visiting charities she supported.
Having maintained her interest in international aid, Lynn supported Joe Homan's Boys' Towns in India and Sri Lanka, was for many years a director of the International Children's Trust and helped Sarah Thomas de Benitez as she established JUCONI in its work with street-connected children in Mexico. She also helped Phil Weddell when he set up the Kaloko Trust, lifting rural people out of poverty in Zambia after the collapse of the mining industry. She mentored other charity organisers, several of whom attained awards for their work, and she campaigned for Amnesty International.
She travelled widely up until her latter years – from China to New Zealand to the Amazon – but was never happier than when winning prizes for her tomatoes and raspberries at the Crookham Village, Dogmersfield and Winchfield Horticultural Society Annual Show.
She wrote for The Observer, The Sunday Times and The Independent, for whom she wrote articles and several obituaries.
A lifelong member of the Voluntary Euthanasia Society (now Dignity In Dying), Lynn campaigned vigorously for changes to the law in her last years. It is a cruel irony that dementia struck her fast in the last months of her life and meant that she could not choose her preferred way out.
An incredibly modest person, Lynn never spoke of her achievements – whether the systemic change she brought about in charities or the occasion on which she gave the kiss of life to a drowning child pulled out of the Basingstoke canal by her close friend Dorothy Kemp. She was an amusing, irreverent and self-deprecating raconteur about her adventures, from snakes in a conning tower in Baghdad to bloopers in broadcasts. Most of the people she met will remember her for her warmth and generosity, infectious laugh and the quiet help she gave her friends, anticipating small needs in a way that made a great difference.
She leaves a daughter Kerry, sister Vanda and brother Clifton.
Lilwen (Lynn) ten Kate, born 7 October 1935, died 8 December 2017
Register for free to continue reading
Registration is a free and easy way to support our truly independent journalism
By registering, you will also enjoy limited access to Premium articles, exclusive newsletters, commenting, and virtual events with our leading journalists
Already have an account? sign in
Register for free to continue reading
Registration is a free and easy way to support our truly independent journalism
By registering, you will also enjoy limited access to Premium articles, exclusive newsletters, commenting, and virtual events with our leading journalists
Already have an account? sign in
Join our new commenting forum
Join thought-provoking conversations, follow other Independent readers and see their replies