Madiha Yousri: Star from golden age of Egyptian cinema
Chosen by Time magazine as one of the world's 10 most beautiful women in the 1940s, she appeared in more than 90 films, many of which are considered classics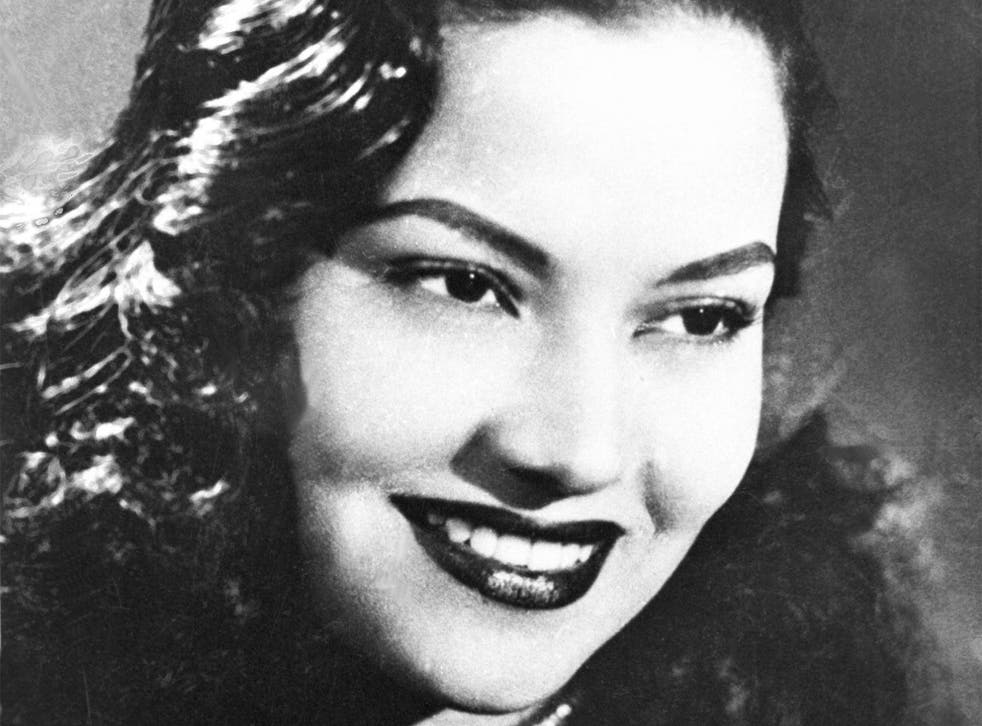 Known as the "Brunette of the Nile", Madiha Yousri starred in dozens of classic Egyptian films, as well a number of TV dramas in the course of a career spanning over half a century.
Yousri, whose real name was Ghanima Habib Khalil, was born on 3 December 1921 in Cairo to a Turkish father and Sudanese mother. She studied fine art before she was discovered by film director Mohammed Karim while sitting with her friends in historic cafe Groppi in downtown Cairo.
She said of the meeting: "I knew how my father, a traditional Middle Eastern man, would react. He would never agree to his daughter acting. Yet I listened attentively to Mohammed Karim and remember this meeting very well. He kept telling me that he thought I was the perfect girl to stand in front of Abdel Wahab because of my black eyes which encapsulate the Egyptian girl."
He introduced her to Egypt's legendary composer and singer Mohamed Abdel Wahab and she landed her debut role, albeit a small one, in Mamnou'a Al-Hub (Forbidden Love, 1940), and again in Rossassa Fi Al-Qalb (A Bullet in the Heart, 1944), both directed by Karim.
Yousri went on to act with all four of Egypt's leading musicians of the 20th century. As well as Abdel-Wahab, she appeared in films alongside Abdel-Halim Hafez, Mohamed Fawzi and Farid Al-Atrash. She and Faten Hamama, the late Egyptian film icon who made her debut as a child actor, are the only two actors to have appeared with all four of the aforementioned luminaries.
Time magazine chose Yousri as one of the world's 10 most beautiful women in the 1940s; the decade in which Egypt firmly established itself as the capital of Arab cinema. Yousri was a significant member of the first generation of actors who contributed to the extraordinary development of Egyptian cinema and television. The so-called golden age (1940s-1960s) was a politically turbulent period in Egyptian history and one in which the government of pan-Arab socialist president Gamal Abdel Nasser actively engaged with popular culture and was eager to encourage the film industry.
Throughout her career, Yousri participated in around 90 films ranging from drama, to comedy, to romance and tragedy, in which her roles dealt with topics such as motherhood and maturity.
Many of her credits have since become Egyptian classics such as Lahn Al-Kholoud (Immortal Song, 1952), Ard Al-Ahlam (The Land of Dreams, 1956) and Al-Khataya (The Sins, 1962). Furthermore, she was cast alongside stars Emad Hamdy, Youssef Wahby and Hussein Riad in director Kamal El Sheikh's Hayaa aw Mout (Life or Death, 1955), which was nominated for the Palme d'Or at Cannes Film Festival. She also produced and starred in a series of romantic films based on writer Youssef Al-Seba'i's novels, the most popular of which is Inni Rahila (I Shall Depart, 1955).
Yousri's final cinema appearance came in 1994 in the film Al-Irhabi (The Terrorist) beside one of Egypt's best-loved stars, Adel Imam. Imam plays a member of a radical Islamist group and assassinates an Egyptian officer. As he escapes he is hit by a car and injured, and must conceal his hatred of music, unveiled women and Western lifestyle from the respected Cairene family who take care of him after the accident. Yousri plays the matriarch of that family.
Yousri was awarded Egypt's State Medal of Creativity in 1963 by then-president Mohamed Anwar Sadat, and also recently received an honorary doctorate from the Egyptian Arts Academy.
Towards the end of her career, Yousri starred in several television series, usually in the role of the mother or grandmother, most notably as Khadiga Hanem in the celebrated series Hawaanem Garden City (The Ladies of Garden City, 1997). Qalby Younadik (My Heart Calls You) in 2004 was Yousri's last television appearance.
Yousri's private life has been a frequent topic in the Egyptian press. She married four times, three of her husbands were, like her, prominent figures in the arts scene. Her first marriage was to singer and composer Mohamed Amin, with whom she set up a film company that produced lauded movies such as Ahlam Al-Hub (Dreams of Love) and Al-Jins Al-Latif (The Weaker Sex).
In 1946, Yousri married Ahmed Salem, an actor, director, producer and personal friend of Egypt's King Farouk, but their marriage was short-lived. In 1952, Yousri was remarried to the acclaimed actor Mohammed Fawzi. They starred in several films together, but the marriage was struck by tragedy when their son Amr, born in 1955, died in a car accident. Yousri and Fawzi divorced in 1959, and Yousri's final marriage was to a Sufi sheikh, Ibrahim Salama Al-Radhi. Al-Radhi reportedly made Yousri give up acting for a few years on religious grounds. However, Yousri, who survived all her husbands, made her return to television sets in 1997 with Hawaanem Garden City.
Yousri's health deteriorated in 2016 and she was admitted to a private hospital in Cairo.
From her hospital bed in March 2018 she released a video picked up by local news outlets thanking Egypt's interior ministry and president for the renewal of her driving license and national identification card. Daily admin can be a cumbersome and near-impossible task in Egypt's bureaucratic systems. In the video she says: "I am unable to find words that express my appreciation and thanks … You have really, really raised my morale … Greetings to Egypt's beloved president Mr Sisi. Long live Egypt." Yousri was a well-known supporter of President Abdel Fattah al-Sisi, known for his intolerance and repression of dissent.
In April, an audio recording of Yousri was broadcast on Egyptian breakfast radio in which she says: "The efforts exerted by the president in his travels have given rise to a beautiful relationship between Egypt and America. From the bottom of my heart I wish him away from all harm and all evil. I am very happy with his visits to Arab and European countries, and all that he has endured for his love of Egypt and its people and in the name of Egypt itself, which the whole world knows and loves. He works very hard and I thank him very much."
When Yousri was reportedly struggling to continue paying for private healthcare, a decision was made by Sharif Ismail, the Egyptian prime minister, to transfer her to a state-owned military hospital, which also housed the deposed president Hosni Mubarak for six years – until last year when he was acquitted of conspiring to kill protesters during the Egyptian revolution of 2011. Four days prior to Yousri's death, Egypt's minister of social solidarity, Ghada Wali, supervised her transfer to the hospital in the Maadi neighbourhood of Cairo.
Egyptian actor Samir Sabri said that during his last visit to the late artist, Yousri had expressed a wish for a personal visit from President Sisi at the Maadi Military Hospital.
The actor died there at 1am on 30 May at the age of 97. Her funeral was held the same day at Al-Sayeda Nafisa Mosque in Cairo. A number of Egyptian celebrities and prominent public figures were in attendance.
Egypt's prime minister paid tribute to Yousri, expressing sincere condolences to her family and fans. He conveyed his deep appreciation for her rich repertoire of works and her performance of roles with "ease, honesty and craft". The National Council for Women also mourned her death, stating that Egypt had lost a remarkable and unique icon, whose name will be remembered in the hearts of all Arabs through the work she has left behind.
Madiha Yousri, Egyptian actor, born 3 December 1921, died 30 May 2018
Join our new commenting forum
Join thought-provoking conversations, follow other Independent readers and see their replies