Maersk McKinney Moller: Owner of the world's largestcontainer-shipping company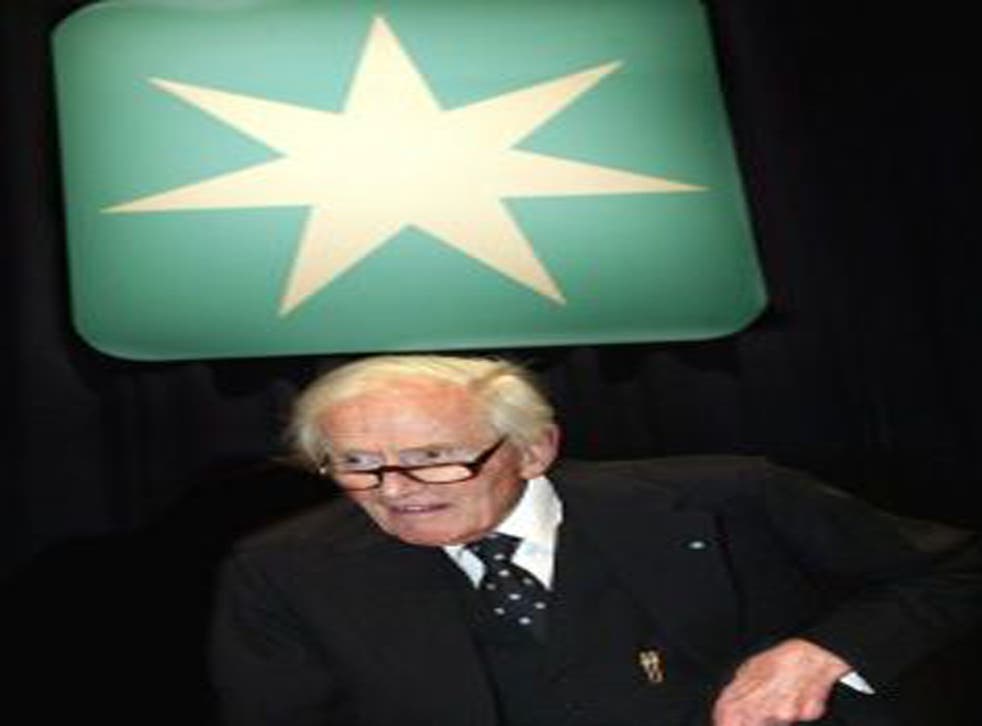 Maersk McKinney Moller, the Danish shipowner, was the world's greatest shipping magnate since Agamemnon. Greater than Henry the Navigator, greater than the founders of the world liner trades in the 19th century or the colourful tramp owners of that vintage, surpassing in tanker ownership and management the Greeks, Onassis and Niarchos, outlasting and outperforming even that outstanding entrepreneur of the Far East, YK Pao.
The Maersk-controlled fleet of container ships, VLCCs (Very Large Crude Carriers), product tankers, rigs, car carriers, Ro-Ros and offshore supply vessels is the biggest company fleet in the world – and, what really concerned Maersk, the best. He did not believe that size mattered, but quality. The only form of shipping he would not touch – apart from a few berths on his Norfolk Line – was passenger shipping. "Passengers," he would say, "are difficult."
Maersk always had a soft spot for England and Scotland – partly from his mother, partly from his early training in England; his father first opened a small shipping agency in the City (St Mary Axe) in 1951. In 1978 Maersk decided to develop London and gradually increased the number of his ships under the UK flag. In 1987 he established the Maersk Co (Isle of Man), and the following year took over a Southampton haulage and distribution company, which has expanded all over the UK.
In 1992 Maersk Co moved to Canary Wharf and then in 2006, after the take-over of P&O Nedlloyd and Safmarine UK, completely reconditioned the old Overseas Containers offices, Beagle House, renamed Maersk House, at Aldgate. There are now 80 Maersk ships registered in the UK and London has joined Singapore and New York as one of the three centres of ship management and ship excellence outside Copenhagen. Maersk now employs some 26,000 Brits at sea and on shore.
Moller had his own shipyard at Lindo on the island of Funen, which survived the shipbuilding traumas of the 1970s and 1980s, and is recognised today as one of the most efficient of all yards worldwide.
Together with Shell and Gulf (later Chevron and Texaco) he developed DUC (Danish Underground Consortium), extracting oil and gas from the Danish sector of the North Sea. This led to further production in the UK sector, in Qatar, Algeria and Kazakhstan, as well as exploration all over the world. It also led into the air business; he first purchased a fleet of helicopters to service his rigs and was then induced, first much against his will, to buy his own jet, which he came to love for ease of getting around his many companies. This led to the creation of Maersk Air, for many years a leading player in the European civil aviation scene. He sold most of his aviation interests to Sterling Aviation in 2005.
Apart from the ships and the oil and gas, there was plenty else. Maersk supported his great old friend Herman Salling, whom he had known since boyhood, in setting up a supermarket. The firm of AP Moller is now the major shareholder in Dansk Supermarked A/S, trading under the names of Netto, Fotex and Bilka. And to service the Maersk Line came Maersk Data, which has developed software enabling the Line to tell where any screw in any package in any container in any ship in any part of the world is at any time.
This vast, publicity-shy empire was basically controlled by Moller himself, with some companies publicly quoted but the majority shareholding controlled by three charitable foundations of which Møller was chairman. The main operating company, AP Moller-Maersk, had Maersk as chairman from the death of his father, Arnold Peter Moller, in 1965, until December 2003. Thereafter he remained available, in his office or on the telephone, day or night. Asked for his advice he would emphasise that he was no longer chairman but would say, "If I were you, I would do so and so". Woe betide any young man foolish enough not to take advice stemming from 75 years in the shipping industry.
Maersk McKinney Moller was born in Copenhagen in 1913, the grandson of Captain Peter Maersk Moller, who with his son Arnold had started a small tramp company with one ship. AP Moller was a towering figure who transformed it into a global trading shipping company. In later years when confronted by a hideous problem, Maersk would first ask himself, "What would father have done?" His mother was Chastine Estelle McKinney, a Scottish-American of great beauty and culture who had a deep influence on him. His formal education was at the Oregaard Gymnasium in Copenhagen. His father did not believe in university education – nor indeed did Maersk for his own recruits. But his education in shipping, shipbuilding, shipbroking, ports and cargo handling began, like Pitt the Younger in politics, "at his father's knee".
He formally joined the company in 1931 and was sent round the world to further his shipping education, including spells in London, Newcastle and Glasgow with Hogarth's, then owning 50 tramps but long since defunct. A further spell of six months in 1933 with Lazard's in London gave him a good grounding in international finance.
His real blooding as an independent ship-owner came during the war years. When Germany invaded Denmark in 1940, AP Moller saw the ghastly days ahead and arranged a passage for his son and new wife – Maersk had just married his childhood sweetheart, Emma Rasmussen – to America. After a hazardous journey through Germany, Switzerland and Italy they secured steerage berths in the SS Manhattan bound from Genoa to New York.
There. things were not easy. AP Moller was in partnership in America with his cousin Hans Isbrandtsen, a colourful and dominant character who did not take kindly to this whippersnapper coming from Europe to take control of his inheritance. Years of bitter controversy followed but Isbrandtsen had not recognised Moller's judgement, determination and steel will.
Gradually Maersk took control of the Moller fleet in neutral and Allied ports and co-operated with the American and British authorities in the requisitioning of ships. The losses were grave – and by no means properly compensated by war insurance or by the post-war Inter-Allied Reparations Agency in Brussels. Nevertheless it was a triumphant return for Maersk and Emma, now with two daughters and another on the way, to the family and the family business in Copenhagen in 1947. There he lived, with constant visits to his companies, heads of governments, fellow ship-owners and friends throughout the world, until his death.
His motto – and the reason why he prospered while other shipowners fell – was "with constant care". No detail was too small; he was hands-on. Some of his executives found this a bit much and left. But Moller, who had developed an advanced recruitment and training policy, was always able to find bright, young, hard-working men. What is now called "human resources" he regarded as the most difficult part of his job. "What," he would say, "do you think the man you appointed at 40 is going to be like at 50?"
Moller put vast sums into the Moller Foundation, the charitable trust founded by his father. The beautiful harbour-side garden, Amaliehaven, near the new Maersk office in Copenhagen, was his gift to the city. He acknowledged that but for Churchill and Britain's stand Denmark and Europe would not be what they are today, and funded a £10m Centre for Continuing Education at Churchill College, Cambridge. In 2004-05 came his most remarkable legacy – the arresting £250m Opera House in Copenhagen harbour, which has given a new dimension to the cultural life of southern Scandinavia.
Moller himself was an extraordinarily impressive and powerful personality. Of all the men I have known – except Churchill – he was the greatest. As soon as he came into a room you felt the aura of history and authority. He was highly intelligent, had a remarkable "nose" for business, a naughty sense of humour, was a prodigious worker, a great reader (of catholic taste in five languages), a percipient collector of pictures, houses and art, an experienced yachtsman and a devoted family man (he was devastated by the death at 17, while running, of the grandson who he saw as a potential successor).
He maintained a voluminous correspondence with the great and the not-so-great all over the world. How many have been cheered by the arrival through the letterbox of that distinctive blue envelope or card – the blue with which his ships were painted. Like all tycoons he could be ruthless, but there were many unrecorded acts of kindness and generosity. He had a passion for punctuality. He had no time to waste and didn't want to waste others'. Telephone conversations were short and to the point.
Moller kept himself fanatically fit. Up to the age of 90 he would swim 40 lengths before breakfast – "terribly boring," he would say – then his chauffeur would put him down a mile before his office, where he would climb the five floors. He ate sparingly, drank little, though he was a connoisseur of French reds and whites and of champagne. He appeared thin as a rake but, by God, he was tough. Even in 2007 he was doing 12 lengths before breakfast.
In 2003 he gave up the chairmanship of his companies, though not of the foundations. He remained on the Board of Maersk Oil & Gas and attempted not to interfere. But it was hard for him and for those around him.
His annus horribilis was 2005. He tripped on his walk into the office and ended up in hospital with a pacemaker. In October the main steamship company posted its first loss and in November Emma died. "Work through sorrow" was Maersk's answer, and he bounced back remarkably. Sitting in the evening sun in his South Zealand farmhouse, his Provence manoir or his Copenhagen bungalow, he would be inconspicuously directing affairs. And in August 2006 he felt well enough to take the helm of his yacht and sail again the waters of the Hebrides and the Pentland Firth, with the dolphins following, which he had not done for 20 years. Later that year he went on an exhausting business visit to China and was greeted by the top members of the government. He liked China. At least the old get some respect there, he noted.
In 2007 he linked up with Countess Bente Bernstorff-Gyldensteen, a friend from childhood. He introduced her to sailing and was full of admiration for the way she took to it and took the helm of his yacht on a further voyage round the Hebrides.
He received many honours; he was made an Honorary KBE in recognition of his services to British shipping, but what pleased him most was his appointment as a Knight Commander of the Danish Order of the Elephant, the only Danish civilian in recent times to be so honoured apart from Niels Bohr.
Maersk McKinney Moller, shipping magnate: born Copenhagen 13 July 1913; Order of the Elephant; Honorary KBE; married 1940 Emma Rasmussen (died 2005; three daughters); died Copenhagen 16 April 2012.
Patrick Shovelton died in January.
Register for free to continue reading
Registration is a free and easy way to support our truly independent journalism
By registering, you will also enjoy limited access to Premium articles, exclusive newsletters, commenting, and virtual events with our leading journalists
Already have an account? sign in
Register for free to continue reading
Registration is a free and easy way to support our truly independent journalism
By registering, you will also enjoy limited access to Premium articles, exclusive newsletters, commenting, and virtual events with our leading journalists
Already have an account? sign in
Join our new commenting forum
Join thought-provoking conversations, follow other Independent readers and see their replies