Mai Skaf: Syrian actor and democracy activist exiled by the Assad regime
A talented and principled performer, she matched her political dreams for the homeland she was forced to flee with the courage to take action to realise them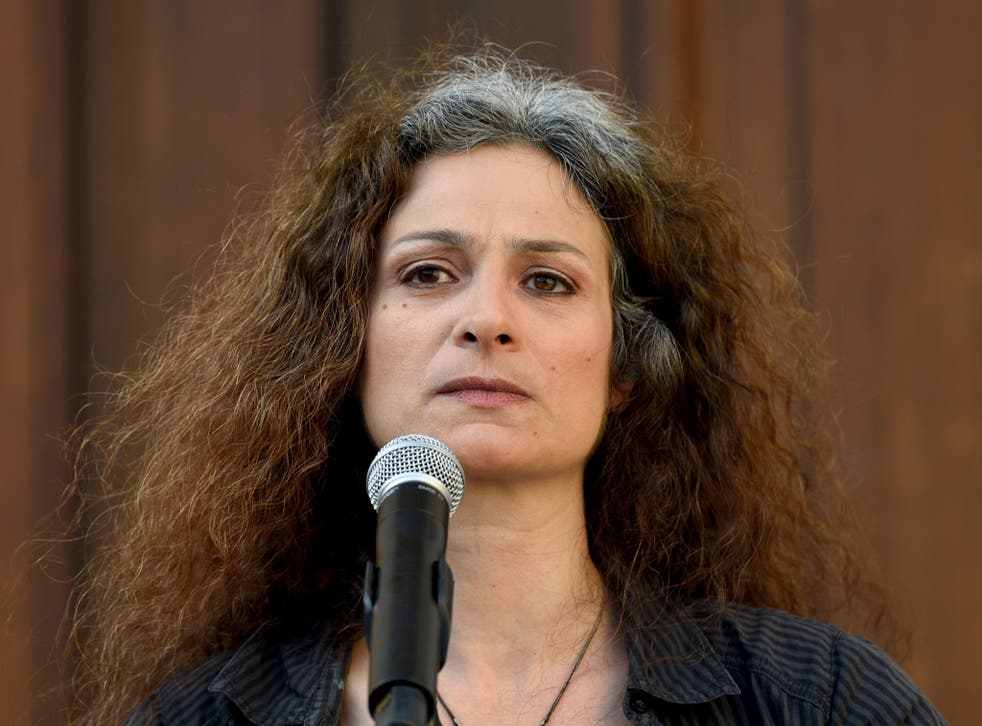 Mai Skaf, often anglicised as May Scaff during her career, was one of Syria's most popular TV and film actresses who became a leading activist and revolutionary against her nation's leader Bashar al-Assad.
She was a Christian in a mainly Muslim country and was outspoken in her attacks on Assad for failing to protect the country's religious minorities. With her defiant hazel eyes and wild brown but greying hair, fellow protesters described her as "the icon of the revolution".
Forced into exile in 2013 by the Assad regime's threats – she had been detained several times during street protests – she died suddenly in Paris on 23 July aged 49.
Friends and family said the passionate pro-democracy campaigner had been in good health and that her death, reportedly after cardiac arrest, was "mysterious".
She did, after all, have enemies, in the Syrian state, in Israel, and among the pro-Lebanese Hezbollah militia which has forces in Syria.
Her cousin, Syrian author Dima Wannous, posted on Facebook: "To my friends, I apologise for not answering your calls and messages. My family and I have been in a very difficult situation... patience for us and for you. I will never forgive who is behind her killing. May left us in very ambiguous circumstances and we are awaiting the investigation results." Paris police made no immediate comment.
Skaf was among the first of about 30 Syrian entertainers, artists and intellectuals to take the streets of Damascus on 23 July 2011 to protest a government crackdown on "Arab Spring" dissidents.
The protests sparked a civil war that has claimed hundreds of thousands of lives and displaced 12 million people, something Skaf blamed mainly on the Syrian regime's bombing and alleged chemical weapons attacks against rebels. She and her fellow artist protesters were immediately blacklisted by the Assad regime, while most of the country's artists remained silent or sided with the regime to maintain their privileges and avoid state reprisals.
Echoing the regime, most Syrian production companies billed Skaf and her fellow dissidents as "terrorists".
Skaf's own last public words, posted from Paris on Facebook on 21 July, were: "I will not lose hope, never lose hope. It is Great Syria, not Assad's Syria."
She was first arrested after addressing the 23 July 2011 rally, calling for Assad to step down or be removed from power.
Skaf was subsequently arrested, interrogated, charged with treason but released after pressure from international human rights groups. That was the first of several arrests during what the opposition calls the Syrian "revolution". As the regime responded with a violent military crackdown, the protests developed into a major conflict from 2012.
After one arrest, a Syrian interrogator asked her: "What do you want? Freedom?"
She responded with her usual defiance: "I want my son not to be ruled by Bashar al-Assad."
Commenting on those first protests, Skaf said: "They hurled big stones at us, showered us with raw eggs to make running away slippery. Then they came at us with batons, beat us on the head and body with the aim of inflicting injuries and breaking our spirits. Bloodstains were everywhere." She said she was blindfolded, handcuffed and interrogated. Her phone was tapped, her home watched, and finally she was charged with treason."
After receiving several highly-credible death threats, Skaf fled with her teenage son in 2013, first to Jordan and later, in 2015, to Paris where she continued to lobby against the Assad regime. One artist described her as "one of the world's noblest people and strongest souls".
Mai Skaf was born in Damascus on 13 April 1969, to a Muslim father and Christian mother, shortly before Hafez al-Assad, the current president's father, seized power, launching a dictatorial dynasty that still endures almost half a century later.
As she grew up, Skaf felt the need to support Syria's Christian minority, an uphill battle under the Assad regime. In her youth, she was strongly influenced by her uncle, the Syrian playwright Saadallah Wannous, whom she considered something of a spiritual father.
Like many of her peers, she learned French early – France had controlled Syria for much of the first half of the 20th century – and studied French literature at Al-Sham Private University (ASPU) in Damascus. Encouraged by Saadallah Wannous, she began acting while still a student.
Skaf had yet to be born when Israel, in the Six Day War of June 1967, routed Arab armies and captured the Gaza Strip and the Sinai desert from Egypt, the Golan Heights from Syria and the West Bank and East Jerusalem from Jordan.
But the Israeli occupation of Arab lands profoundly affected her growing up and she became a passionate supporter of the Palestinians. After the 2011 uprising against Assad in Syria, she believed that resisting the Syrian regime and resisting the Israeli occupation of Palestine and the Golan Heights were inseparable.
While still a student, she got into acting and appeared in several stage plays in the theatre of the French Cultural Institute in Paris, where she quickly came to the attention of Syrian film and TV directors. Her breakthrough came in 1992 when she was cast in the popular Syrian TV series Crime in Memory, an adaptation of Agatha Christie's crime novel Sleeping Murder featuring the intrepid Miss Marple. In 1993, she starred in her first film, Echoes of Slides.
In 1996, she played Taima – her role of a lifetime, according to Arab critics – in the joint Syrian-Dubai-produced TV series Al-Ababeed, the story of the third-century Syrian kingdom of Palmyra from the point of view of a wealthy upper class family.
In most of her performances, she played a strong, rebellious woman or a fearless warrior for her own and women's rights.
She once played a single mother who raised her daughter alone and stood up to her abusive husband. In the late 1990s, she founded Teatro, a theatre group that offered a wide range of acting classes and staged performances at an old Damascene home in the Al-Qanawat neighbourhood of the Old City. In 2006, she set up the Children of Teatro, specifically for child actors. All of Teatro was shut down by the regime after her part in the 2011 protests but she had hoped to revive it in Paris along with other Syrian exiles.
News of her death came shortly after reports that two young Syrian dissidents had died under torture by Assad's forces in Damascus prisons, adding fuel to online blogs that cast doubt that her death was from natural causes.
"Mai Skaf (and the two prisoners) all died together... maybe because they all refused to live this ugly moment of Syrian history," one blogger wrote.
Kuwaiti poet and critic Saadiah Mufarreh, tweeted: "May Scaff left today in exile but her free spirit will always be attached to the Great Syria, as she used to call it, always. Goodbye to her; she helped us restore hope in artists at a time when most of them went for the crumbs of power."
Mai Skaf was a woman of principle and a dreamer. But she was able to translate her dreams into realistic ideas under which Syrians could take concrete action to restore democracy in their homeland.
"When the Syrian revolution started, I became like a newborn making her first steps, rediscovering herself and rediscovering her country," Skaf said in a recent interview in Paris. "Like all Syrians who took to the street, I found my voice for the first time."
In the same interview, she said she wanted to die in her beloved Syria and was scared of dying in Paris or elsewhere abroad. "Don't say if we return to Syria or if the regime falls," she implored her fellow dissidents. "Say 'when' – when we return to Syria and when the regime falls. For this moment will come. It has to."
Cairo-based Syrian actor, director and producer Jamal Sulaiman paid tribute: "Farewell May. Never in my life did I met anybody who is more honest or noble than you are. When we were filming together once, you asked me: When are we going to return to Syria? Every time I used to lie and say: Soon. I was certain that this is the answer you wanted to hear, even if you doubted it."
Mai Skaf is survived by her mother and by her 20-year-old son, Joud.
Mai Skaf (May Scaff), actress and democracy activist, born Damascus 13 April 1969, died Paris 23 July 2018
Join our new commenting forum
Join thought-provoking conversations, follow other Independent readers and see their replies