Manuel Fraga: Politician who survived Spain's post-Franco transition to democracy
Alasdair Fotheringham
Wednesday 25 January 2012 01:00 Comments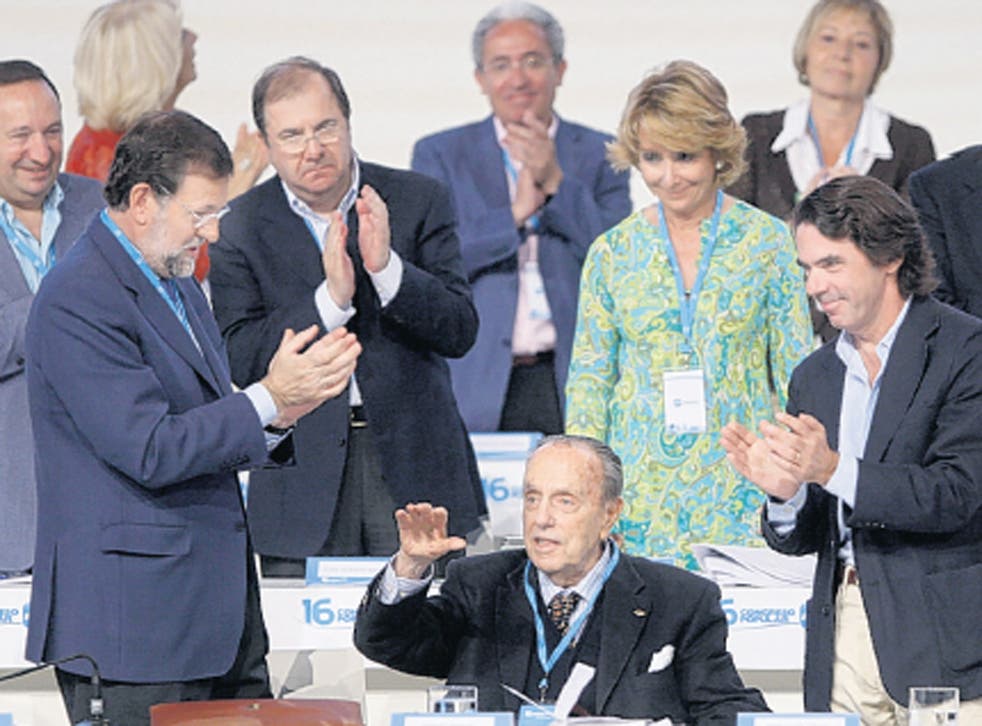 For more than 60 years, Manuel Fraga was a giant of Spanish politics who started out as a high-profile figure in the second period of Franco's regime and then made an opportunistic transformation in the post-Franco political arena.
Fraga's most dramatic political volte-face followed his spell as Franco's Minister for Tourism and Information in the 1960s, responsible for the dictatorship's propaganda. Such a crucial role defending the regime's actions, including the torture and execution of political opponents, did not prevent Fraga from becoming one of the co-authors of the 1978 Constitution, which enshrined the democratic rule Franco had helped destroy 40 years earlier in the Civil War.
Fraga then co-founded the short-lived Reforma Democratica party (the embryonic form of the Partido Popular that governs Spain today) in 1976, and led the parliamentary opposition to Felipe Gonzalez's Socialist government in the 1980s. Finally he became president of his native region, Galicia, from 1990 to 2005, converting the region into his political fiefdom, or as El Páis referred to it, "his little state".
Born to religious working-class parents in Galicia in 1922, Fraga emigrated briefly to Cuba with his family – he had 11 brothers and sisters – beforereturning to Spain, where he becamea brilliant student. By the age of 26he had a PhD in political law, and after considering the priesthood he chose politics, joining Spain's neo-fascist party, the FET-JONS, entering parliament in 1945.
By 1962, he had become Franco's youngest minister, the fresh face in charge of measures that "proved" the regime was growing more progressive, but which actually helped prolong its political life. The Ley Fraga [Fraga law], his most famous piece of legislation as Minister of Information, was a case in point. It technically eliminated censorship but books, radio and television were actually subject to stricter and more arbitrary judgements of suitability. Newspapers could not openly criticise the regime, and journalists who infringed this law were subjected to far stiffer penalities.
Tourism formed part of Fraga's brief, and in the 1960s it developed into a much-prized motor of the economy, to the point that when an American bomber crashed near the village of Palomares, jettisoning four hydrogen bombs into the sea, Fraga bathed on an adjacent beach to prove there was no danger. In fact areas near Palomares remain so radioactive that they are still sealed off to this day.
Fraga also used his talent for propaganda following the torture (which included being thrown out of a second floor window) and execution on trumped-up charges of the communist Julian Grimau in 1963. When more than 100 intellectuals published an open letter protesting at the heavy-handed repression of a miner's strike, he accused them of "discrediting Spain." Several were sent to mental asylums.
Accidentally shooting Franco's daughter, Carmen Polo, in the posterior at a hunt in 1964 failed to sink Fraga – "people who can't shoot straight shouldn't come" was Franco's laconic comment. However, Fraga was removed from office in 1969, apparently because he understimated the influence of the Opus Dei technocrats inside Franco's regime: if so it was a rare political error.
As Ambassador to the UK in the early 1970s, Fraga cultivated his image as the progressive face of Francoism, holding off-the-record discussions with Spanish exiles and preparing his campaign to become a key figure in the transition towards democracy after Franco's death. However, his first turn in the post-Franco political spotlight, as Minister of Goverment (Minister of the Interior) in 1976 did little good for his credentials. The worst example of his hard-line policies came in March 1976 when riot police tear-gassed a church in Vitoria containing unarmed protesters, then shot them down as they fled. Five were killed.
After losing his ministerial post when Adolfo Suarez gained power, Fraga edged back towards the right. With six other ex-Franco Ministers – the "magnificent seven" – he formed Reforma Democratica in 1976, which quickly mutated into Alianza Popular, the precursor of today's Partido Popular (PP).
Called in to help create Spain's post-Franco constitution, Fraga played two games at the same time. He softened his attitude towards the Communists (whom he needed to help consolidate the constitution) and worked towards a blanket amnesty for political crimes under Franco. "Amnesty means amnesia," he argued: the relatives of the 140,000 victims of Franco's death squads who remain in mass graves on Spanish roadsides might not agree.
Fraga spent much of the 1980s reforming Spain's right and easing its path away from Francoism, a process which eliminated the centrist UCD party and allowed Fraga to become official leader of the opposition throughout the 1980s.
With the PP remodelled, and a new leader, Jose María Aznar, Fraga was kicked upstairs with the honorific title of President Founder. However, his career was far from over. Instead he returned to Galicia, becoming president of the region in 1990. For the next 15 years, by now described as "the great helmsman" by his supporters, Fraga oversaw the modernisation of one of Spain's most backward, isolated provinces. His penchant for suffocating the opposition through an iron grip on the press, however, remained intact.
Only a loss of credibility following the mishandling of the Prestige oil tanker disaster sank Fraga, and in 2005, he lost his overall majority in the Galician parliament. Re-elected to the senate, he continued to operate as a traditional right-winger with reformist ideas.
For the right, Fraga remains a hero: Aznar described him as "a patriot and a father of the Constitution." For the left, however, Fraga's political legacy is more mixed, given that he never stopped defending Franco, comparing him favourably to Napoleon in 2007.
Manuel Fraga, politician: born Villalba, Spain 23 November 1922; married Maria del Carmen Estevez (six children); died Madrid 15 January 2012.
Register for free to continue reading
Registration is a free and easy way to support our truly independent journalism
By registering, you will also enjoy limited access to Premium articles, exclusive newsletters, commenting, and virtual events with our leading journalists
Already have an account? sign in
Join our new commenting forum
Join thought-provoking conversations, follow other Independent readers and see their replies