Margaret Campbell: Music writer who produced acclaimed biographies of string players, and obituaries for The Independent
Blessed with unselfconscious beauty, wit and charm, Campbell was a fluent conversationalist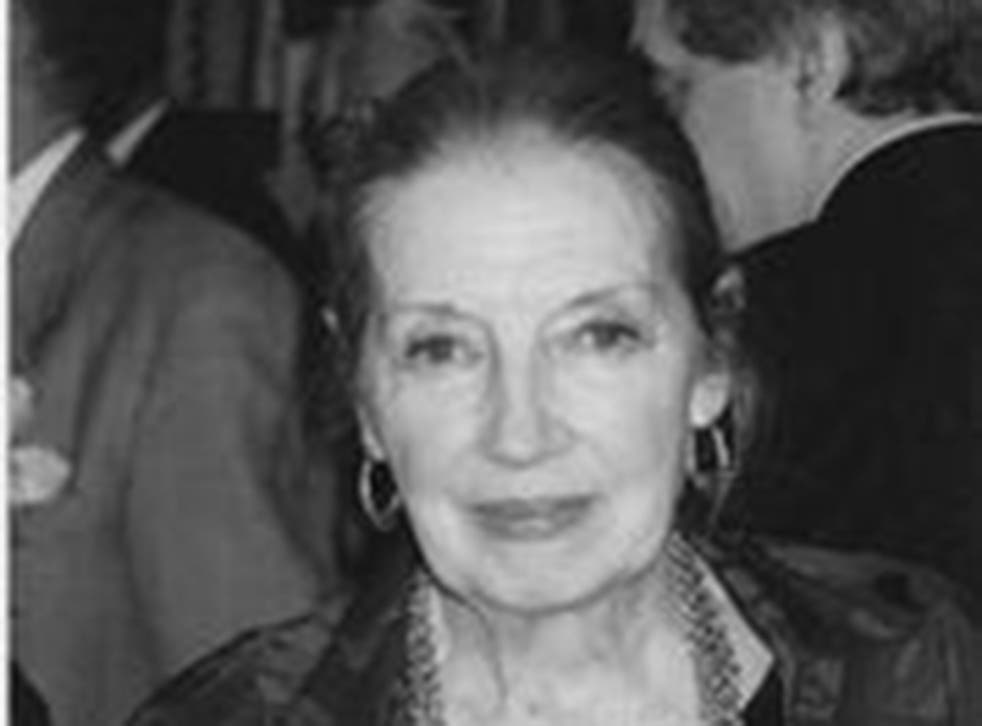 Margaret Campbell chronicled a half-century of the lives of string players and instrument makers with exceptional insight and warmth. She enormously enjoyed interviewing musicians, was at ease in their company and, more often than not, went away their friend for life. Equally importantly, she became their advocate and through her articles and books helped to broaden their public profile. Speaking of her artist profiles for The Strad, its editor, EW Lavender, observed that she had a special 'gift of getting her subjects to discuss their views'.
Her 1965 interview with the recorder player and instrument maker, Carl Dolmetsch, elicited an invitation to write a biography of his father, Arnold. She burrowed into the depths of the Dolmetsch family archives in Haslemere, and broadened her research with the help of a Winston Churchill Memorial Travelling Fellowship, producing Dolmetsch: the Man and his Work (1975), which James Caldwell of the Oberlin Conservatory of Music praised for bringing us "so close to the soul of this intriguing and occasionally mystifying genius".
Blessed with unselfconscious beauty, wit and charm, Campbell was a fluent conversationalist, able to hold her own in any circumstance. The daughter of a Scottish tenor, Alexander Gollan and a chorus girl, Mabel, she grew up in London loving music and theatre, but won an art scholarship to train as a photographer. She began her journalistic career in Fleet Street photographing society weddings. She also worked as a model, appearing in toothpaste ads and fashion adverts in The Tatler, The Lady, The Bystander and The Daily Mirror. Born Jean Margaret Gollan, she proudly took Campbell, her clan name, as her nom de plume.
Married in 1947 to Dick Beare of the London family firm of violin dealers, she first became interested in interviewing instrument makers, then the players, and was soon contributing pieces to many newspapers and magazines. In 1974 she was invited to edit The British Journal of Music Therapy even though she had scant knowledge of the field.
Along with the Dolmetsch biography, Campbell's most important books are undoubtedly her classic surveys of "The Greats": The Great Violinists (1981 and 2004) and The Great Cellists (1988 and 2004), drawn from her years of profiling artists in The Strad and writing biographical entries for The New Grove Dictionary of Music and Musicians, benefiting from her fascination with musical family trees and how musicianship is passed from one generation of players to the next.
Her charmingly written biography of Henry Purcell (1993), came in for criticism from some musicological quarters, but Alexander Waugh in the Evening Standard, got its measure perfectly: "Her history-telling is so good Purcell's infrequent intrusions into her narrative are often disappointing and annoying. In some of her best chapters the composer is hardly mentioned at all."
Campbell began writing obituaries of string players and early music performers – many of them dear friends – for The Independent. She was able to rely on her prodigious memory and her meticulously filed and catalogued interview notes and correspondence and was always generous in acknowledging help she received. In her 2005 obituary of the Amadeus Quartet violinist Norbert Brainin she revealed that she had often consulted him when she had to write about a musician he knew: "I marvelled at the way in which he managed to pinpoint the most important aspects of that person's playing and also filled me in with details of their private lives without a moment's hesitation. Some of these were not printable."
Though never a teacher, in 1996 she became a Member of Council of the European String Teachers' Association, serving six years. Then, in 1999, at the age of 82, she suffered serious head and back injuries in a lift accident at the Warsaw hotel where she was staying while attending the Lutoslawski Cello Competition and lecturing at the Chopin Academy; fortunate not to have been paralysed, she applied her customary dedication to her recovery and uttered no complaint about the life-changing impact on her life, except to regret having lost five inches in height. Remarkably, only two years later her final published book appeared, an authorised biography of the cellist Julian Lloyd Webber: Married to Music, (2001).
Recognition came first in 1991 when she was elected a Fellow of the Royal Society of Arts RSA and then in 2005 and 2006 when she was elected a Freeman of the Worshipful Company of Musicians and of the City of London. Always keen to tackle a new genre, near the end of her life she compiled a memoir, which she aptly entitled From Catwalk to Concertos, and then a crime novel about the theft of a violin, The Gift of Death, though both were still unpublished at her death.
JULIE ANNE SADIE
Jean Margaret Gollan (Margaret Campbell), music writer: born London 27 January 1917; married 1941 Manfred Aal (divorced 1947), 1947 Richard Beare (died 1998), one daughter, two sons; died Worcester 7 August 2015.
Register for free to continue reading
Registration is a free and easy way to support our truly independent journalism
By registering, you will also enjoy limited access to Premium articles, exclusive newsletters, commenting, and virtual events with our leading journalists
Already have an account? sign in
Register for free to continue reading
Registration is a free and easy way to support our truly independent journalism
By registering, you will also enjoy limited access to Premium articles, exclusive newsletters, commenting, and virtual events with our leading journalists
Already have an account? sign in
Join our new commenting forum
Join thought-provoking conversations, follow other Independent readers and see their replies