Maria Teresa de Filippis: Racing driver who in the 1950s became the first woman to compete in Formula 1
She worried when she realised she had no fear. "I thought to myself, 'If I have no fear, where do I finish up? I do not feel fear at 200kph, so what then?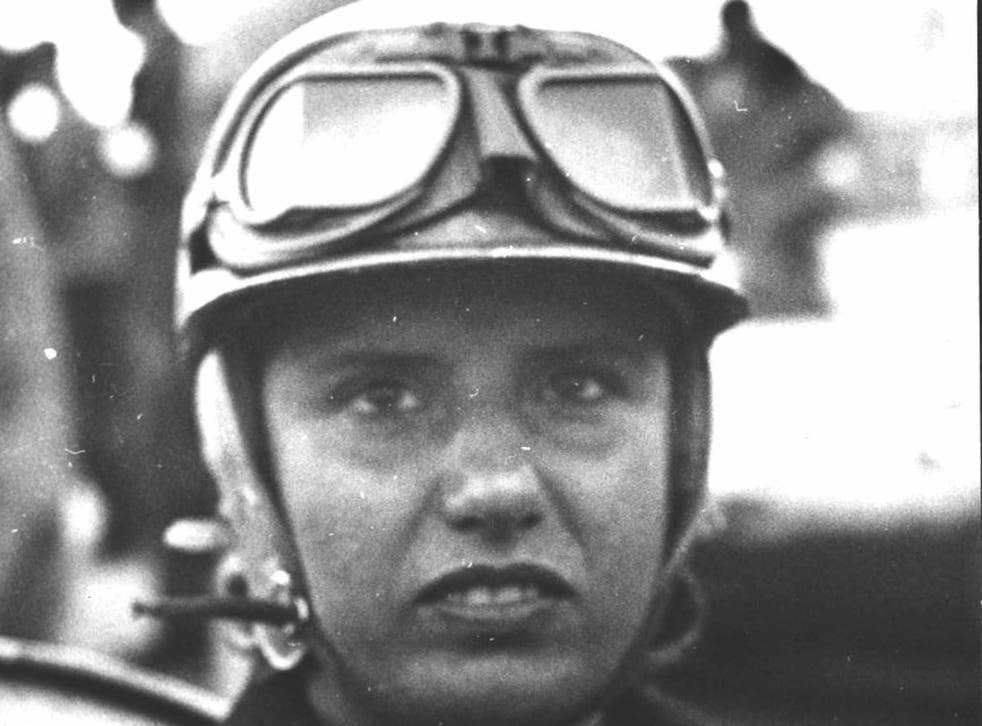 Maria Teresa de Filippis, who has died at the age of 89, was the first woman to drive in post-war grand prix racing and a contemporary of Giuseppe Farina, Alberto Ascari and Juan Manuel Fangio, the sport's first three world champions. Always an independent, almost bloody-minded, character, she was born in Naples in 1926 and spent her early years pursuing a passion for horse riding. She was inspired to turn to four wheels after her brothers challenged her to prove that she could drive a car as fearlessly as she could ride a horse. She was 22 when she made her racing debut, in the 1948 Salerno-Cava dei Tirreni, where she won her class and finished second overall in a Fiat 500.
"I started racing because of that bet with my two brothers, but immediately – when I discovered I liked it – I thought, 'I'll just carry on racing'," she explained. "I remember that when I went there, I felt that I would be anxious. But then I discovered that I wasn't, that I had no fear at all. So I just kept on going, came out on top – second overall – and thought, 'Well, this could be a new thing for me'.
"It could sound ridiculous [coming second overall in a Fiat 500], but in this period there were lots of drivers out there in the same car. The first race was sort of an exploit. But it opened me, and I said, 'OK, let's carry on'. So what I did was what – at that time – most of the racers did. I started racing in one category, and then climbed into the next, and the next, and the next, until I came up in Formula 1."
She moved up to compete in the Italian Sportscar Championship by 1954, and after finishing second overall she was invited to drive for Maserati. In 1958 she was entered for the Monaco GP, where another driver called Graham Hill was also to make his debut. The future champion qualified 15th but broke down, but De Filippis failed to qualify her Maserati 250F. Another young driver named Bernie Ecclestone also failed to get his Connaught into the race. De Filippis then qualified for the Belgian GP, and finished 10th.
"My competitors had the names Fangio, Ascari, Moss, Behra, Salvadori, Brooks…" she recalled. "In the end, the car was important. But the racer was much more important than they are today. I loved this period, because I loved to race with these guys.
"I got tips from Luigi Musso, from Juan-Manuel Fangio. The first time I raced at Monza, Fangio took me around the circuit. We got to Parabolica, and he said, 'You see the 300 sign? Do not brake. Do you see the 200 sign? Don't brake. When it comes to the 100 sign? Don't brake.' At this point I asked, 'Do you want me dead?' He laughed. 'You brake as you start to turn in'."
She worried when she realised she had no fear. "I thought to myself, 'If I have no fear, where do I finish up? I do not feel fear at 200kph, so what then?' After one of these races, Fangio came up to me. 'Maria Teresa,' he said. 'You race too hard. You do more than you can'."
She was also close to Jean Behra, the mercurial Frenchman who built a hybrid racer based on a Formula 2 Porsche with the intention that she race it in 1959. But he took the wheel himself at the Avus track in Germany after being sacked by Ferrari for punching obdurate team manager Romolo Tavoni at the French GP.
De Filipps retired to raise a family after Behra died in the car at Avus. "When I stopped racing, that was because Jean had died in a race where I was supposed to race, not him. He went to the race without a drive, and I said, 'It's ridiculous that I should race in your car when you stay on the floor. You go and race it. It's your car.' I didn't even go to the race. Then, on the radio, I heard that he was dead. I decided, on the spot, to stop racing. Too many friends had gone."
Later she visited grand prix paddocks around the world with her husband Theo, who ran Le Club Internationale des Anciens Pilotes de Grand Prix F1.
Maria Teresa de Filippis, racing driver: born Naples 11 November 1926; married; died Scanzorosciate, Italy 8 January 2016.
Join our new commenting forum
Join thought-provoking conversations, follow other Independent readers and see their replies