Mariam Farhat: Hamas activist known as 'the mother of martyrs'
Wednesday 20 March 2013 18:30 GMT
Comments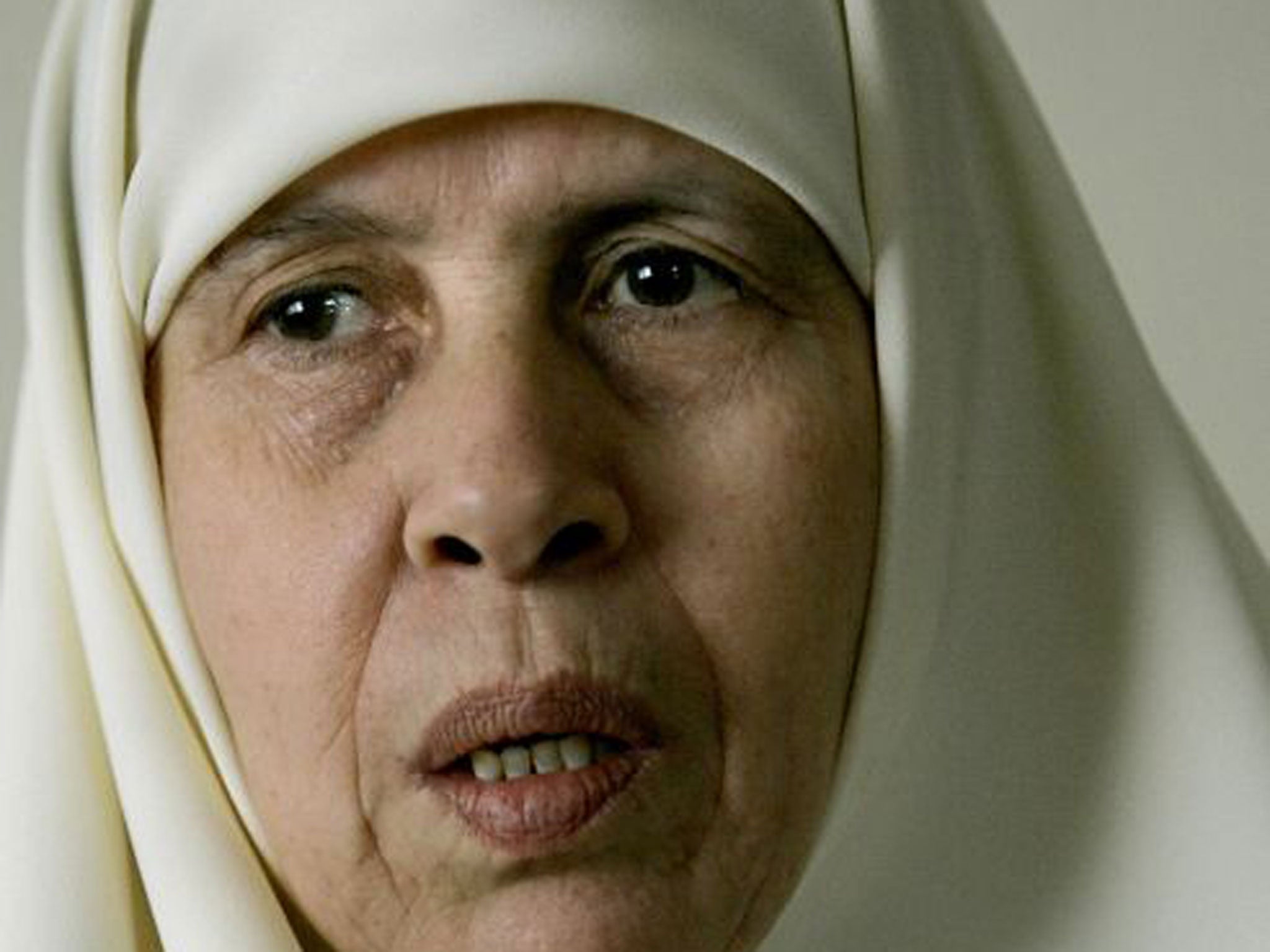 Marian Farhat, who died on 17 March aged 64, was a Palestinian lawmaker known as "the mother of martyrs" who praised and supported three of her sons who were killed while carrying out deadly attacks against Israelis.
The mother of 10 first came to attention in 2002 when she recorded a farewell video with her 19-year-old son, Mohammed, giving him her blessing the night before he undertook a shooting attack in a Jewish settlement in the Gaza Strip. The video showed Mohammed holding hands with his mother, who prayed for him to become a "martyr", the term Palestinians use for militants killed in attacks on Israelis. Armed with grenades and automatic rifles, he broke into a study hall, killing five seminary students before he was shot dead by a soldier. Upon hearing of her son's death, she proclaimed "Allahu Akbar!" and gave out boxes of halva and chocolates.
In the video, Farhat says, "I wish I had 100 boys like Mohammad. I'd sacrifice them for the sake of God. When I see all the Jews in Palestine killed, that will be enough for me. I wish he will kill as many as he can, so they will be scared." After Israel withdrew from Gaza in 2005, the Farhat family returned to the Jewish settlement where Mohammed undertook the militant attack. They took what they said was the piece of wire fence Mohammed had cut to get in, and mounted it on an outer wall of their home.
Farhat had two other sons were killed by Israeli forces while they were preparing attacks. Her eldest son, Nidal, was killed in February 2003 by bombs planted by Israeli intelligence. A third son, Rawad, died in 2005 in an Israeli airstrike on his car. Another son is in an Israeli prison.
Farhat, who died of lung problems and kidney failure, survived three Israeli airstrikes on her house between 2006 and 2010. She also survived an Israeli military assault on her house, when one of Hamas' leading bomb-makers, Emad Akel, was killed in a hail of fire in her front yard after hiding in her basement for a year. In 2006, after she became one of the few women elected to the Palestinian parliament as a Hamas legislator, she said she cried for her slain sons but that "jihad comes ahead of everything, including my feelings as a mother."
About 4,000 Palestinians attended her funeral, including the Hamas Prime Minister Ismail Haniyeh.
Join our commenting forum
Join thought-provoking conversations, follow other Independent readers and see their replies