Marion Studholme: Stalwart of Sadler's Wells Opera who also featured regularly on television and radio during the 1950s
A much-loved singing teacher at the Royal College of Music, she is affectionately remembered by her pupils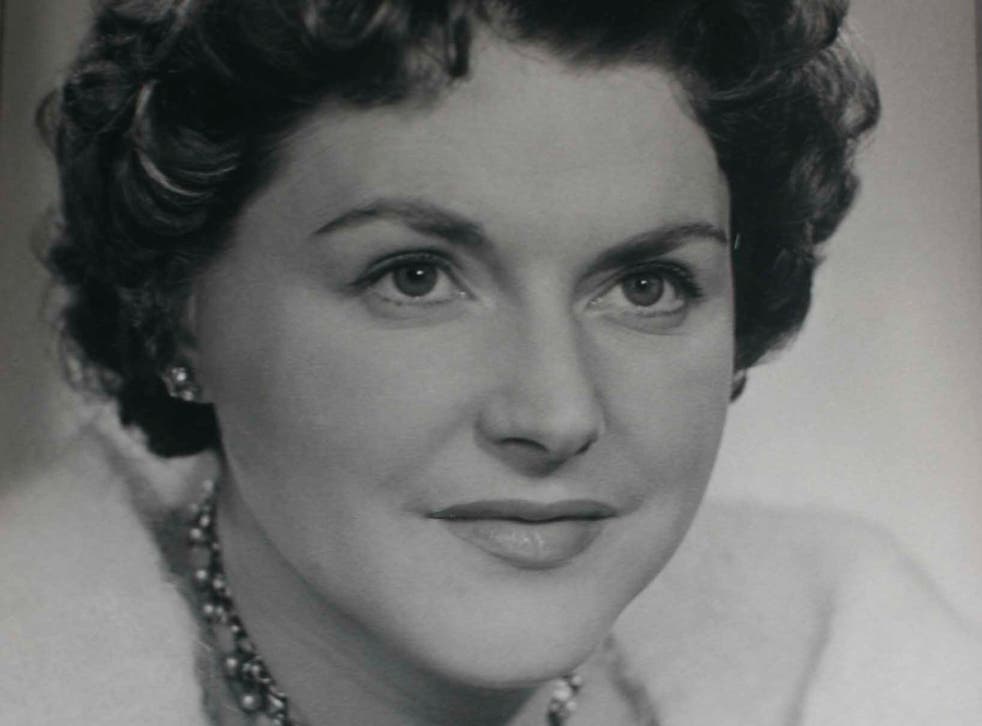 The soprano Marion Studholme was a stalwart of the Sadler's Wells Opera in the 1950s, which moved to the London Coliseum in 1968 and became the English National Opera in 1974. She was also frequently engaged for the many popular music programmes that were common on radio and television at the time, as well as on the stage and concert platform.
She was born in Blackpool, the daughter of a water board engineer, and at 17 won a scholarship to the Royal College of Music in London and studied with Rodolfo Mele, who also taught Ian Wallace. After touring with Thomas Round in Lilac Time she joined the chorus of Sadler's Wells Opera in 1949, but was soon given leading roles. In 1950 she was Zerlina in Geoffrey Dunn's production of Don Giovanni, where her vocal expertise was particularly commented on. Later the same year she was Lucinda in Wolf-Ferrari's School for Fathers, "part ingénue, part minx, and would have stolen the opera if this was the sort of opera that could be stolen", said the man from The Times.
Esmeralda in The Bartered Bride followed, and in January 1951 she was on the platform of the Royal Albert Hall for a performance of Coleridge-Taylor's Hiawatha under Sir Malcolm Sargent. Back at the Wells she took the part of Barbara in Janacek's Kat'a Kabanova, and when in those days the regular Christmas treat at Sadler's Wells was Hansel and Gretel, she appeared for the first time in December 1951 as "a captivating little Gretel".
In 1949 came the first of many appearances on BBC radio, as Adele in Die Fledermaus, and over the years she was a regular in such programmes as Variety Playhouse, Grand Hotel and Friday Night is Music Night. Other broadcast performances included Barbara in Martinu's Comedy on a Bridge conducted by John Pritchard in 1951 and Amina in Gluck's Le Rencontre with Charles Mackerras in 1955.
Television followed, hosted by the likes of Vic Oliver, Jack Payne, Kenneth McKellar and the ubiquitous Eric Robinson. For her first appearance in 1950 she took the role of Molly in Johann Strauss's Gay Rosalinda (adapted from Die Fledermaus) starring Jack Buchanan. Her final appearance on TV was in 1978 as a guest of the Welsh tenor Stuart Burrows.
It would be wrong to think of Studholme only in soubrette roles: in addition to the operas already mentioned, she was Sophie in Massenet's Werther, Blonde in Mozart's The Seraglio, Susanna in The Marriage of Figaro, Despina in Cosi van tutte, Papagena in The Magic Flute (at Covent Garden), Norina in Don Pasquale, Lady Harriet in Flotow's Martha, Olympia in The Tales of Hoffmann (at Covent Garden, with Joan Sutherland as Antonia), Gilda in Rigoletto, Nanetta in Verdi's Falstaff ("high notes like pearls") and Gabrielle in Offenbach's La Vie Parisienne. She took the title roles in Handel's last opera, Deidamia (Handel Opera Society) and in Stravinsky's The Nightingale ("enchanting"). On record she can be heard as Adele in Die Fledermaus, Yum-Yum in The Mikado and the First Niece in Peter Grimes, conducted by Britten.
She sang Gilbert and Sullivan on the radio, television, in the theatre and at the Proms, and when Tyrone Guthrie directed HMS Pinafore for the Stratford Shakespeare Festival in Ontario in 1960, Studholme and her husband, the singer-actor Andrew Downie, whom she had met at the Royal College of Music, were the only singers from England, taking the roles of Josephine and Ralph Rackstraw.
This was one of the first professional productions of G&S since the D'Oyly Carte copyright expired and was later given at the Phoenix Theatre New York. "Both are delightful singers, each acts out the part admirably, bringing vitality and conviction," said one critic. Sadler's Wells staged The Mikado, with Studholme "a rather pert but likeable Yum-Yum".
When Charles Groves included Vaughan Williams's Serenade to Music at his farewell concert with the Bournemouth Symphony Orchestra in May 1961, Studholme was one of the 16 distinguished soloists; and again for Groves she was Daisy Bunting in a BBC Third Programme performance of The Lodger, by Phyllis Tate, which was only recently reissued on CD by Lyrita.
In the late 1960s she and Downie joined Donald Swann and the baritone William Elvin in a show called Set by Swann, including Swann's Tolkien Elvish songs and settings of Pushkin, Suckling, Dryden and others, visiting New York and Ottawa and the Queen Elizabeth Hall.
Sweet-voiced and agile, Studholme was still singing Despina in 1974 – "evergreen … deliciously knowing … the voice as trim as ever, the gait as youthful," said Stanley Sadie; and her appearances singing Strauss, Lehar and at various "Viennese Nights" staged by impresarios such as Victor Hochhauser and Raymond Gubbay continued until at least 1978. A much-loved singing teacher at the Royal College of Music, she is affectionately remembered by her pupils, including Sally Burgess, who followed in her footsteps at the ENO.
Marion Studholme, operatic soprano and teacher: born Blackpool 27 June 1927; principal soprano, Sadler's Wells Opera Company 1949-60; FRCM 1983; married 1952 Andrew Downie (died 2009; two sons); died London 6 January 2016.
Join our new commenting forum
Join thought-provoking conversations, follow other Independent readers and see their replies