Marjorie Blamey: Botanical illustrator whose studies of wild flowers brought her acclaim later in life
Prolific in output, Blamey was widely admired for her work on reference and children's books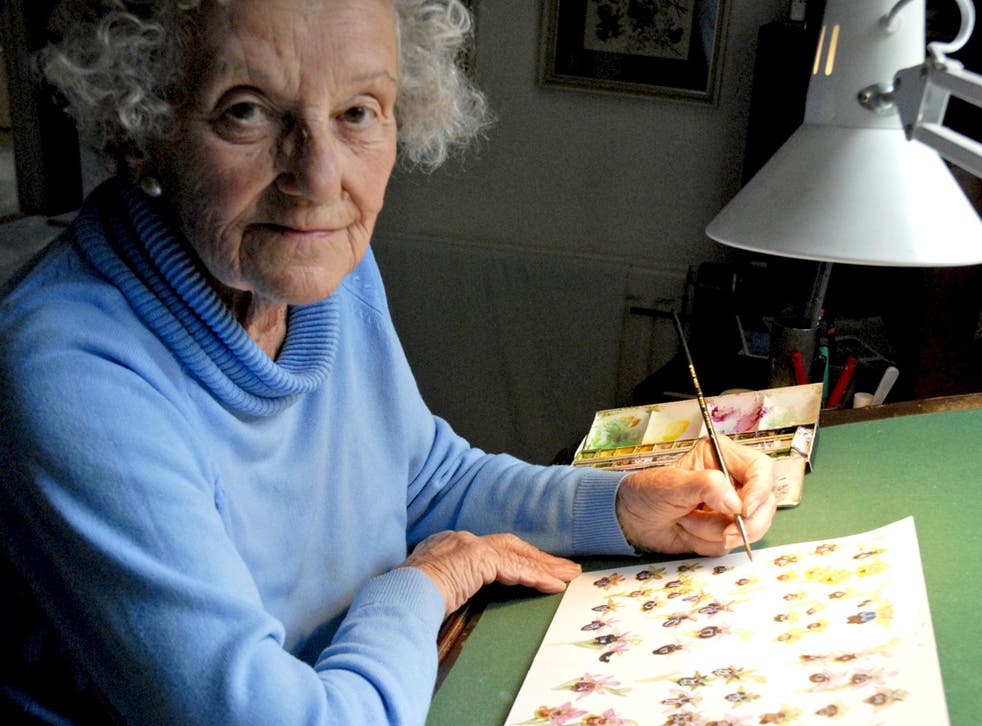 As a child, Marjorie Blamey had enjoyed painting and drawing. However, her confidence suffered a blow when the keen young naturalist made a gift of a drawing of nuts and conkers to a teacher who told her that nobody would be interested in her art. Four decades later, Blamey revisited her childhood hobby and become one of the world's most sought-after botanical artists.
Blamey, who has died at aged 101, was born in Talawakelle, Sri Lanka, to Arthur Day, a doctor, and Janette Newton-Baker, a nurse. She spent much of her childhood on the Isle of Wight. She displayed acting talent and in 1934 she won a scholarship to the Royal Academy of Dramatic Art in London. Post-graduation, she acted in several films. She also took photographs and her work was exhibited at the London Salon of Photography.
During the Second World War, she put aside her acting career and followed her mother into nursing, volunteering as a Red Cross nurse and ambulance driver. She married Philip Blamey, a junior officer in the Staffordshire regiment, in August 1941, and they had four children. After the war, the Blameys settled in Liskeard, Cornwall, where they ran a dairy farm.
It was on the farm that Blamey was inspired to start drawing again. She had no formal training and it wasn't until her late forties that she considered making art her career. Her break came when a London-based editor saw Blamey's work at an amateur art exhibition and she was commissioned to illustrate book on magnolias by horticulturist Neil Treseder. Blamey's first big success came a couple of years later when she illustrated Wild Flowers of Britain and Ireland, a volume in Collins' popular Pocket Guides. The book is still in print.
Soon Blamey's talents were in demand. Together with her husband, who became her assistant after they sold the farm, she travelled Europe in a camper van that was both motor home and studio, painting the plants and flowers she found along the way. Blamey could paint quickly – she had to, since her subjects, once picked, would not last long – and her output was prolific.
Explaining her work's appeal, Blamey said: "I make flowers look alive, not like pressed dead things." Though her archive grew to contain many thousands of paintings of flora from all over the world, her favourite flower grew close to home: the Cornish primrose.
In 1978 Blamey and her husband were the subject of a documentary, "Wild Flower Society", as part of the BBC series The World About Us. Blamey also illustrated children's nature books and wrote her own series of books on the art of flower painting. She continued to work into her eighties, publishing her last field guide, an update of Wild Flowers of Britain and Ireland, at the age of 85. She was a founder member of the conservation charity Plantlife International.
Blamey received gold medals from the Royal Horticultural Society and the Alpine Garden Society, and in 2007 she was awarded an MBE. By this time in her nineties, Blamey did not feel up to the trip to Buckingham Palace, so was presented with her medal by Lady Mary Holborow, lord lieutenant of Cornwall, in a small family ceremony at the Fowey Hotel.
Despite her success, Blamey remained modest about her work. In 2003, by which time her reference books had been published in 14 languages and sold millions of copies, she said: "I am still astonished that this has happened to me."
Blamey's husband predeceased her in 2014. She is survived by four children.
Marjorie Blamey, botanical Illustrator, born 13 March, 1918, died 8 September, 2019
Join our new commenting forum
Join thought-provoking conversations, follow other Independent readers and see their replies