Mark Sutton: Stuntman and former Gurkha who parachuted into the Olympic Stadium
Anne Keleny
Tuesday 10 September 2013 17:02 Comments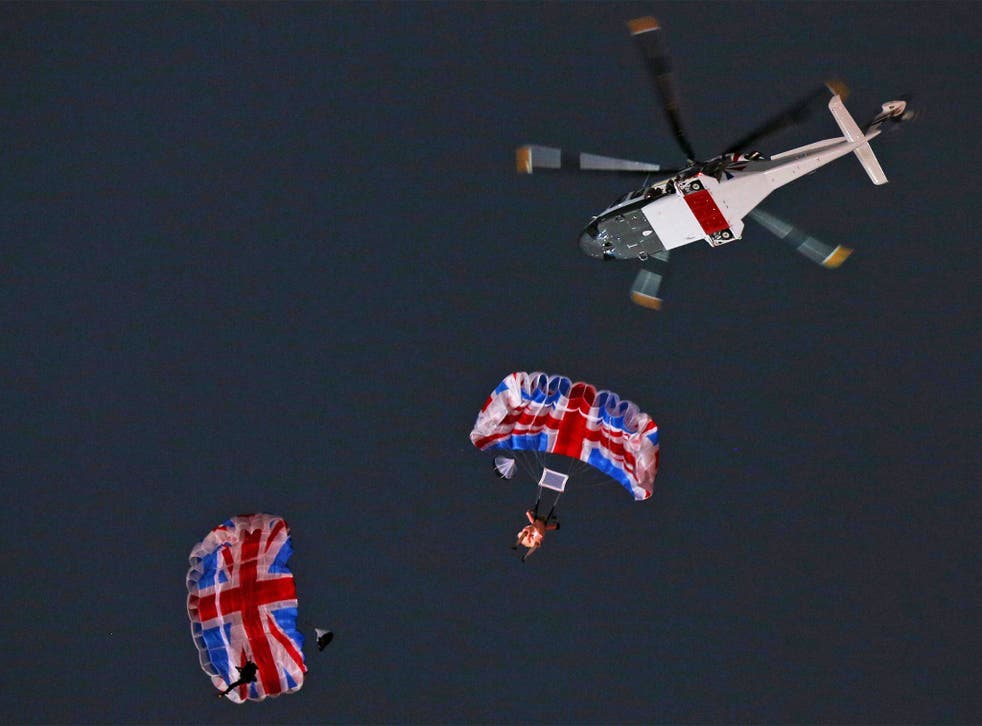 As the son of an air marshal who flew Phantoms during the Cold War, Mark Sutton had a lot to live up to. He proved himself by winning a commission as an officer leading the Army's "bravest of the brave", the Gurkhas, and was to crown a crowded life by making the world gasp with a parachute jump into the London Olympic Stadium on 27 July 2012. The precision stunt, in which, as James Bond in suit and black tie, Sutton accompanied another parachutist impersonating the Queen, was one year and 18 days before a skydive too far killed him.
Sutton doubled for the James Bond actor Daniel Craig, apparently escorting the Queen on a dramatic descent with a Union Jack canopy from a helicopter, after the stadium audience had been shown a video of Craig supposedly collecting Her Majesty from Buckingham Palace to come and declare the Games open. The stunt was perfected during many days of rehearsals, in which Sutton drew admiration by demonstrating the concentration needed for a serious spare-time interest, as well the good humour that led friends to describe him as "an all-round good bloke."
Sutton was among the top handful of people worldwide practising the new sport of using a "wingsuit", a zipped garment with membranes between arms and legs to increase the body's surface area so that falling becomes high-speed forward gliding, before the parachute is opened. The final jump was alongside another wingsuiter, Tony Uragallo, for Epic TV, a French extreme sports web TV channel. Sutton, hugging the contours of a mountain in the Swiss canton of Valais, hit a ridge travelling at about 125mph and died instantly.
In ordinary life he was a contractor supplied through the US-based agency Allegis for Royal Bank of Scotland, working as a consultant on interest-rate derivatives. From his home in Shere, Surrey, he also ran his own business, Voltrek Ltd, set up three months before the London Olympics opened. Previously he had lived in a flat in Richmond, and for nearly a year from September 2011 was project manager for the Wingsuit Landing Project, A World First, in which a friend jumped from a helicopter in a wingsuit and, using a thick carpet of cardboard, landed without a parachute.
Sutton's 17-year banking career began six months after he left the Gurkhas, when he joined New-York-based Citibank and became a manager in the emerging markets options middle office, then assistant vice president, EM fixed-income trading. Five years with Toronto-based TD Bank Group, where he became vice-president and director, interest rate derivatives trading, was followed by seven months at Morgan Stanley in 2006 as executive director, emerging markets interest rate options. By July 2008 he was director, head of EM derivatives, trading at the Dutch-based bank ING, and stayed until August 2011.
Sutton's military career from January 1991 until August 1995 had coincided with a time of hefty cuts to the Army under the Thatcher Conservative government's "Options for Change" defence review of 1990, followed by the "Front Line First" cuts of 1994, measures which included the halving of the Brigade of Gurkhas from 8,000 members to just over 3,500. The cuts also came just before the Gurkhas lost their long-standing home base, Hong Kong, with the handing-back to China of the territory in 1997.
Nevertheless Sutton rose to the rank of captain during his service with the 6th Gurkha Rifles and that regiment's successor, the Royal Gurkha Rifles, formed by the merging of the 6th and three other Gurkha regiments in 1994, and served in Hong Kong, Brunei and Nepal. He learned his men's language, including the Gurkhas' other motto: "Hami jasto kohi chaina" – "there's no one quite like us."
At the time he died he still had links with the Army, as a member of the Army Parachute Association, which has its base at Netheravon, close to the Gurkhas' present headquarters in Wiltshire. He was also a member of the British Parachute Association.
He is survived by his father, Air Marshal Sir John Sutton, former Commanding Officer of 249 Squadron in Germany in the 1960s, who after Allied Tactical Air Force postings in Germany became Assistant Chief of Defence Staff in 1982, the year of the Falklands War, then AOC-in-C, RAF Support Command from 1986 until 1989, and finally, from 1990 until 1995, Lieutenant-Governor of Jersey. Sutton's mother, who also survives him, is the former Angela Gray, daughter of the decorated Second World War Hawker Typhoon pilot and Officer Commanding of 182 Squadron, Wing Commander GJ Gray, DFC.
Mark Gray Sutton, soldier, banker and stuntman: born 13 April 1971; died Valais, Switzerland 14 August 2013.
Register for free to continue reading
Registration is a free and easy way to support our truly independent journalism
By registering, you will also enjoy limited access to Premium articles, exclusive newsletters, commenting, and virtual events with our leading journalists
Already have an account? sign in
Join our new commenting forum
Join thought-provoking conversations, follow other Independent readers and see their replies