Marvin Hamlisch - Composer and songwriter who enjoyed a string of hit shows and songs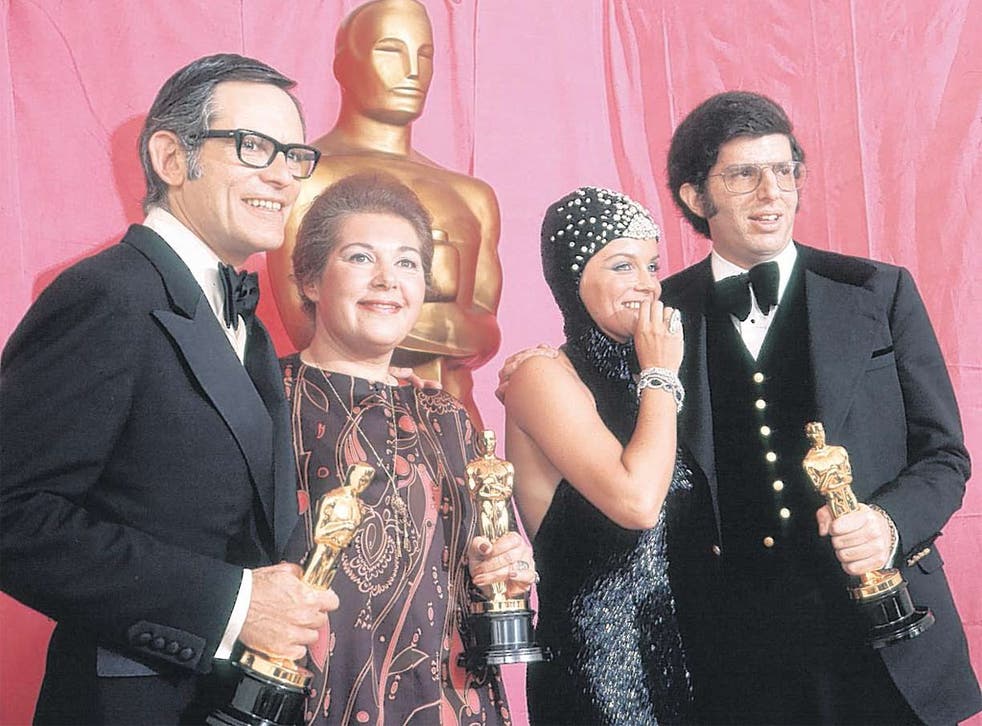 The composer and arranger Marvin Hamlisch wrote the score for the sensationally successful stage musical A Chorus Line, which ran for 15 years on Broadway and was the longest-running Broadway show ever until surpassed by Cats in 1997.
He also adapted the Scott Joplin rags that accompanied The Sting, winning an Oscar for that and two more for his scoring of The Way We Were and for the film's poignant title tune, with lyrics by Marilyn and Alan Bergman, a major hit for Barbra Streisand. He also won four Emmys, a Grammy and a Tony, and shares with Richard Rodgers the distinction of having won not only all four of those prestigious awards but also the Pulitzer Prize, which was awarded to A Chorus Line.
A second stage hit, They're Playing Our Song, was based on his romantic relationship with Carole Bayer Sager, and he had further hits with "Nobody Does It Better", sung by Carly Simon on the soundtrack of the James Bond film The Spy Who Loved Me (1977), and Aretha Franklin's hit "Break It To Me Gently" (also 1977). Considered nerdish-looking in his thick-rimmed glasses, he good-naturedly allowed his image to be parodied by Gilda Radner on Saturday Night Live.
Born Marvin Frederick Hamlisch in 1944 in New York City, he was the son of a Viennese Jewish couple who had fled Austria in 1938. His father was an accordionist and bandleader, and he encouraged Marvin, a child prodigy who at five could play on the piano songs he had heard on the radio. He was accepted by the Juilliard School of Music at the age of six, the youngest pupil the school ever accepted.
Though the academy was unimpressed by the pop tunes, "the other thing I could do was transpose the tunes into any key. That they found interesting and that's why they gave me a scholarship." Hamlisch later stated that though he respected Bach, Beethoven and Mozart, his greatest affection was for show music.
After attending Queen's College, where he earned a Bachelor of Arts degree, he spent a summer as music counsellor at a girl's camp, where he first tried out his songs on an audience. One of them, "Travelin' Man", was recorded by Liza Minnelli on her first album, Liza! Liza! (1964), and the same year he had his first job on Broadway, as rehearsal pianist for Funny Girl, starring Barbra Streisand, for whom he later wrote "The Way We Were".
His first film score was for The Swimmer (1968), starring Burt Lancaster, followed by two Woody Allen films, Take the Money and Run (1969) and Bananas (1971). In 1974 he won a record three Academy Awards, two for The Way We Were (scoring and song) and one for his arrangements of Scott Joplin's captivating rags (notably "The Entertainer") for The Sting.
When Michael Bennett asked him to write the music for A Chorus Line Hamlisch had difficulty persuading his agent to let him accept. "My choice was whether to stay in Hollywood and keep getting money to do pictures, or take a shot. I listened to some of the tapes of dancers talking about their lives and agreed this could make a musical. My agent was not happy about my taking $100 a week to work on an experimental project."
Bennett teamed him with lyricist Edward Kleban, and they initially wrote two numbers, "One" and "At the Ballet". The latter, in which three female dancers sing of the escape from dismal home lives that ballet provided, had Bennett in tears. When the show opened to ecstatic reviews in 1975, its score tended to be underrated, but the New York Times' Walter Kerr judged it to be "perfect ... It summarises ... the entire lives of youngsters, trained in dance halls, kept waiting in the wings…" Hamlisch said: "We tried to make the music energetic, kind of angular and very rhythmic. The idea of dancers who are hungry and who need a job in the '70s evokes a certain style. I tried to capture the rhythm of that."
Hamlisch had one major disagreement with Kleban, because both Hamlisch and Bennett thought the show would benefit by having an extractable hit number. "The song 'What I did for Love' was a compromise on all our parts," said Hamlisch. "We used the word 'love' instead of 'what I did for my dancing life'. Two weeks before we opened there was talk of cutting it because it pushed the plot ahead least, but I thought it important to get a song that had a life of its own." Kleban, who died in 1987, thought it "dreadful" and left specific instructions for his memorial service that it not be performed. A Chorus Line won nine Tony awards.
Hamlisch's next Broadway musical was They're Playing Our Song (1978), but later works were less successful – Jean (1983), based on the tragic life of Jean Seberg, had a brief run at the National Theatre – and it was followed by three poor film adaptations, Smile (1986), The Goodbye Girl (1993) and Sweet Smell of Success (2002).
He continued to write for films, including Starting Over (1979), Ordinary People (1980), Sophie's Choice (1982), Three Men and a Baby (1987) and Shirley Valentine (1989). Oscar-nominated songs included "Through the Eyes of Love" from Ice Castles (1980) and "Surprise, Surprise", which he wrote for the abysmal screen version of A Chorus Line (1986). His last film score was for Steven Soderbergh's The Informant (2009). He was reunited with Streisand when he was musical director for two television specials, in 1995 and 2001. She said this week, "His brilliantly quick mind, his generosity and delicious sense of humour made him a delight to be around."
Hamlisch had an extensive conducting programme: last October he appeared with the Royal Philharmonic at the Albert Hall, he was principal pops conductor for symphony orchestras in Pittsburgh, Dallas, Milwaukee, Pasadena, Seattle and San Diego, and he was scheduled to lead the New York Philharmonic in their next New Year's Eve concert. He was due to fly to Nashville to see his musical, The Nutty Professor, directed by Jerry Lewis (who starred in the original 1963 film) and tentatively bound for New York. In 1989 he married the newscaster Terre Blair, and in 1992 he wrote an autobiography, The Way I Was.
Marvin Frederick Hamlisch, composer and songwriter: born New York City 2 June 1944; married 1989 Terre Blair; died Los Angeles 6 August 2012.
Register for free to continue reading
Registration is a free and easy way to support our truly independent journalism
By registering, you will also enjoy limited access to Premium articles, exclusive newsletters, commenting, and virtual events with our leading journalists
Already have an account? sign in
Register for free to continue reading
Registration is a free and easy way to support our truly independent journalism
By registering, you will also enjoy limited access to Premium articles, exclusive newsletters, commenting, and virtual events with our leading journalists
Already have an account? sign in
Join our new commenting forum
Join thought-provoking conversations, follow other Independent readers and see their replies