Mary Grierson: Floral artist celebrated as one of the most distinguished in her field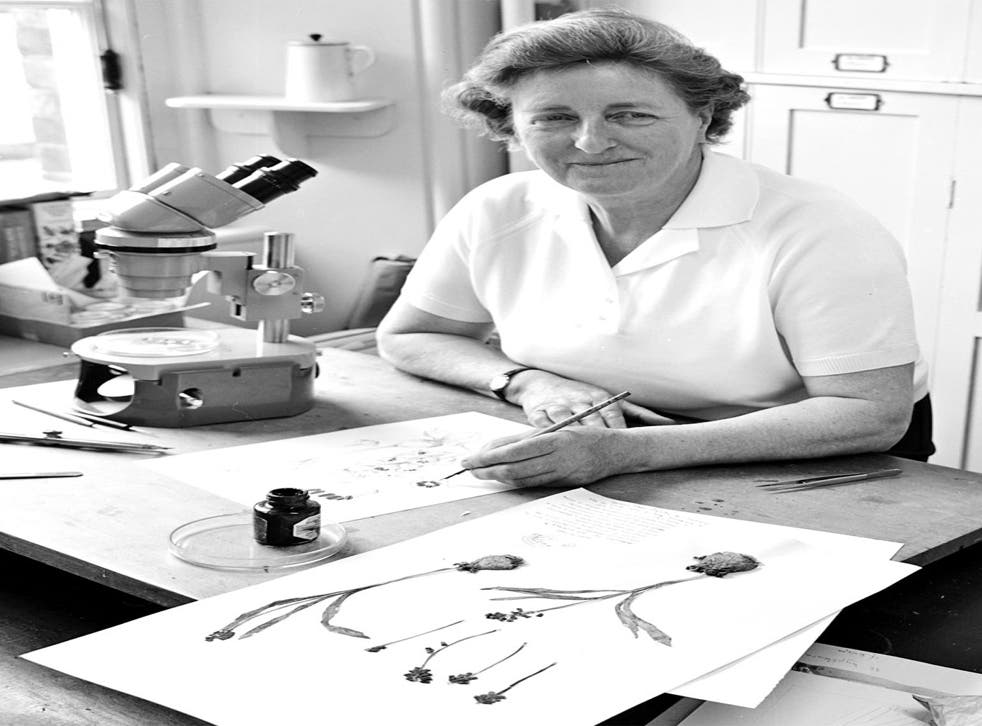 In 1960 a woman applied for the post of exhibitions officer at the Royal Botanic Gardens at Kew. She didn't get the job, but was able to show her interviewers her portfolio of flower paintings, and was engaged instead as an artist in the herbarium. This was Mary Grierson, soon to become recognised as one of the world's most distinguished botanical artists.
Her parents came from Dumfries, but she, the youngest of three children, was born in Bangor, North Wales. She went to the Bangor County School for Girls, where she later self-deprecatingly claimed that apart from drawing and botany she was a hopeless dunce, and in 1930 was awarded the diploma of the Royal Drawing Society in London: this was the first confirmation of her talent.
She spent 1931 teaching English to a family in Germany, but since her mother insisted that she make a career in confectionery, she went to study at Battersea Polytechnic and got a job as a confectioner in Llandudno. Her parents' illness induced her to return home to care for them; when her father died, she and her mother moved to Dumfries, where she managed a local restaurant.
War service in the Women's Auxiliary Air Force opened new horizons. She served as a flight officer in a photographic reconnaissance unit, examining photographs taken after British air-raids on Germany to assess the damage done. This, she said, was a job needing sharp eyes and tireless concentration, qualities she would later put to different use. After demobilisation she joined the PR department of De Havilland, where she was in charge of photographs, and from there moved to Hunting Aero Surveys, who in 1957 sent her for a week's course in pen and ink drawing at the field studies centre at Flatford Mill.
She was now in her forties andundecided about her future, but when John Nash, brother of the painter Paul and a significant artist in his own right, was appointed to run the Flatford centre, he became her mentor, and for 10 years she attended his courses. After getting her job at Kew she repaid her debt to Flatford by running a course there every year from 1966 to 1983.
In 1966 she received her first gold medal for flower painting from the Royal Horticultural Society, and the following year she was invited to contribute designs for two postage stamps: a primrose for the 9d and a violet for the 1s.9d. In 1970 the Israeli Nature Authority invited her to paint the flora of the Negev and Sinai deserts.
Retirement from Kew in 1972 allowed her to accept more private commissions, including a series of paintings of endangered plants for the World Wild Life Fund archives, and a major series of tulip drawings for the Van Tubergen Nurseries at Haarlem which were eventually purchased by Kew. Spink of St. James's regularly exhibited and sold her paintings. Two of her exhibitions on the flora of hedgerows and coasts involved her in driving to remote places where specimens could be found, then hurrying back to her flat in Richmond to paint them before they drooped.
In 1975 she began to create a record of plants in the National Tropical Garden in Hawaii, which culminated in Green's A Hawaiian Florilegium. Her impressive list of publications includes many award-winning monographs; the honours which gave her7 most pleasure were the Veitch Memorial Medal of the RHS, and later their Victoria Medal of Honour. The largest collection of her paintings is at Kew, with museums and art galleries all over the world possessing examples of her work.
She may have inherited her talent from her mother, who painted in oils, but she herself preferred the delicacy and freshness of watercolours. Her pen and ink dissections in Hooker's Icones Plantarum reveal not only her skill in drawing but also her botanical expertise which enabled her to recreate plants from dried specimens: some of her dissections would include a pen or pencil image of the plant in its entirety, and her compositions always reflect an instinctive sense of design.
The landscapes she painted on small ivory tablets revealed the deftness of a miniaturist; she also made embroidered pictures. Her extraordinary stamina allowed her to work a long day – often very swiftly before a newly-picked plant died – with only brief coffee breaks. Left-handed, she relished the irony of the foreign admirer who asked permission to kiss the hand that produced such beautiful work, and took her right. She hadn't the heart to tell him it should have been the other. She inspired many other flower painters, and died months short of her 100th birthday.
Ray Desmond
Mary Grierson, floral artist: born Bangor 27 September 1912; died Kingston 30 January 2012.
Join our new commenting forum
Join thought-provoking conversations, follow other Independent readers and see their replies