Maureen Dunlop: Pilot for the Air Transport Auxiliary who made the cover of Picture Post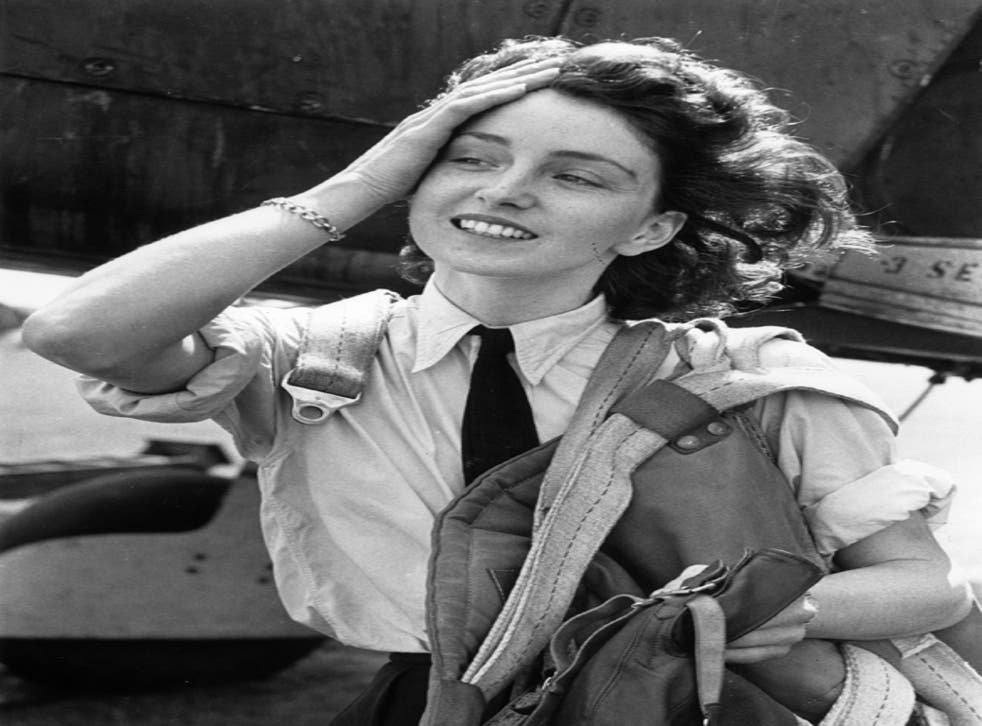 Not many women have ever been as brave and as beautiful as Maureen Dunlop, whose Second World War flying experience knocks the pioneering hops of her older near-contemporaries Amelia Earhart and Amy Johnson into a cocked hat.
Dunlop flew far faster planes than they did, including Spitfires, Lancasters, Hurricanes and Mosquitos, and proved the dream of Picture Post's photographer when, on emerging from the cockpit of a Fairey Barracuda, the sun on her hair, she made the cover shot that sold thousands of copies to an astonished world in autumn 1944.
She was one of the 164 female members of the wartime Air Transport Auxiliary (ATA), of which one in ten pilots died doing their duty of transporting planes between factories and military airfields. The women pilots shared equally in the losses – many having to call the "Mayfair 120" search, rescue and salvage number, or never being heard from again – but not in their pay-packets, until a Parliamentary campaign led by the Conservative MP (later Dame) Irene Ward late in the war achieved parity.
Dunlop mastered the controls of 28 different single-engine and 10 multi-engine aircraft types, which also included the Hawker Typhoon, Hawker Tempest, Avro Anson, Mustang, Bristol Blenheim and Vickers Wellington.
The ATA did a gruelling day-to-day job, plying the skies under constant threat from inclement weather the length and breadth of Great Britain, at a time when the nature of flying was changing in popular consciousness from having been a pre-war novelty and the subject of record attempts and joyrides, to being a vital part of the war effort.
The women among its members also had to put up with opposition from men who had little faith in their ability – or perhaps misplaced chivalry – such as Air Chief Marshal Sir Trafford Leigh-Mallory, who would not let women pilots cross the Channel, or who were merely rude, such as the RAF men who joked of the first all-women aircraft ferrying pool at Hamble in Hampshire as "the lesbians' pool".
Dunlop, like many of her female colleagues, said she wished she could have flown in combat: "I thought it was the only fair thing. Why should only men be killed?"
ATA pilots had to make the most of training that was, some avowed after the war, inadequate. Instrument flying was not taught, but the service would have ground to a halt, according to Giles Whittell in his book Spitfire Women of World War II (2007), if pilots had not broken rules forbidding them to fly in bad weather.
The ATA, with headquarters at White Waltham in Berkshire, had by the end of the war delivered 308,567 aircraft, Whittell records, including 57,286 Spitfires, 29,401 Hurricanes, and 9,805 Lancasters. One of its early casualties was Amy Johnson, who died in January 1941 after baling out in cloud over the Thames estuary, and who never flew a Spitfire. She had been obliged to take a test to join, despite her record-breaking flight in 1930 from Britain to Australia, and was considered a clumsy lander.
Women had to have a minimum of 500 hours' solo flying before joining the ATA, twice as much as the 250 hours originally laid down in September 1939 for the first members, all men. The service had been founded on the initiative of Gerard "Pop" d'Erlanger, a director of British Airways and banker, who bent the ear of Sir Francis Shelmerdine, Britain's director-general of Civil Aviation, against opposition from the RAF, which preferred to use its own pilots until shortages forced it to relent.
Maureen Dunlop, the second of three children of Eric Chase Dunlop, an Australian farm manager employed by a British company in Argentina, and his English wife, Jessimin May Williams, began flying at the age of 15, when she joined the Aeroclub Argentino. Two years later she had obtained her pilot's licence.
Living with her parents, older sister Joan and younger brother Eric on estancias in Patagonia, she was educated by a governess and briefly attended St Hilda's College, an English school at Hurlingham in Buenos Aires.
The example of her father's British military experience as a volunteer with the Royal Field Artillery in the First World War, together with an article in Flight magazine, inspired her to sail to England and offer her flying skills to the ATA.
She came through the war uninjured, but once had to make a forced landing when a faulty engine developed heavy vibration (an incident for which she was absolved of responsibility), and once was flying a Spitfire when a badly fitted cockpit cover blew off.
After the war she qualified in England as an instructor and, returning to Argentina, flew for the Argentine Air Force and taught its pilots, as well as flying commercially.
In 1973 she and her husband, Serban, a retired Romanian diplomat she met at a British Embassy function in Buenos Aires, returned to England, where for the rest of her life, on a farm in Norfolk, she followed her second love – breeding Arab horses. Dunlop built up an outstanding knowledge of bloodlines.
Yet nothing could help her when on the expiry of a Second World War permit, she had to take the British car driving test.
The male chauvinists who had derided women's abilities in the ATA might have triumphed to hear how driving examiners failed her four times. Though she succeeded at her fifth try, her son Eric, himself a qualified aircraft pilot, wrote: "Afterwards her children were perhaps surprised it did not require further attempts."
Maureen Adele Chase Dunlop, aircraft pilot and horse-breeder: born Quilmes, Argentina 26 October 1920; married 1955 Serban Victor Popp (died 2000; one daughter, one son and one daughter deceased); died Norwich, England 29 May 2012.
Register for free to continue reading
Registration is a free and easy way to support our truly independent journalism
By registering, you will also enjoy limited access to Premium articles, exclusive newsletters, commenting, and virtual events with our leading journalists
Already have an account? sign in
Register for free to continue reading
Registration is a free and easy way to support our truly independent journalism
By registering, you will also enjoy limited access to Premium articles, exclusive newsletters, commenting, and virtual events with our leading journalists
Already have an account? sign in
Join our new commenting forum
Join thought-provoking conversations, follow other Independent readers and see their replies