Max von Sydow: Swedish actor whose striking, imposing presence was a hallmark of Bergman films
His first love was the stage, but he also chalked up a long and impressive list of screen credits in Europe and Hollywood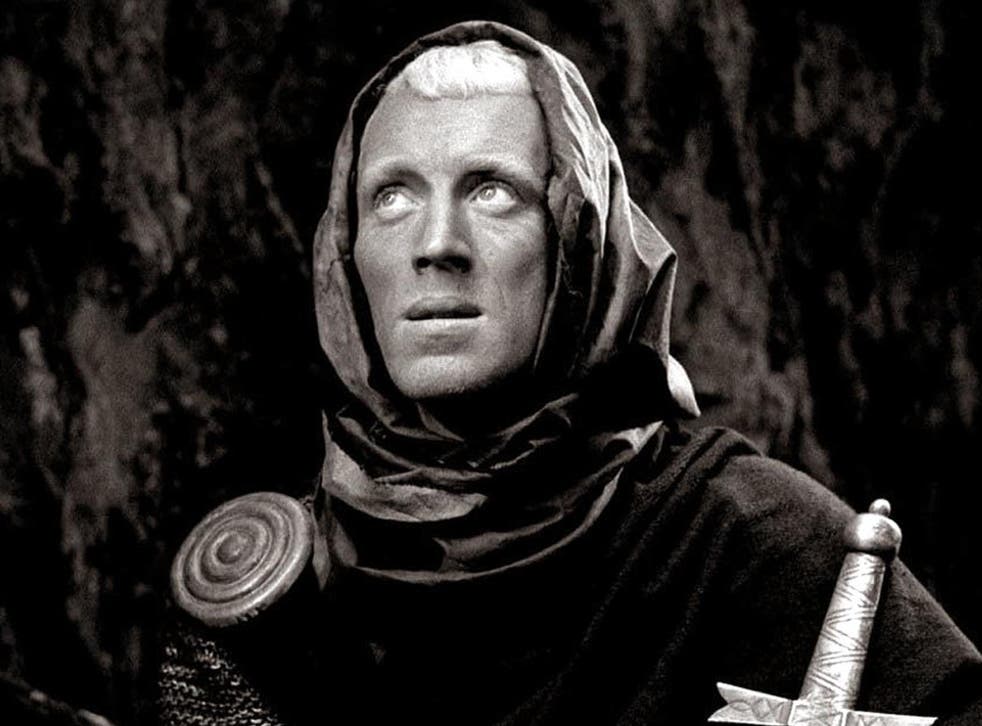 Max von Sydow, who has died aged 90, will be remembered for the striking cinematic images he conjured up – such as the chess-playing medieval knight in Ingmar Bergman's The Seventh Seal (1957), or the frail Father Merrin standing outside a hauntingly lit house in The Exorcist (1973).
But the clash between the commercial and art cinema was perhaps the most striking feature of his long and illustrious acting career, as he happily divided his time between revered works and the crass end of the market, such as his rent-a-Nazi role in the Michael Caine/Pelé football fiasco Escape to Victory (1981).
He was born Carl Adolf von Sydow in 1929 in the southern Swedish town of Lund to academic, middle-class parents. His father, William von Sydow, was a professor of folklore at the Royal University of Lund, his mother a former schoolteacher.
Neither film nor theatre played a significant role in Von Sydow's upbringing. When he was 15 a municipal theatre opened in the nearby city of Malmo, and a school visit to see A Midsummer Night's Dream ignited his interest in acting. With a group of friends, he devoted himself to organising plays and forming theatre clubs.
At first he found it a struggle to truly express himself. "Not having brothers and sisters to fight with, or ever hearing my parents quarrel, I grew up unused to any kind of outburst at all, and when I first became interested in acting it was a real problem for me. I didn't know how to tackle displays of emotion." He would become renowned for the simplicity of his acting, his restraint and economy of expression on screen, even when playing such high-profile villains as Ming the Merciless in Flash Gordon (1980) or Bond nemesis Blofeld in Never Say Never Again (1983).
His father wished him to study law but changed his mind when a university colleague became president of the Swedish national theatre, and in 1948 Von Sydow was allowed to attend the Royal Dramatic Theatre School in Stockholm.
By the time he graduated in 1951, Von Sydow had already made his screen debut in Only a Mother (1949), but spent much of the early 1950s honing his craft in repertory theatre. During this period he met director Ingmar Bergman, who would change his life forever. Their long and prosperous association would encompass numerous theatrical productions and 11 films, including the classics Wild Strawberries (1957) and The Virgin Spring (1960). But it was their first celluloid collaboration, a low-budget experimental film called The Seventh Seal (1957), that brought Von Sydow to the attention of international audiences.
For years he resisted the lure of Hollywood, until George Stevens persuaded him to play Christ in the ponderous, star-filled Bible epic The Greatest Story Ever Told (1965). This opened the door to a successful Hollywood career, with roles in such diverse fare as Hawaii (1966), Three Days of the Condor (1975), Judge Dredd (1995) and Woody Allen's Hannah and Her Sisters (1986).
Von Sydow's imposing presence and distinguished, stern features often meant he was short-sightedly cast by American producers as the villain. He did not get the chance to play in Hollywood the variety of roles that he commanded in Europe, such as the father in Pelle the Conqueror (1987), his favourite of his films and one for which he received an Oscar nomination.
In 1988 he returned to his beloved Royal Dramatic Theatre in Stockholm after more than a decade away. In the same year he also returned to London's West End, for the first time since Ingmar Bergman's 1974 production of The Wild Duck, at the invitation of Jonathan Miller, who wanted him to play Prospero in The Tempest at the Old Vic.
That year also saw the publication of his autobiography and the release of his Bergman-influenced directorial debut Katinka. This was a story he had wanted to tell for a quarter of a century but, deciding he was too old to play any of the lead parts, opted to direct instead – a test he later termed a good learning experience but one he had no wish to repeat.
In the 1990s he continued to alternate between European and mainstream cinema with equal success, notably in Wim Wenders' Until the End of the World (1991) and Scott Hicks' Snow Falling on Cedars (1999). Though he bemoaned the paucity of decent film roles on offer, he continued to work as tirelessly in his seventies as at any stage in his career, teaming up with Italian horror master Dario Argento in Sleepless (2001) and Steven Spielberg for the sci-fi epic Minority Report (2002) opposite Tom Cruise.
But it will be for The Exorcist, a film he enjoyed making but later called "very destructive, very negative", that mainstream audiences will best remember him, a fact that he found unbelievable but which he acknowledged with a wry acceptance.
He is survived by his second wife Catherine Brelet and four children (two from his first marriage to Christina Olin).
Max von Sydow, actor, born 10 April 1929, died 8 March 2020
Join our new commenting forum
Join thought-provoking conversations, follow other Independent readers and see their replies