Mehdi Hassan: Musician hailed as the maestro of the 'ghazal'
There is a quip in Bangladesh that Hassan's voice was the only good thing to come out of West Pakistan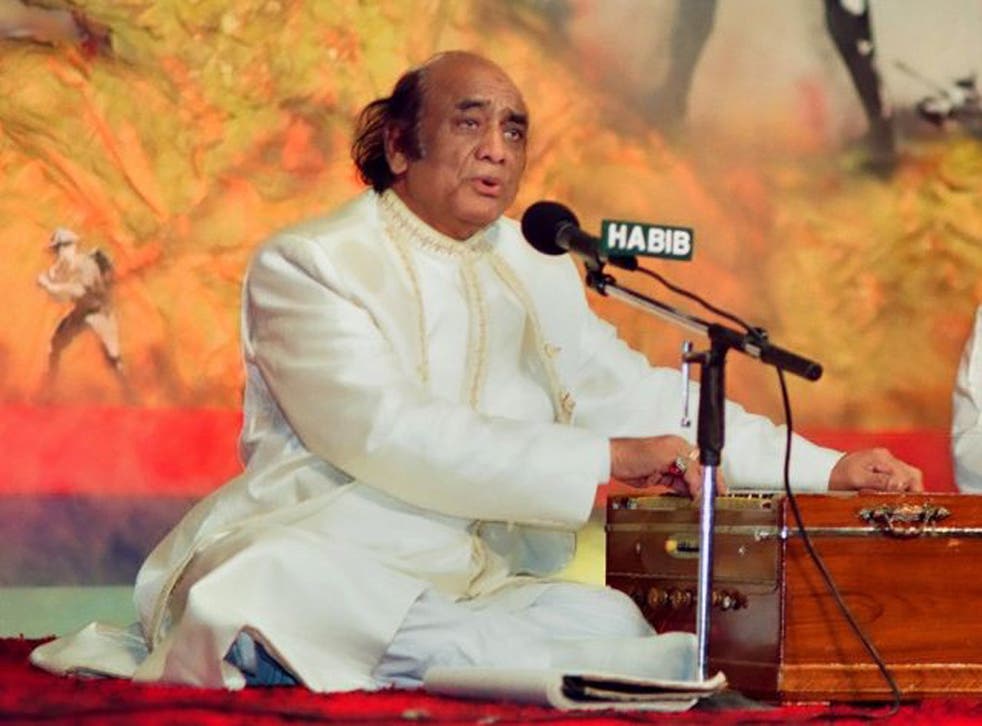 Mehdi Hassan was one of the all-time great vocal artists of the Indian subcontinent, a majestic musician hailed as transformative by peers and admirers. The ghazal maestro Jagjit Singh stated: "There has never been a ghazal singer of his calibre, nor is there likely to be one." Qawwali's finest female singer, Abida Parveen, called him "a titanic figure in the field of music" while The film composer Naushad Ali evoked Bollywood's greatest female playback singer, Lata Mangeshkar: "One cannot agree more with Lata when she says that you hear the voice of Bhagwan [the Divine] when he sings." There was also the apocryphal Bangladeshi quip that the only good thing that came out of West Pakistan was Mehdi Hassan's voice.
Mehdi Hassan – sometimes rendered "Hasan", as in the title of the Asif Noorani-edited biography Mehdi Hasan: The Man & His Music (2010) – was born in a Rajasthani village into an extended family of hereditary musicians. Owing to the Raj era's lackadaisical birth registration arrangements, doubts persisted about his year of birth. His father Ustad [a Muslim teacher] Azeem Khan and uncle, Ustad Ismail Khan, were esteemed vocalists who guided him on the classical path. But he retained a lifelong affinity with Rajasthan's vibrant folk-song traditions.
After Partition in 1947 he moved to Khushab in Pakistan's Punjab province, where he rose to become a motor mechanic and garage owner. Supposedly, even though he assiduously maintained his musical riyaz [practice], he did not sing in public between 1948 and 1951.
Remembering his time at the Karachi station of Radio Pakistan, Anwar Enayetullah recalled being asked to audition "a slim, balding young man with a longish face and a pair of bright eyes" in 1952. The unknown singer ran through a variety of pieces in different styles, displaying a command of raga and the regionally based light classical idiom and revealing a breathtaking technique and clear, nuanced diction. He sang so impressively that Hassan left their premises as a staff artiste.
By 1956 he had entered the world of film music, though his first two releases flopped at the box office. Although he sang in films into the mid-1990s, the Lahore-based, Punjabi- and Urdu-language film industry (later dubbed "Lollywood") remained a cul-de-sac compared to the traffic flowing from its Bombay counterpart. During the 1960s and '70s Hassan won a succession of Best Playback Singer trophies at the Pakistani film industry's annual Nigar Awards, inaugurated by the magazine of the same name in 1958 in emulation of India's Filmfare Awards, launched in 1954. Along with Ghulam Ali, Reshma and Saleem Shahzad, he was one of Pakistan's few post-Partition playback singers to make inroads in India.
For Hassan film music was a sideshow to some extent, albeit a lucrative one. His main focus was ghazal. He had a broad repertoire but his speciality was that particular poetic form. Ghazals take the form of self-standing couplets, the step-by-step progress of which advances the narrative. In the years following Partition, ghazal's allegorical and metaphysical potential was being recalibrated. Sambhag [union] and viyog [separation] masquerades of love for the Beloved might hide politics in plain yet allegorical view. Pakistan's keenest-eyed master and most trenchant overseer of the form's secular transition was the poet and left-wing intellectual Faiz Ahmad Faiz (1911-1984), and Hassan was right there beside him.
Harnessed to music and sung, ghazals could win enhanced longevity and memorability – although paradoxically, after Partition, recording ghazals was not deemed commercial. Hassan was prevailed upon to record two Faiz pieces. One became the calling card of his career, "Gulon mein rang bhare" ("Let the blossoms fill with colour") which his older brother Ghulam Qadir had set in raga "Jhinjhoti". At a time when the Gramophone Company of Pakistan was releasing 78rpm singles, what could be squeezed on to one side was an important artistic restraint; one couplet was lost. The recording, with its haunting, traditional-style sarangi accompaniment, was snapped up for the film Farangi ("Foreigners"). Afterwards, the song was identified with him.
Urdu is a language which stresses careful enunciation and Hassan became renowned for his linguistic precision and ability to bring out the words' innate musicality and infuse them with new life. Consequently, he recorded extensively, especially for what became EMI (Pakistan), including performances with Noor Jehan, Nazakat and Salamat Ali Khan and Runa Laila. An important UK connection was Navras, whose label launch was his triple CD set Classical Ghazals.
Hassan had composed for Lata Mangeshkar since the 1980s. Thwarted from recording together until 2009 and 2010, they recorded their parts in Pakistan and India for his composition "Tera milna bahut acha lagta hai" ("I like meeting you"). It was a duet of great symbolic importance for both of them.
Mehdi Hassan, singer, musician and composer: born Luna, Jhunjhunu district, Rajasthan, India 18 July 1927; twice married (twice predeceased; nine sons and five daughters); died Karachi, Pakistan 13 June 2012.
Register for free to continue reading
Registration is a free and easy way to support our truly independent journalism
By registering, you will also enjoy limited access to Premium articles, exclusive newsletters, commenting, and virtual events with our leading journalists
Already have an account? sign in
Join our new commenting forum
Join thought-provoking conversations, follow other Independent readers and see their replies