The Independent's journalism is supported by our readers. When you purchase through links on our site, we may earn commission.
Meic Stephens: Doyen of advocacy for the Welsh language and its literature
Roots in political activism kept the much-loved writer and scholar at the vanguard of efforts to enjoy the rich literary heritage of Wales, not least through his obituaries in The Independent
M. Wynn Thomas
Saturday 04 August 2018 23:04 Comments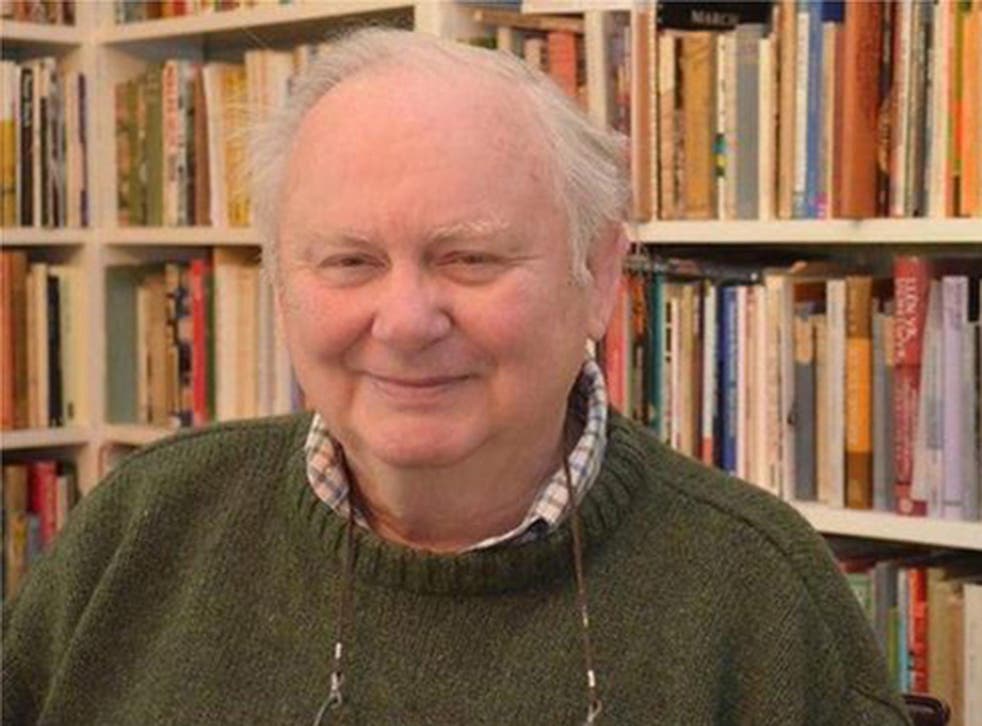 Rewind 50 years and the literary landscape of Wales would have looked very, very different. Unimaginably different to the present generation. Grants to authors, grants to publishers, block grants to publishers, literary periodicals, literary awards, international travel, creative writing centres – there were none of these available, either for Welsh-language or for English-language writers.
They are all largely the work of a single figure – Meic Stephens – during the quarter of a century he served in post from 1967 onwards, as the founding director of literature for the Arts Council of Wales. Previously he had briefly been a school teacher in Ebbw Vale and then a journalist with the Western Mail.
Not that his work of cultural transformation started with the Arts Council. Before that, as a young nationalist and language activist, he had had a hand in writing "Cofia Dryweryn" (Remember Tryweryn) on a boulder near Llanrhystud – a reference to the reservoir which subsumed the village Capel Celyn to provide water for Liverpool, forcing seventy residents to move in the early 1960s.
That was when he met his wife Ruth Meredith, who survives him with children Lowri, Heledd, Brengain and Huw, and 11 grandchildren.
He had lurked on the bridge at Trefechan, Aberystwyth, in the company of subversive Welsh-language protestors, had aided and abetted those who ran a free Wales radio station from a Merthyr attic; had lived in a kind of commune presided over by Harri Webb (whose close friend and literary executor he became), and had been one of the band of young men who hoisted Gwynfor Evans onto their shoulders in Carmarthen in the heady aftermath of the 1966 election of the first Plaid Cymru MP to Westminster.
Had this poacher turned gamekeeper, then, when Stephens became a remarkably young director of literature within an "establishment" body? Scarcely believe. He had simply found alternative, extremely productive means of forwarding the rebel cultural vision to which he remained devoted throughout his life. And not the least important of his remarkable achievements was the steady fostering of a rapprochement between Wales' Welsh-language and English-language writers, a development which in some ways paved the way to the public acceptance – and even celebration – of a modern bicultural Wales.
By the time in the mid-1980s that I became chair of the literature committee, it had unfortunately been shorn of much of the largesse that had previously given it such enormous clout and power to effect vitally important cultural changes. But even as the committee was beginning to adjust to these adverse conditions – Stephens was forced, for instance, to abandon the cherished international scheme that had brought the likes of Eugène Ionesco, Margaret Atwood, Derek Walcott to Wales for extended visits – it still retained considerable vigour.
Funding was found to relaunch Planet, to establish New Welsh Review, to launch Golwg and (thanks to Gillian Clarke, a committee member) to open a writers' centre at Ty Newydd. Stephens was simply unstoppable.
I witnessed his power on a visit to Soviet Moscow in 1989. It was December, bitterly cold, and while Moscow was blanketed in thick snow (the station from which we departed to visit Kiev resembled a scene from Dr Zhivago as the snowflakes fell softly under the glare of the arclights); there was glasnost in the air.
A day or two after our arrival at the Pekin hotel – a grim mausoleum of a place, no doubt carefully policed by the many redundant "staff" who seemed to lurk everywhere in its corridors – we felt peckish around 6.30pm and so resolved to explore the glum restaurant.
We were halted at the door. "The restaurant is full", announced the guardian waiter firmly. We stared in disbelief, first at him and then at the empty room. Voluble protest was to no avail. Eventually, Stephens, an old Russia hand, could stand it no longer. He drew himself up to his full imposing height, pressing his bulk against the unfortunate waiter until he was virtually pinned to the door. "Look here, butty," he said, "you heard of London Guardian newspaper? Me, journalist from the Guardian. Unless you let us in this story will be front-page news tomorrow." The waiter visibly paled, scurried away and returned with an ingratiating manager. With no more ado we were admitted to a back room, plied with food and entertained by gypsy musicians spirited up to placate us. Then, replete, we made our solemn exit through a restaurant that was still "full".
It was this rebellious, maverick and combative side of Stephens that both enabled him to achieve wonders as director of literature and also ensured that at times he seemed to have almost as many enemies as he had friends. He never shirked controversy.
Given his total lifelong devotion to the task of providing both the literatures of Wales with the soundest of financial underpinnings and most robust of infrastructures, it is surprising to discover that he had actually taken a degree in French.
That was thanks to the quirks of Gwyn Jones, an old-fashioned dictatorial martinet of a professor at Aberystwyth who was also a distinguished "Anglo-Welsh" editor and writer. He would admit to an honours degree in English only those who had excelled at first-year Anglo-Saxon and Old Norse (his own speciality being the Icelandic sagas). Stephens failed the test. But it was his study of French (including at the University of Rennes for a year) that opened a door for him onto the astonishing linguistic variety of continental Europe and thus enhanced his commitment to the maintenance and development of the Welsh language.
One of the first books he published was a study of the linguistic minorities of Europe: in practice, Stephens was a Welsh European well before that term became fashionable.
He is reputed to have had a hand in the production of some 150 books over his long lifetime. His editing of The Companion to the Literature of Wales remains a towering landmark of a cultural achievement of course. So, too, does the remarkably comprehensive poetry anthology he edited for the Library of Wales Series.
But also important were the opportunities he afforded writers and other Welsh artists from the seventies onwards to reflect on their careers (he knew everyone that was anyone and many who weren't on the literary scene from the thirties Dylan Thomas generation onwards).
Then there was the groundbreaking Writers of Wales series he co-edited with Brinley Jones, and that in due course attracted admiring comment even from that major English poet, the notoriously curmudgeonly Geoffrey Hill. His anthologies were legendary, and his Welsh-English translations numerous. A fine anglophone poet when young, Stephens was who launched Poetry Wales, a daring initiative that eventually provided a home for previously exiled talents such as John Tripp, Leslie Norris and Dannie Abse, and that offered a launchpad for brilliant new careers such as that of Gillian Clarke. The creation of this periodical set in train a chain reaction that produced the first dedicated Welsh anglophone press in Poetry Wales Press, subsequently Seren Books.
Ever proud of his journalistic skills, he eventually became the obituary writer at The Independent solely responsible for memorialising notable Welsh women and men. And it was the opportunity to pass on his skills as a professional writer (a profession he greatly admired and the development of which in Wales he always attempted to facilitate) that he perhaps most valued in his post-Arts Council work as professor at the University of Glamorgan.
He wrote fascinatingly about his own life and family background, as well as about the semester he spent in Utah in the company of his friend Leslie Norris, and he produced a biography of Rhys Davies in short order that scooped a Welsh Book of the Year Award in 2014. His important work through the Rhys Davies Trust (of which he was secretary), including the placing of commemorative plaques for Welsh writers in their native districts, was one outcome of his devotion to safeguarding the legacy of notable Welsh anglophone writers, many of whom – such as Glyn Jones, Harri Webb and Leslie Norris – had been his close friends.
​Stephens was every bit as devoted a servant of Welsh-language literature as he was of the English-language literature of Wales – the latter being a field to which he greatly resented having been denied access when a schoolboy at Treforest and even as an undergraduate at Aberystwyth.
A Welsh learner who had become totally fluent in both the spoken and written forms of the language, he eccentrically opted late in life to start writing in Gwenhwyseg, the largely moribund Welsh dialect of southeast Wales which he took much pleasure in reviving much as Mistral had old Occitan and MacDiarmid a synthetic Scots. And twice I had the misfortune, as chair of the offending panel of judge, to deny him the Crown at the National Eisteddfod.
My last public meeting with him was when I chaired a discussion of the important, and monumental, final anthology he co-edited, The Old Red Tongue. This he rightly regarded as a crowning achievement. Severely disabled though he was by this time, he seemed particularly keen to buttonhole me. "John Davies sends his regards," he said. I had no idea who John Davies was, and so returned a politely noncommittal reply. But he was not, of course, to be denied his carefully planned moment of triumph. "You don't remember, do you?" he sardonically queried. "John Davies was the character I invented in the pryddest you failed to praise in your Eisteddfod adjudication." Once again, he'd got the better of me. And nothing could please him better. He remained utterly irrepressible and unignorable to the last.
So look around you. We will not see his like again.
Heddwch i'w lwch.
Meic Stephens, writer and arts administrator, born 23 July 1938, died 2 July 2018
M Wynn Thomas is professor of English literature and Emyr Humphreys professor of Welsh writing in English at the University of Swansea
Register for free to continue reading
Registration is a free and easy way to support our truly independent journalism
By registering, you will also enjoy limited access to Premium articles, exclusive newsletters, commenting, and virtual events with our leading journalists
Already have an account? sign in
Join our new commenting forum
Join thought-provoking conversations, follow other Independent readers and see their replies