Mel Smith: Comedian, actor, writer, producer and director who leapt to fame on 'Not The Nine O'Clock News'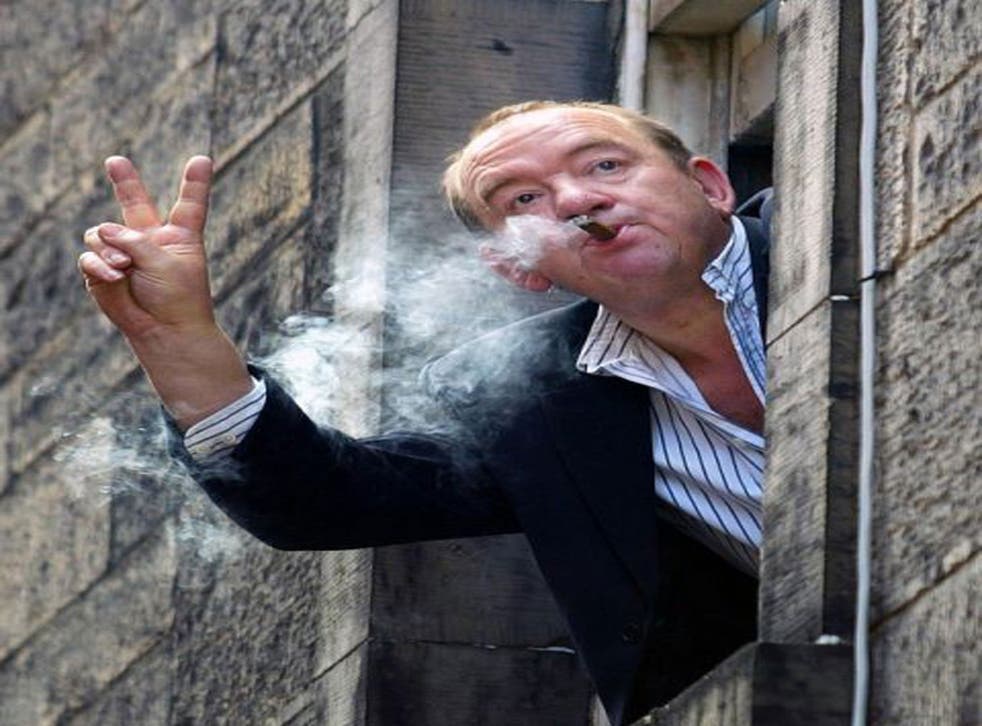 Not the Nine O'Clock News arrived on BBC2 in 1979, a bridge between the posher Monty Python and the apocalyptic The Young Ones.
Its stars, Rowan Atkinson, Pamela Stephenson, Griff Rhys Jones and Mel Smith were a disparate bunch, though all proved adept at upsetting the apple cart in spoof news reports such as "Mrs Thatcher has ordered an immediate enquiry into the number of jobless blacks: she feels there aren't enough." But despite his just-got-out-of-bed appearance, Mel Smith's life before the programme was not in confrontational stand-up but in theatre directing. He was also a talented actor whose versatility was too rarely explored or appreciated.
Born in Chiswick in 1952, the son of a bookmaker, Smith began his directing career at the age of six with the help of the children's handbook Little Plays for Little People, and soon after was bewitched by Hancock's Half-Hour. He attended Hogarth Primary School and Latymer Upper School in Hammersmith, and read experimental psychology at New College, Oxford as a means of joining the Dramatic Society. He became President but ditched his studies after two years to direct at the Oxford Playhouse, where a well-received Tempest was seen by the Royal Court's new Artistic Director, Oscar Lewenstein.
Lewenstein made him an assistant director. It was a lively time in the Court's history, with the now legendary Beckett and South African seasons achieving great acclaim. While there Smith assisted such powerful forces as Lindsay Anderson and Anthony Page, but years on still winced at the memory of Beckett's Not I (1973). A nightmarish experience devised to work on "the nerves, not the intellect", it saw Billie Whitelaw locked in place in a pitch-dark theatre with a spotlight on her mouth as she performed verbal nausea for 15 harrowing minutes. It was frightening, theatre to its square root, but Smith was dismayed at having to spend a day auditioning actors for the role of the cloaked figure who stands stage right throughout and whose only duty is to raise his arms weakly four times throughout the monologue.
He then worked at the New Vic, Bristol, and for two years was Associate Director of the Sheffield Crucible (where he turned down a young Elaine Paige for My Fair Lady). He directed and acted alongside Antony Sher in Stephen Poliakoff's American Days (1979) at the ICA, but at the Young Vic clashed with its head, Michael Bogdanov, and quit, telling his dad he was now ready to take over the betting shop.
The following day a phone call came from the BBC comedy producer John Lloyd inviting him to become part of Not the Nine O'Clock News. Lloyd had seen Smith perform in Edinburgh the year that Smith had first met Griff Rhys Jones, who had then been in the Cambridge Footlights. Once the series got underway the two worked particularly well together, and became friends by nature of the fact that journalists who arrived to interview the four tended to be fascinated by Atkinson and besotted with Stephenson, leaving them to their own devices.
The show was described by the critic Philip Purser as "erratic and fitful, but emitting at least two beautiful jokes every week", an early example being a delicious parody of the uproar over Life of Brian (1979). Together Smith and Jones delivered many memorable moments over the show's three years, including a savage attack on The Two Ronnies that managed to seriously offend the usually mild-mannered Ronnie Barker, while other Smith delights included playing a liberal parson who thinks "Christians should have a bit less of the 'get-thee-behind-me Satan' and more of a 'come in me old mate and have a cuppa tea'", a tweedy man who makes the fatal mistake of walking into a trendy hi-fi shop and asking to buy "a gramophone", and his deadpan reading of news reports such as "we've just heard that the Italian entry to the Eurovision Song Contest, 'I Can't Get No Contraception', has been cancelled, after the Pope advised them to pull it out at the last minute."
Immediately the series finished Smith took on a straight leading role in the brutal Muck and Brass (1982). The grimy saga of an unscrupulous property developer grippingly exposed Thatcher's Britain as a society on the skids, chicanery and corruption the meat and drink of the fat cats who are the new power elite. Smith followed his ballsy performance up with another good one as a menacing music mogul in Minder (1984), but there was still more mileage in him as a comedy performer, and the same year he reunited with his old oppo for Alas Smith and Jones (1984-98). While it was less ambitious than Not the Nine O' Clock News, there were still strong moments throughout the long run, especially the entertaining head-to-heads, Jones as "the idiot who knows nothing" and Smith as "the idiot who knows everything."
Colin's Sandwich (1988-90) should have been the most celebrated of his comedy performances, but despite a dedicated cult following, the show was largely overlooked by the public and critics. As Colin Watkins, who handles complaints for British Rail and dreams of becoming a horror writer, Smith created a histrionic neurotic who every week was hilariously sucked into another maelstrom of humiliation and persecution. Smith hoped for it to be a kind of modern-day Hancock, but the comparison was actually inaccurate and unfair and it was a highly original and witty series in its own right.
Smith and Jones formed Talkback Productions in 1981, a company they sold to Pearson in 2000 for £62 million, along the way having created a steady stream of comedy shows featuring new talent including I'm Alan Partridge (1997), Big Train (1998) and Smack the Pony (1999).
Smith's film career included starring with Jones in the enjoyable Wilt (1990) and directing Atkinson in the very successful Bean (1997). His directorial debut, The Tall Guy (1989), was his most endearing piece, a funny and saucy love story scripted by Richard Curtis that Smith himself thought his career highlight. For all its success though, Bean wasn't really up his street, and he claimed the price of its success was being sent silly scripts he wasn't interested in doing.
Instead he returned to his stage roots, acting at the Edinburgh Fringe in Allegiance (2006), in which he played Churchill to Michael Fassbinder's IRA leader Michael Collins. The publicity stunt of Smith threatening to flout the smoking ban during the performance certainly got the play noticed, but also rather clouded the strong script and his impressive performance. The following year he directed Stephen Tompkinson in Charley's Aunt and then bowed out on stage with his musical theatre debut, as Wilbur Turnblad in a very bouncy revival of Hairspray (2007-08) at the Shaftesbury Theatre.
Mel Smith will be remembered for being one of the most high-profile, energetic and consistently funny comedy performers of the 1980s. But he should also be remembered for his passion for the stage, his capabilities as a straight actor and his success as a film director. And for nurturing a wealth of young talent throughout the 1990s, so much of which has gone on to achieve things as great Smith did himself.
Melvin Kenneth Smith, actor, comedian, writer, producer and director: born Chiswick, London 3 December 1952; married 1991 Pam (one daughter); died St John's Wood, London 19 July 2013.
Join our new commenting forum
Join thought-provoking conversations, follow other Independent readers and see their replies