MF Husain: Indian artist who spent his last five years in self-imposed exile after death threats from Hindu nationalists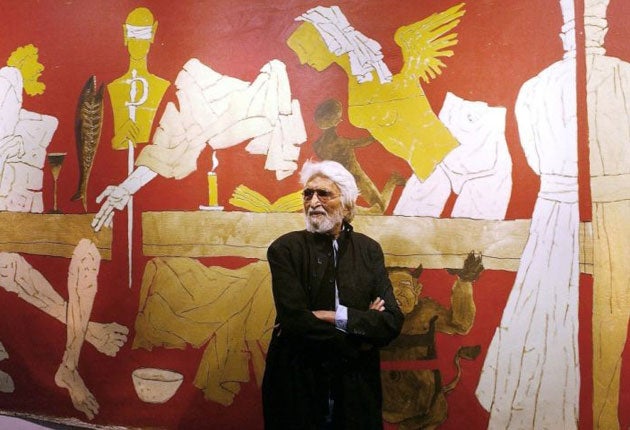 Barefoot, animated and always carefully attired, MF Husain was India's most celebrated and yet also its most controversial painter.
Having transformed himself from a movie billboard artist, scrabbling to make a living in Mumbai, to the first Indian artist whose works sold for $1m, he spent the last five years of his life in exile as a battle raged in India as to whether he should be allowed to return home. He never did.
Husain's exile, first to Dubai and then to Qatar, followed the receipt of death threats from Hindu nationalists, increasingly outraged by a series of his paintings. Those that triggered the most anger included Hindu deities clothed in "nothing but the sky", which he produced in the 1970s and 1990s and, later, and an image of a nude kneeling woman, Bharat Mata, or Mother India, shaped like a map of the nation. Several of his exhibitions were vandalised and lawsuits were filed against him. At that point, MF, as he was commonly known, a Muslim, decided to move to the Gulf. "Matters are so legally complicated that I have been advised not to return home," he subsequently said.
His shift to the Middle East, a move that he said was unavoidable, was a blow to the image India holds of itself as a tolerant, secular society. His decision in 2010 to accept a Qatari passport only added to the broader debate about the commitment to protecting free speech in India. In his exile, he divided his time between the Middle East and London.
But some felt the move was as much connected with securing additional publicity for himself, something he was never afraid of doing. Some critics, including some within the art world, pointed out that Husain, always recognisable by his flowing white beard, never chose to test the boundaries of free speech in his adopted home in the Middle East by producing similar works of art relating to the Muslim faith.
Indeed, a number suggested he could have returned to India had he wished. In 2008, the country's Supreme Court dismissed a series of charges against him, saying: "Does the sentiment of the petitioner get scandalised by the large number of photographs of erotic sculptures which are in circulation? It is an art like the sculptures. None get scandalised looking at the sculptures."
Husain the painter, as opposed to Husain the iconoclast, a man who would later be known as the Picasso of India, first emerged in the late 1940s as part of a group known as the Bombay Progressive Artists. Headed by the painter Francis Newton Souza, the group moved away from what had before been the tradition of Indian art and shifted away from nationalist themes. Before that, Husain, who was producing many paintings of horses, worked painting movie billboard posters in order to earn enough to get by. Husain made his international debut in 1952 with an exhibition in Zurich. It would launch him on a route towards earning a international reputation. He earned three of India's four highest civilian honours.
As reputation of the self-taught artist grew, so did the prices fetched by his art. Many buyers were international, but increasingly, as India's economy rapidly grew during the 1990s, his paintings and sketches were snapped up by Indian art lovers, and by those who saw his work asa status symbol. Some suggestedhe was too prolific; there are estimates he produced up to 60,000 works, but Husain recently told the BBC: "All this talk about inspiration and moment is nonsense."
Husain was born into a working-class environment in Pandharpur in Maharashtra, western India, in 1915. His father was an accountant in atextile mill. His mother died when he was less than two years old and his father remarried and moved to Indore, where Husain went to school. In 1935 he moved to Mumbai and immersed himself in art.
In addition to painting, the artist also experimented with cinema. In 1967 he made his first film, Through the Eyes of a Painter, which won an award at the Berlin Film Festival.He also produced two Hindi films.In 1986, Rajiv Gandhi nominatedhim to the upper house in the Indian parliament.
While Husain said that no matter where he lived and worked, he would remain an Indian, he had also made clear to his family that he wished to be buried in the country in which he died. When he died in London, on the day two of his works were sold at Christie's, his family considered, briefly, returning his body to India. Instead they went along with his wishes; he was buried outside London, at Brookwood Cemetery.
Maqbool Fida Husain, artist: born Pandharpur, India 17 September 1915; married 1941 Fazila (deceased; six children); died London 9 June 2011.
Join our commenting forum
Join thought-provoking conversations, follow other Independent readers and see their replies