Michael Bond, obituary: author and creator of Paddington Bear
The Newbury-born writer based his famous children's character on the evacuees he witnessed during the Second World War
Nicholas Tucker
Tuesday 04 July 2017 14:46 Comments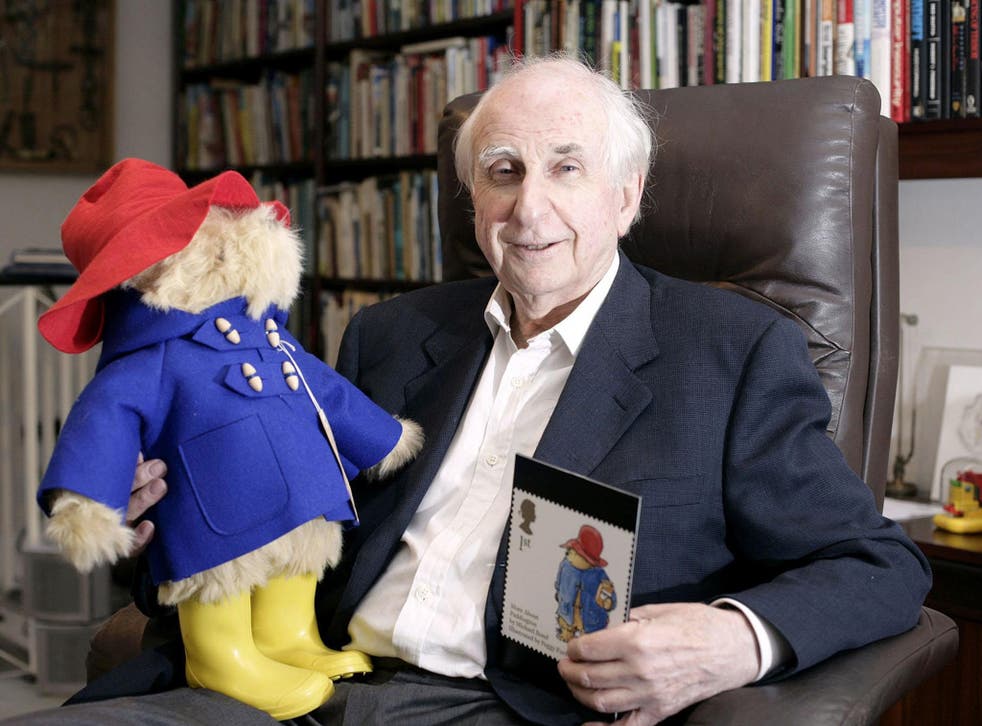 Creator of the famous character Paddington Bear, Michael Bond, who has died aged 91, made full use of the fame and fortune he never suspected would come his way. Author of over 150 books for children and adults, some translated into 40 languages, his unaffected prose style coupled with frequent jokes made him an immediate favourite particularly with very young readers. The high-grossing film Paddington, released in 2014 with a starry cast and in which the author appears briefly as an onlooker, extended his fame to the larger screen following many years of successful story adaptations for children's television.
Born in Newbury, Berkshire, the only child of a Post Office sorting clerk and a housewife mother, Bond had a happy childhood, remaining on close terms with his parents all his life. While money was tight the family was able to afford holidays and minor treats, such as a weekly delivery of the Magnet comic. In his amiably racy autobiography Bears & Forebears: A Life So Far (1996) Bond claimed that it was primarily this publication, soon to perish in the forthcoming war, that truly grounded him in the art of popular writing. Disliking his Roman Catholic education at Presentation College, Reading, at the hands of some frequently brutal Irish Brothers, he left aged 14. His final report complained of his "distorted sense of humour." Office boy work followed in a solicitor's firm before he was called up to the RAF, later on moving to the British Army stationed in Cairo.
In 1946, while waiting to be demobbed, his first story was published by the magazine London Opinion. More sporadic writing followed in an otherwise busy life as a BBC cameraman. Marrying Brenda Johnson in 1950, and with daughter Karen arriving in 1958, he one day bought a toy bear at Selfridges and named him after the railway station he knew best from travelling to London. Residing on the couple's mantelpiece in their flat, the toy soon became part of the family, referred to in conversation and included on trips away. A written story eventually followed, with Paddington's temporary state of homelessness in the opening paragraphs arising from memories of seeing trainloads of evacuee children arriving at Reading station from London during the war. They too carried single suitcases and had labels tied to them bearing their names and addresses.
Taking only 10 more days to write and published in 1958, A Bear Called Paddington was an immediate success. His now-familiar image owed much to Peggy Fortnum's brilliant pen and ink illustrations. Using only a minimum of detail, she expertly created a character who was both appealing and also very much his own purposeful being. Regularly walking on two legs, Paddington behaves like a lively infant but talks in the well-spoken tones of a polite and good-natured older child. His adventures largely consist of his involvement in minor domestic misunderstandings always forgiven at the end after everything more or less works out for the good.
Mr and Mrs Brown, the couple who take Paddington home with them, are based on the author's parents but now moved up the social scale, living in a pleasantly appointed house in London's Notting Hill Gate area with a tradesman's entrance down the side. Wealthy enough to employ a housekeeper, bailing out Paddington after his latest mishap never entails any real financial crisis. The family's unconditional love for this new arrival also ensures a stable and safe environment for everyone concerned. Initially set in pre-war Britain at its most cosy and innocent of any social issues dating either from then or since, these charming undemanding stories, like toy bears themselves, could always be cuddled up to with complete assurance.
The bear's distinctive old hat and duffel coat meanwhile were replicas of what Bond was wearing at the time of composition, bought from a government surplus store. Paddington's trademark love of marmalade sandwiches also reflected the author's own strong preferences. The bear's Wellington boots appeared in a story written later and were added at the request of Shirley Clarkson. Mother of former Top Gear presenter Jeremy, she was the co-owner of Gabrielle Designs, the company making the Paddington Bear toys. At one stage selling over 6,000 models a month, she needed this extra detail to enable her toys to stand up more securely, and Bond was happy to oblige.
Many more Paddington books selling over 35 million copies were to come over the next 50 years, each following the same basic formula. Written in short chapters, avoiding lengthy paragraphs and with plenty of dialogue, they enjoyed a new lease of life in 1975 once they started appearing on BBC television. Previously to this, Bond had great success with The Herbs, a children's show featuring Parsley the Lion and Dill the Dog which the BBC used as a replacement for its Bill and Ben series. Its director/producer Ivor Wood was keen to animate Paddington, and finally came up with a miniature and fully jointed model which could then appear to move freely against a two-dimensional background. This effect was achieved by freeze frame techniques whereby the model was shifted along a fraction of an inch before each shot.
The distinguished actor Michael Hordern provided the laconic voiceover commentary to a series that proved an enormous hit. Fifty-six episodes were recorded and merchandising soon followed. Like Peter Rabbit and the Wombles, Paddington was swiftly turned into a successful brand. Two Paddington and Friends retail shops opened in London and Bath, with a further franchise sold to a company in America. Paddington lampshades, pencil cases, T-shirts, bean bags and many other objects soon started appearing all over the country.
In 1966 Bond left the BBC to become a full-time writer. More stories featuring different characters followed. Here Comes Thursday (1966) was the first of four stories about the adventures of a would-be heroic crime-fighting mouse who usually ends up rescued by his more sensible friend Harris, a water vole. The Tales of Olga da Polga (1971) details the happenings in the daily life of a spirited and pleasure-loving guinea pig who talks freely to other animals but can only squeak to her human owners. Described by the Times Literary Supplement as having a "touch of Bunter and Falstaff", this character appeared in 17 more books and was based on a much-loved guinea pig of the same name owned by the family.
Written for adults, Monsieur Pamplemousse (1983) was the first of 17 culinary mystery stories headed by an ex-police inspector now working for a food guide and always accompanied by his pet bloodhound Pommes Frites. These books also did well despite Auberon Waugh writing of the first story that "I cannot, off-hand, think of any book which amused me less."
After the break-up of his marriage Bond had a long relationship with one of his editors from which his son Anthony was born, who went on to become a freelance television director and producer. In 1981 he married again, and moved with his wife Susan Rogers to London's Little Venice, not far from the station that had helped make his bear character so famous. With his daughter Karen now working for the firm Paddington and Company overseeing all details of merchandising, he had the time and money to develop his gourmet tastes, particularly during long holidays in France. But the writing still went on. J.D. Polson and the Liberty Head Dime (1980) was one of two stories aimed at adults featuring the first armadillo to become president of the United States, and The Pleasures of Paris (1987) was a lovingly written guide book to the city he loved and where he now owned an apartment.
In 1997 Bond received an OBE for services to literature and in 2007 was awarded an honorary D.Lit. by the University of Reading. In 2000 Marcus Cornish's life-size bronze statue of the famous bear was unveiled in Paddington Station itself. Wearing his distinctive floppy bush hat, he is shown looking round as if anticipating the arrival of kindly Mr and Mrs Brown. This mark of respect for such a famous and well-loved character was a just reward for a hard-working author who always gave his best.
Thomas Michael Bond, author, born 13 January 1926, died 27 June 2017
Register for free to continue reading
Registration is a free and easy way to support our truly independent journalism
By registering, you will also enjoy limited access to Premium articles, exclusive newsletters, commenting, and virtual events with our leading journalists
Already have an account? sign in
Join our new commenting forum
Join thought-provoking conversations, follow other Independent readers and see their replies