Mike Barnard: Portsmouth footballer who helped Hampshire win their first cricket county championship title
Dual star Barnard played over 100 First Division matches for Pompey in the 1950s, but enjoyed his greatest success on the cricket field during the summer of 1961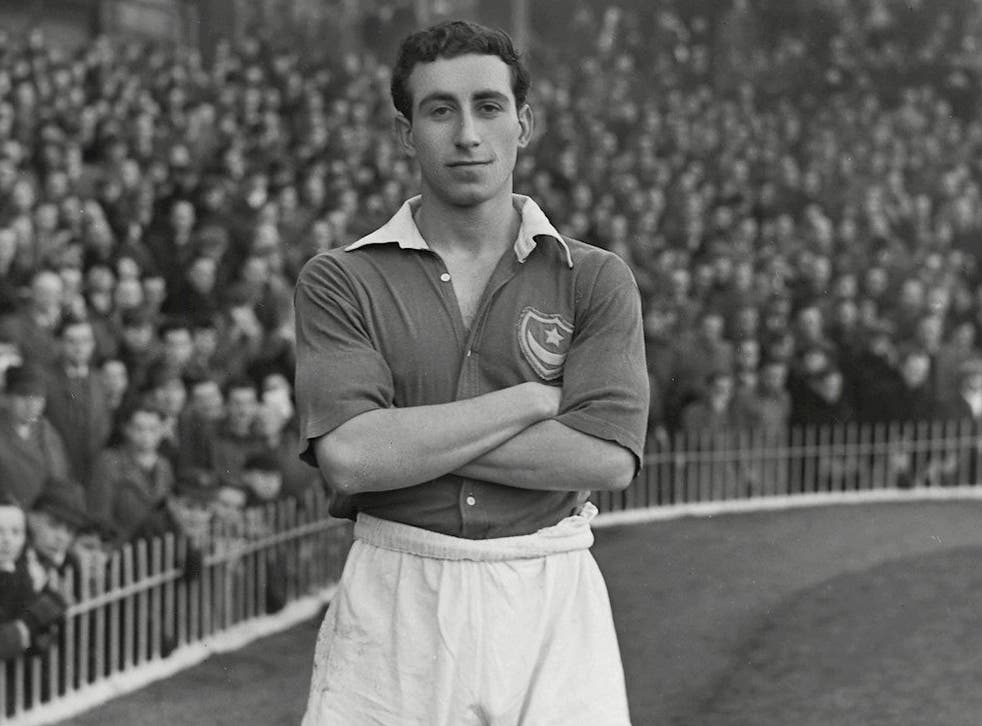 "There is a very short list of professional British players who reached the top flight in not one but two sports. When it comes to Jewish sportsmen, there is just one," wrote The Jewish Chronicle of sportsman Mike Barnard, who was a throwback to those heady days when football and cricket still knew their seasonal places in the sporting calendar.
A talented inside forward playing for his hometown club, Portsmouth, then challenging for honours at the top of the old First Division, by 1961, Barnard, who died aged 85, had become an integral member of the Hampshire side that won that summer's county championship.
Later he proved an inspirational coach, successfully nurturing countless generations of aspiring sports enthusiasts.
The youngest of four sons of a local garage proprietor, Henry Michael Barnard, universally known as Mike, grew up in Portsea, the family later moving to Havant at the beginning of the Second World War. Educated at Portsmouth Grammar School, while not academically distinguished, he was a fine all-round sportsman.
Excelling at soccer, cricket and rugby, he won countless local and national representative honours in all three disciplines. Leaving school in 1951, he then immediately joined the Hampshire ground staff before spending two years undertaking his national service in the army.
As a cricketer, Barnard made his first-class debut for Hampshire against Glamorgan at St Helen's, Swansea, in July 1952.
Taking time to establish himself in the team, he was a strongly built and powerful right-handed middle-order and occasional opening batsman who, while not an overtly attacking player, was always keen to seize on any delivery just short of a length. Elegant and economical of movement, he was particularly strong off the back foot. While only a very occasional medium-paced bowler, he did however excel as a high class fielder, particularly close to the bat.
Twelve months later, having been spotted by Portsmouth playing Sunday league soccer, a cultured inside-forward, strong in the air, he made his First Division debut, scoring in Portsmouth's 1953 Boxing Day draw with Tottenham Hotspur. Over the next six seasons he would make a further 115 league appearances, scoring 24 goals. Seven more FA Cup matches saw him score twice. Never the same player after damaging his cruciate ligament against Sunderland in 1958, a year later he joined Chelmsford City in the Southern League. Making 129 appearances and scoring 43 goals, in 1964 he spent a valedictory season with Poole Town.
Having gradually established himself in the Hampshire middle order from 1955 onwards, he became an integral member of an increasingly successful side. Capped that year, like many, the advent of Colin Ingleby Mackenzie as the Hampshire captain in 1958 brought out the very best in Barnard.
Having until then been the perennial wooden spoonists, that year the county narrowly lost out in the title race to Surrey. Three years later however, in what proved to be Barnard's most prolific season with the bat when he totalled 1,533 runs, the championship title made its first visit to Northlands Road.
While never quite consolidating the rich promise of those early years, nevertheless, over the course of 15 seasons in the first-class game, in all, Barnard appeared in 276 matches, scoring 9,134 runs at an average of 22.07, and taking 16 wickets.
Barnard's maiden century, 101 not out, made at the United Services Ground in Portsmouth in 1954, saw him become the first Englishman to take a century off the Pakistani attack during their inaugural tour of this country. His highest score remains his 128 not out, made against MCC at Lord's in 1956. He also had a remarkable 312 catches to his name.
Retiring in 1966, he subsequently become a mature student at King Alfred's College, Winchester, being all set to succeed Leo Harrison as Hampshire coach when, in 1969, on a cricketing tour of British Army Bases in Germany, he broke his neck in a coach crash. Lucky to survive, he later taught and organised sporting activities at the Warsash School of Navigation. At the same time, working as a sports commentator for both BBC Radio Solent and local hospital radio, he became a prime mover behind the annual reunions of former Portsmouth footballers as well as past Hampshire cricketers.
In 1960 he married Theresa Margaret Elderfield, who died in 2001. He is survived by sons Robert and John, and daughter Emma.
Mike Barnard, professional cricketer and footballer, born 18 July 1933, died 18 December 2018
Register for free to continue reading
Registration is a free and easy way to support our truly independent journalism
By registering, you will also enjoy limited access to Premium articles, exclusive newsletters, commenting, and virtual events with our leading journalists
Already have an account? sign in
Register for free to continue reading
Registration is a free and easy way to support our truly independent journalism
By registering, you will also enjoy limited access to Premium articles, exclusive newsletters, commenting, and virtual events with our leading journalists
Already have an account? sign in
Join our new commenting forum
Join thought-provoking conversations, follow other Independent readers and see their replies