Mike Turner: Cricket administrator who revitalised Leicestershire CCC and pioneered the one-day game in England
Turner's eye for young talent unearthed David Gower, a golden-haired left-hander who played for Loughborough Town, signed on a summer contract worth £25 per week plus expenses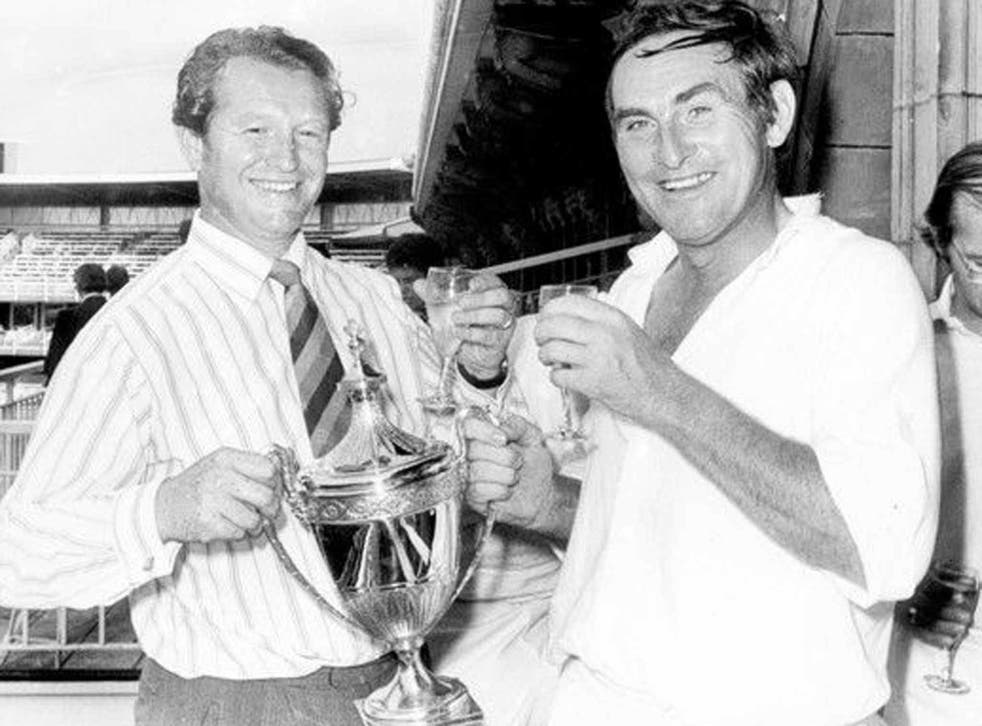 Growing up in postwar Britain, when cricket attracted large crowds amid public enthusiasm for peacetime pursuits, Mike Turner dreamed of being a player. It was an ambition he would achieve at just turned 20, when he made his first-class debut for Leicestershire. Turner was a right-hand batsman and leg-spin bowler of modest ability: in a career interrupted by national service with the Royal Army Educational Corps, he made only 10 first-class appearances. Yet his impact on cricket was enormous.
Advised by his captain, Willie Watson, that leg-spin bowlers did not have much future in the game, he was ready to pursue another ambition, to be a journalist. However, Leicestershire persuaded him to stay, suggesting that he could remain registered as a player while working as the club cashier. They arranged for him to attend a business studies course.
He soon progressed to assistant secretary and within two years was appointed club secretary – at the age of 25 the youngest to hold that office in county cricket. The position was effectively that of chief executive, and from 1969 the role was redefined as secretary-manager, with responsibility for cricketing activities as well.
Turner transformed Leicestershire from the poorest and most down-at-heel of all the counties into the most successful, for a time at least. Along the way, he came up with an idea that would change cricket across the world.
The game was in the doldrums at the time, with interest in three-day first-class matches dwindling. There had been talk of creating a new version of the game, with a shorter format – and Turner took it upon himself to be the pioneer. In 1962 he invited Northamptonshire, Derbyshire and Nottinghamshire to join Leicestershire in the Midlands Knock-Out Cup, featuring two semi-finals and a final, each played in a single day, with 65 overs per side. He bought a trophy, had it replated and engraved, and eventually presented it to the captain of Northamptonshire as inaugural winners.
It was never contested again, but only because the following year saw the introduction of the Gillette Cup, a similar competition involving all the first-class counties along with five minor counties. Within six years, the domestic game had a second one-day competition, the John Player Special League, played on Sundays with 40 overs per side. In 1971 the first one-day international took place and by 1975 the Test nations were playing for the first limited-overs World Cup.
Turner grew up in the Braunstone area of Leicester. He passed his 11-plus and attended City of Leicester Boys' Grammar School, where he excelled in English and sport. He left at 16 and was offered a junior professional's contract with Leicestershire in 1951, on a salary of £150 per year.
He became used to dealing with much larger sums. Leicestershire had so little money that it was assumed that they would go out of business, yet Turner developed a winter football competition for members, similar to the football pools, that raised more than £100,000 a year, enabling the club to buy their Grace Road ground from the local education authority for £24,000. Decrepit facilities were demolished and modern ones built in their place, yet the club accounts showed an annual profit for 20 consecutive seasons.
Turner proved equally astute on the playing side, making a number of extraordinary signings, including Yorkshire's England all-rounder Ray Illingworth, whose arrival as captain heralded an unprecedented era of success between 1972-77 in which Leicestershire won the Benson & Hedges Cup twice, the John Player League twice and, in 1975, the County Championship. Later, Turner's eye for young talent would unearth David Gower, a golden-haired left-hander who played for Loughborough Town. Turner signed him on a summer contract worth £25 per week plus expenses.
Always immaculately dressed, Turner was a strict disciplinarian and any employee who failed to meet his high standards could expect to be summoned to his office. No one was spared, not even his son Michael, who was once Leicestershire's promotions manager, nor his future son-in-law, the all-rounder Laurie Potter.
Turner, a prominent figure at the Test and County Cricket Board (which became the England and Wales Cricket Board) for much of his career, remained at Grace Road until 1993, when a series of disagreements with the committee ended in his resignation. Yet he maintained his connection with the county as vice-president and served on a reconstituted board from 2003-06.
In retirement, he used his expertise to help clubs from county level to the smallest league team to raise money from sponsorship, grants and National Lottery funding. He secured £7.9m from the Lottery to help develop a new Test ground, the Rose Bowl in Southampton, and worked with equal energy for teams such as Monmouth Cricket Club, where his grandson, Ben, is captain. There, the new nets – paid for with money secured by Ben's grandfather – were opened only a few weeks before Turner's death.
In 1994 he was appointed MBE and elected an honorary life member of the MCC. At the age of 45, Turner suffered a heart attack, yet after losing weight, giving up smoking and learning meditation techniques, he made a full recovery and only in the last few years did his health begin to fail.
Francis Michael Turner, cricket administrator: born Leicester 8 August 1934; MBE 1994; married 1957 Patricia Coley (three children); died Leicester 21 July 2015.
Register for free to continue reading
Registration is a free and easy way to support our truly independent journalism
By registering, you will also enjoy limited access to Premium articles, exclusive newsletters, commenting, and virtual events with our leading journalists
Already have an account? sign in
Register for free to continue reading
Registration is a free and easy way to support our truly independent journalism
By registering, you will also enjoy limited access to Premium articles, exclusive newsletters, commenting, and virtual events with our leading journalists
Already have an account? sign in
Join our new commenting forum
Join thought-provoking conversations, follow other Independent readers and see their replies