Morgan Tsvangirai: Zimbabawe opposition leader who stood up to Mugabe and endured years of violence and intimidation
Morgan Tsvangirai ran for president three times, suffered vote-rigging, violence and assassination attempts – but lived to see the political end of his foe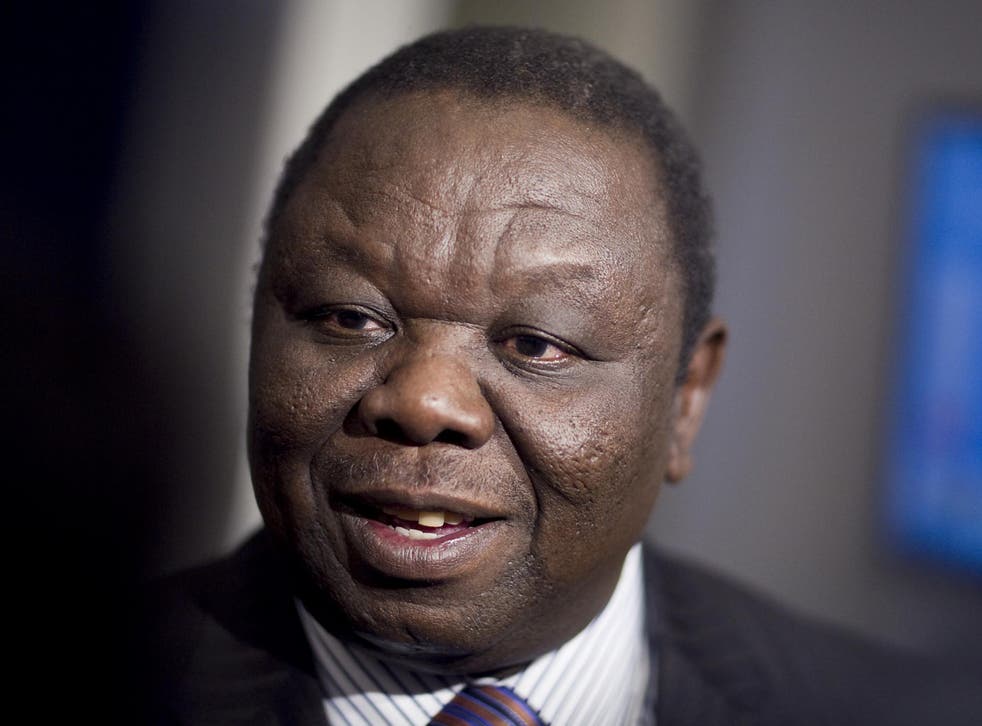 Once an impoverished nickel miner, Morgan Tsvangirai went on to become a charismatic union leader, pro-democracy activist and eventually Zimbabwe's embattled Prime Minister under a 2008 power-sharing agreement with his longtime foe, Robert Mugabe.
For nearly two decades, Tsvangirai, who has died aged 65, was the heavyset, baritone-voiced embodiment of his country's opposition movement. Sporting a weathered ox-hide jacket and steel-toed work boots, and driving a beat-up Mazda to political rallies, he maintained a working-class persona that veered sharply from that of Mugabe, a former Marxist revolutionary who favoured well-tailored suits and a cavalcade fit for a king.
As the founding leader of the Movement for Democratic Change (MDC), the country's leading opposition party, Tsvangirai oversaw what at times seemed to be a suicidal effort to oust Mugabe, an autocrat who ruled the country for 37 years.
Soldiers whipped Tsvangirai with belts, prosecutors charged him with treason and plotting to assassinate the President (he was acquitted, but could have been sentenced to death), and assassins tried to take his life at least three times, including during a 1997 attempt when he was nearly thrown out the window of his 10th-storey office.
"I will soldier on until Zimbabwe is free," he wrote in 2007, after he was arrested for attending an anti-government prayer-group meeting and released with a broken arm and bloodied scalp. "Far from killing my spirit, the scars they brutally inflicted on me have re-energised me. I seek no martyrdom. I only seek a new dispensation in my country in which citizens live freely in prosperity and not fear of their rulers."
Tsvangirai served as Prime Minister for four years under the power-sharing agreement. Mugabe, who remained as president, consistently outmanoeuvred his political rival and proclaimed that "only God will remove me". The 93-year-old leader was finally ousted last November, after he fired his vice-president and was subsequently placed under house arrest by the military and pressured to resign.
At the time, an ailing Tsvangirai – who was in South Africa receiving cancer treatment when he died – said he hoped the resignation would put Zimbabwe on a "new trajectory", with free and fair elections and a younger generation of political leaders. Mugabe's successor, former security minister Emmerson Mnangagwa, has said he will hold presidential elections this year.
Such elections would mark the culmination of a longstanding dream for Tsvangirai. The son of a bricklayer, Morgan Richard Tsvangirai was born in Gutu, in what was then the British colony of Southern Rhodesia. He dropped out of school as a teenager to support his eight younger siblings, working at a textile factory and then at the mines during the reign of white supremacist Ian Smith, who had unilaterally declared Rhodesia's independence from the UK in 1965.
Like many other young black men of his era, he said that in his adolescence he was "prepared to die" for Mugabe, a national hero whose guerrilla warfare tactics helped the newly named Zimbabwe achieve black majority rule in 1980.
The country was then considered one of the most promising nations in southern Africa, with strong mining industries and agriculture that made it a breadbasket for the region. It has since suffered widespread famine, rampant unemployment, epidemics of malaria and Aids and – in the 1980s – military massacres of civilians that contributed to Tsvangirai's decision to distance himself from the ruling Zanu-PF party.
Tsvangirai worked his way through the union ranks and was elected secretary general of the Zimbabwe Congress of Trade Unions in 1988. The position made him the leader of the country's largest labour federation and launched him to national prominence as he organised strikes that successfully derailed a tax increase proposed by Mugabe. He went on to chair the National Constitutional Assembly, a group that aimed to remake the country's constitution, before forming the MDC in 1999.
Tsvangirai was viewed by much of the country as a freedom fighter, and his party won a record number of seats for an opposition group in Zimbabwe's parliament, nearly seizing a majority in the 2000 elections. His anti-Mugabe rhetoric drew tens of thousands of Zimbabweans to his rallies, but he drew criticism for his party's shifting economic policies, which variously espoused free markets and a form of socialism. He labelled the International Monetary Fund an organisation of "devils".
Mugabe supporters derided the MDC for opposing a constitutional referendum that would have allowed the government to seize white-owned land and redistribute it to black farmers – "What does land do if you haven't got a meal?" Tsvangirai said. As with other Mugabe efforts, the land seizures began even after they were rejected by voters.
Tsvangirai triggered an intraparty split in 2005 when he ordered a boycott of senatorial elections, saying that the voting was rigged. Violence by younger members at party rallies reportedly played a role as well, and a breakaway MDC faction began to take hold under former student activist Arthur Mutambara.
Still, Tsvangirai ran three times for president and nearly succeeded in 2008, amid an economic crisis in which hyperinflation led the government to print a 100 trillion Zimbabwean dollar note. Though Tsvangirai won the most votes, the government said he failed to receive a majority, spurring a runoff election marked by widespread violence. National security forces reportedly killed at least 85 of Tsvangirai's supporters and maimed thousands more with iron bars, guns and machetes.
Fearing prolonged violence, Tsvangirai dropped out of the race, calling it an "illegitimate sham of an election process" and an "orgy of violence". The decision angered supporters who said he was betraying those who died in support of his cause. But it helped prompt a political intervention by South Africa's president, Thabo Mbeki, who drafted the power-sharing arrangement that made Tsvangirai Prime Minister and Mutambara Deputy Prime Minister.
For Tsvangirai, the deal began in personal tragedy and ended in political failure. In 2009, days after he was sworn in, his wife of 31 years, the former Susan Mhundwa, was killed in a car crash. The head-on collision was rumoured to be a botched attempt to assassinate Tsvangirai, who was injured.
The unity government he helped lead stemmed the country's inflation, replacing the Zimbabwean dollar with American greenbacks and other foreign currency. But Tsvangirai was unable to institute substantial reforms of the country's military and became enmeshed in controversy over his romantic life.
Several women came forward to say they were having affairs with Tsvangirai, including one who reached a settlement with him to support a child she said was his. Then, when Tsvangirai announced his engagement to Elizabeth Macheka in 2012, another woman came forward to say she had married Tsvangirai in a "customary" ceremony a year earlier.
Tsvangirai's wedding to Macheka went forward anyway, in a lavish ceremony that led some observers to question whether the onetime miner had enriched himself at the government's expense.
He had six children from his first marriage.
​Tsvangirai and his party were tainted by corruption allegations going into the 2013 elections – the result, in part, of media coverage by Mugabe-controlled news outlets. When Mugabe won in a landslide and his party regained a supermajority in the parliament, Tsvangirai blamed the loss on election fraud.
In part, it was a political failure. "His heroic status, his position as someone admired for standing up to a repressive regime, became quite tarnished during the power-sharing years," said Julia Gallagher, co-author of Why Mugabe Won: The 2013 Elections in Zimbabwe and Their Aftermath.
"Mugabe was an amazingly adroit political maneuverer. Tsvangirai was naive and didn't know how to get inside the system and make it work for him," she added. "It takes very different skills to be a charismatic opposition leader than to be a leader in government."
Morgan Tsvangiriai, Zimbabwean opposition leader, born 19 March 1952, died 14 February 2018
© Washington Post
Join our new commenting forum
Join thought-provoking conversations, follow other Independent readers and see their replies