Mose Se Sengo: Pioneer of Congolese rumba who helped to get Britain hooked on African rhythms
His deft guitar playing led to him being nicknamed Fan Fan and joining one of the genre's most prestigious bands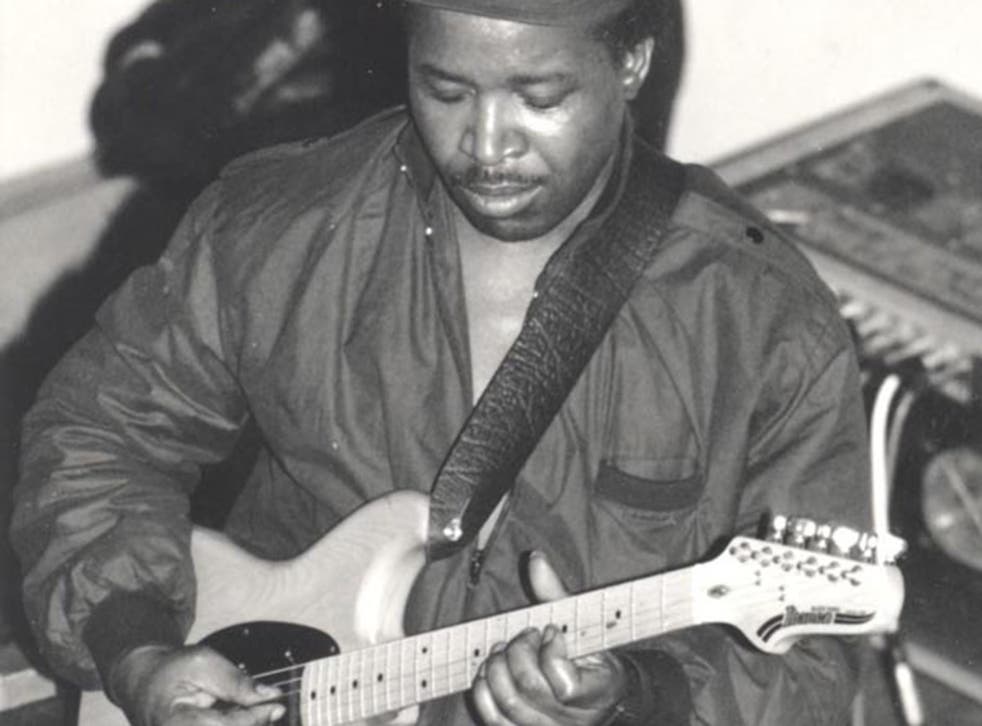 The Congolese guitarist Mose Se Sengo – known to aficionados of African music as Mose Fan Fan – helped pioneer the Congolese rumba sound that became extremely popular across much of Africa. Upon settling in London in 1983, his sparkling guitar playing and warm, gracious personality helped popularise African music in the UK and further afield.
Se Sengo was born and raised in Leopoldville (as Congo's capital, Kinshasa, was then known while a Belgian colony) and developed into a talented guitarist while a student at a Catholic missionary school. Back in Kinshasa he made his name playing guitar with Jazz Baron and Orchestra La Revolution. Kinshasa was home to a vibrant music scene with plenty of dance halls, bars and clubs for musicians to play in and a warm, melodic sound developed as the nation embraced independence.
This guitar-lead dance music was dubbed "rumba" in reference to the popular Cuban dance rhythm and possessed a unique, shimmering sound. Congolese rumba's greatest exponent was Franco Luambo Makiadi (1938-1989) and Franco hired Se Sengo to join his band in 1967 – deft guitar playing lead to Se Sengo being nicknamed "Fan Fan" and being appointed deputy leader of Franco's huge band (up to 40 musicians).
Following a dispute with Franco over money in 1974, Se Sengo struck out in tandem with several fellow OK Jazz musicians to form Orchestre Somo Somo. Financial problems caused this band to fray and Mose left Kinshasa in 1975, living in Zambia, Kenya and Tanzania – Congolese rumba being very popular across much of central and east Africa. In Kenya he met the British musician Robin Scott (aka M, composer of the huge 1979 hit "Pop Muzik"), who was recording African musicians for a project he was working on. Scott encouraged Mose to come to London. He did so and remained based in London for the rest of his life.
Fan Fan's timing proved fortuitous as UK audiences were taking a broader interest in African music and large quantities of albums by Franco were being imported and sold via Stern's, an African music shop on Tottenham Court Road in London that had set up its own record label. Offered a contract by Stern's, Mose assembled an English-based version of Somo Somo – he proved to be a tough taskmaster, insisting the local musicians learn to play Congolese interlocking rhythms.
Two albums were released, and the likes of Charlie Gillett and Andy Kershaw championed Mose on their radio shows, but Se Sengo feared his new sound – Congolese yet with Anglo musicians bringing in a different flavour – would alienate his fans back home: he broke up the band and from then on mostly recorded in Paris and Brussels with other exiled Congolese musicians (often veterans of the now-late Franco's OK Jazz).
At one stage Mose worked as a civil servant with the Royal Army Medical Corps before returning to music in 1995 with Hello Hello – the album's title track proved one of his most popular. Mose never achieved the kind of broad European success the likes of Youssou N'Dour and Ali Farka Toure did but he won a loyal audience who loved Congolese rumba – appearances at Womad Festival won him acclaim and, after releasing The Congo Acoustic album in 1999, he toured A Night In Kinshasa around the UK in 2000, giving British audiences a taste of the "belle epoque" rumba that he had helped pioneer.
Support free-thinking journalism and attend Independent events
His 2004 album Bayekeleye included the song Papa Lolo which became a huge hit in Kenya.
A likeable man with a deep laugh, Mose frequently returned to the Democratic Republic of the Congo in order to keep in touch with musical developments there while his east-African fan base ensured he regularly toured there. He was in Kenya to record when he suddenly died.
Mose Se Sengo (Mose Fan Fan) was born 16 October 1945 and died 3 May 2019
Join our new commenting forum
Join thought-provoking conversations, follow other Independent readers and see their replies