Naomi Parker Fraley: Accidental poster child of Second World War women and feminism as Rosie the Riveter
For over 70 years Geraldine Hoff Doyle was credited with being the woman in the photograph behind the internationally famous poster – in fact, it was another machine worker, Parker Fraley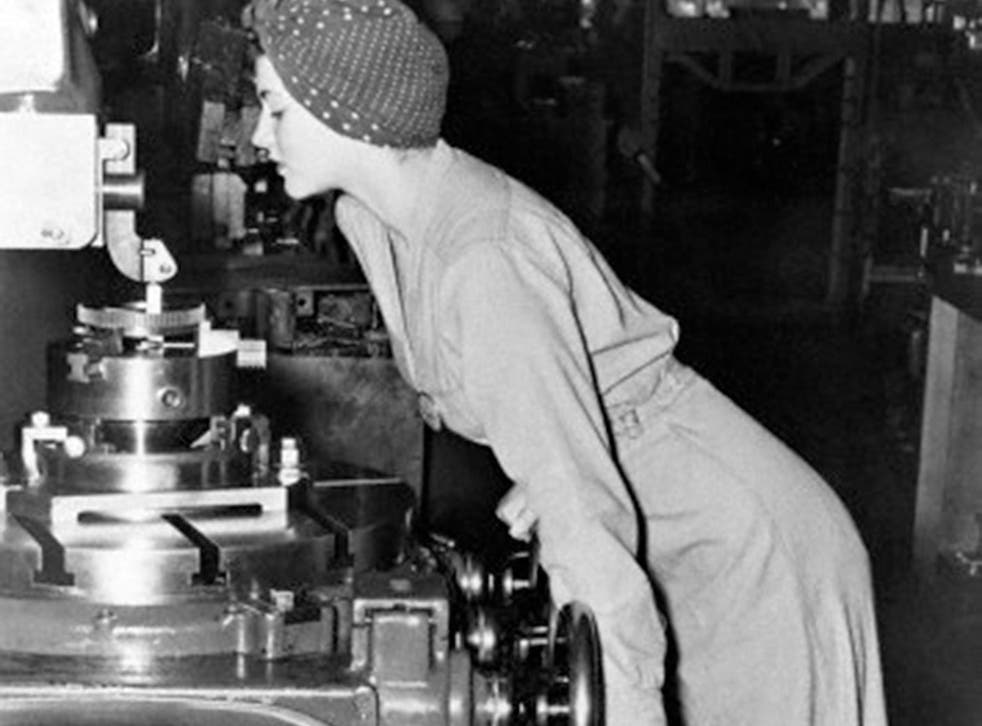 "We Can Do It!" is the slogan on the poster that made Naomi Parker Fraley, who has died aged 96, an accidental poster child for feminism across the world.
Rosie the Riveter was the nickname given to the woman in J Howard Miller's 1942 poster, commissioned by the Westinghouse Electric Corporation to encourage women to join the war effort. Rosie wears a blue shirt and a red bandana and she flexes a bicep as she looks the viewer right in the eye. She was believed to have based on a woman machinist in a photograph published in several magazines in 1943, but the photograph had no caption and for decades Rosie's true identity was unknown.
'I did think it looked like me,' Parker Fraley told People magazine in 2016, 'but nobody ever mentioned it.
Parker Fraley certainly had the right life story to be Rosie. She was born Naomi Fran Parker in Tulsa, Oklahoma, in 1921, the third child of Joseph Parker, a mining engineer, and his wife Esther Leis. Joseph Parker's work took his family all over the US, from New York to California. He and his wife would go on to have five more children, including Parker Fraley's younger sister Ada. It was after the Japanese attack on Pearl Harbour that Parker Fraley, then aged 20, and 18-year-old Ada, started work at the naval air station in Alameda.
The two young women were placed in the station's machine shop where they were set to work repairing aeroplane wings, using their new-found skills of drilling and, of course, riveting.
It was while Parker Fraley was working in the machine shop that she and her sister were photographed several times by an Acme agency photographer. In the picture that would inspire Miller, Parker Fraley is standing at a lathe, wearing a bandana to keep her hair out of her work. When the photograph appeared in the paper, Ada Parker cut out the image of her sister and kept it.
During the post war years, Parker Fraley and Ada traded the machine shop for The Doll House, a restaurant in Palm Springs, where they worked as waitresses. The restaurant was popular with Hollywood celebrities who liked to spend weekends in the desert town.
Over the next few decades Parker Fraley married three times, was once divorced and twice widowed. She had a son named Joseph. After the death of her third husband in 1998, she moved back in with her sister Ada, whom she still considered her best friend.
Miller's iconic image remained relatively obscure until the 1980s when it began to be used again, reappearing on posters celebrating female strength and decorating merchandise such as T-shirts and mugs.
It wasn't until 2009 that Parker Fraley saw the old photograph of her at her machine in an exhibition and realised for the first time that it had been attributed as Miller's inspiration. However, Parker Fraley's image was captioned with the name of Geraldine Hoff Doyle, a machine worker in Michigan.
Right up until her death in 2010, Hoff Doyle was accepted as having been Rosie's model.
Parker Fraley drew the mistake to the attention of the National Park Service, which runs the Rosie the Riveter Park in Richmond, California, but little was done about it until 2015 when Parker Fraley met James J Kimble, Seton Hall University's professor of domestic propaganda. Kimble definitively linked Parker Fraley to Rosie the Riveter when he found another copy of the photograph of Parker Fraley at her lathe, which was correctly captioned. "Pretty Naomi Parker looks like she might catch her nose in the turret lathe she is operating, but she knows to keep her nose out of her business."
According to journalist Matthew Hansen, upon hearing that she had been officially linked with Rosie at last, Parker Frayley cried out, "Victory, victory, victory!"
"I just wanted my own identity," Parker Frayley later told People magazine. "I didn't want fame or fortune, but I did want my own identity," before adding that "the women of this country these days need some icons. If they think I'm one, I'm happy."
Parker Fraley is survived by her son Joseph, four stepsons, two stepdaughters, two sisters, three grandchildren, three great-grandchildren and several stepgrandchildren and stepgreat-grandchildren.
Naomi Parker Fraley, aka Rosie the Riveter, born 26 August 1921, died 20 January 2018
Register for free to continue reading
Registration is a free and easy way to support our truly independent journalism
By registering, you will also enjoy limited access to Premium articles, exclusive newsletters, commenting, and virtual events with our leading journalists
Already have an account? sign in
Register for free to continue reading
Registration is a free and easy way to support our truly independent journalism
By registering, you will also enjoy limited access to Premium articles, exclusive newsletters, commenting, and virtual events with our leading journalists
Already have an account? sign in
Join our new commenting forum
Join thought-provoking conversations, follow other Independent readers and see their replies