Nicole Fontaine: Former EU parliament president praised by Macron for 'fighting for the European project'
The centre-right politician wanted Europe to remain 'what it has always been – a land of welcome, integration and asylum for those suffering oppression in other parts of the globe'
Christine Manby Comments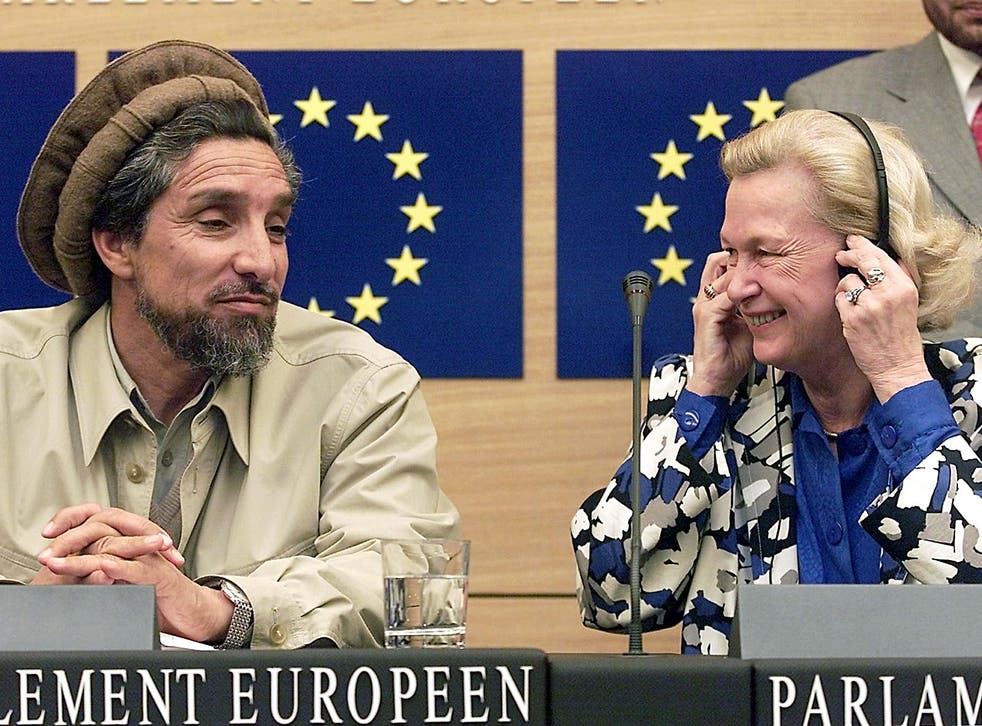 "Sick with a democratic deficit" is how Nicole Fontaine, former president of the European parliament, who has died aged 76, described her beloved European Union in the aftermath of Brexit.
Fontaine, the second woman to occupy that role, was born in Grainville-Ymauville in Normandy. Her early ambition was to become an artist. However, she was convinced instead to study law by her father, a doctor. She graduated from the Paris Institute of Political Studies and gained her doctorate with a thesis on the application of the 1959 Debré law, which established the relationship between the state and private schools in France.
Fontaine would go on to wear three hats in her professional life. She was a keen advocate for Catholic schooling. She was a dedicated French politician, serving as France's industrial minister between 2002 and 2004 in Jacques Chirac's government. But it is for her devotion to Europe that she will be best remembered. Paying tribute to her, President Macron said: "For 35 years of her life, she fought for the European project".
Fontaine became member of the European parliament representing Île-de-France in 1984. She was a member of the Union for a Popular Movement, part of the centre-right European People's Party.
Fontaine led the EU assembly from 1999 to 2002. A profile by the Economist from that time described her as "a consensus-seeker, coalition-builder, conciliator ... nowhere more at home than in the Byzantine corridors of Europe, canvassing cross-party support, flashing her smile, teasing out compromise".
In her inaugural speech in Tampere, Finland, Fontaine showed her understanding of the way the bloc was seen by the average EU citizen, when she addressed the issue of "taking into account people's day-to-day feelings of insecurity."
She told said: "What affects them most strongly is the insecurity or injustice they experience in their daily lives: the fact that they cannot walk down a street without the fear of having a bag stolen, blackmail in schools, aggressive behaviour on buses and trains, violence against children."
Fontaine added that, "in the face of a rising tide of xenophobic extremism and under the gaze of the whole world, which is watching us with envy" the parliament would "ensure that, despite its duty to guarantee the security of its citizens, Europe remains what it has always been – a land of welcome, integration and asylum for those suffering oppression in other parts of the globe."
Finally, she reminded the EU Council members: "Our institution invites you to take a further bold step towards ensuring that the Union operates in a genuinely democratic manner."
It was she who persuaded Tony Blair to sign Britain to the EU Charter of Fundamental Rights in 2000.
Fontaine understood that the EU's failure to be seen as democratic contributed in no small part to the shock of Brexit.
Towards the end of her life, Fontaine was still working, advising students about the challenges and opportunities that Brexit would bring. Shortly before Britain's referendum in 2016, she co-authored a book with François Poulet-Mathis: Brexit, Une Chance?
Britain, she concluded, had chosen a precipitous path. Fontaine was also helping to prepare for the bicentenary of ESCP Europe, the world's oldest business school, where she was associate professor.
Professor Frank Bournois, dean of ESCP Europe, wrote of his colleague: "Throughout her life, she was driven by "how to rebuild and re-enchant the European dream", in order to build a Europe of citizens. This conviction led her to constantly endeavour to defend youth, associative life, mutual recognition of diplomas, and freedom of establishment throughout the European Union."
Fontaine took part in committees for women's rights, specifically in the context of Afghanistan, and for relations with numerous countries including Israel.
In 2000 she addressed the Knesset as the EU sought to revive stalled peace talks between Israel and the Palestinians. In September that year she scored a coup by getting an Israeli and Palestinian representative to shake hands in Strasbourg.
The following year she invited Ahmad Shah Massoud, the renowned Mujahideen commander of Afghanistan's Northern Alliance, to address the parliament – an occasion he used to warn the US of the terror threat posed by Osama bin Laden. (Massoud was assassinated two days before 9/11.)
Speaking at Fontaine's funeral on Thursday, Antonio Tajani, the current president of the European parliament, recalled his predecessor's "local touch" as "history was made and the euro was adopted".
"In my mind's eye I see her on 31 December 1999," said Mr Tajani, "in Nice, going to a cash machine to take out the first euros that she would spend in a local shop."
Nicole Fontaine, French politician, born 16 January 1942, died 17 May 2018
Register for free to continue reading
Registration is a free and easy way to support our truly independent journalism
By registering, you will also enjoy limited access to Premium articles, exclusive newsletters, commenting, and virtual events with our leading journalists
Already have an account? sign in
Join our new commenting forum
Join thought-provoking conversations, follow other Independent readers and see their replies