Nimr Baqir al-Nimr: Saudi Arabian Shia cleric who denounced the kingdom's rulers and called for religious freedom
The human rights group Amnesty International said: "The death sentence against Sheikh Nimr Baqir al-Nimr is part of a campaign by the authorities in Saudi Arabia to crush all dissent."
Anne Keleny
Tuesday 05 January 2016 19:41 Comments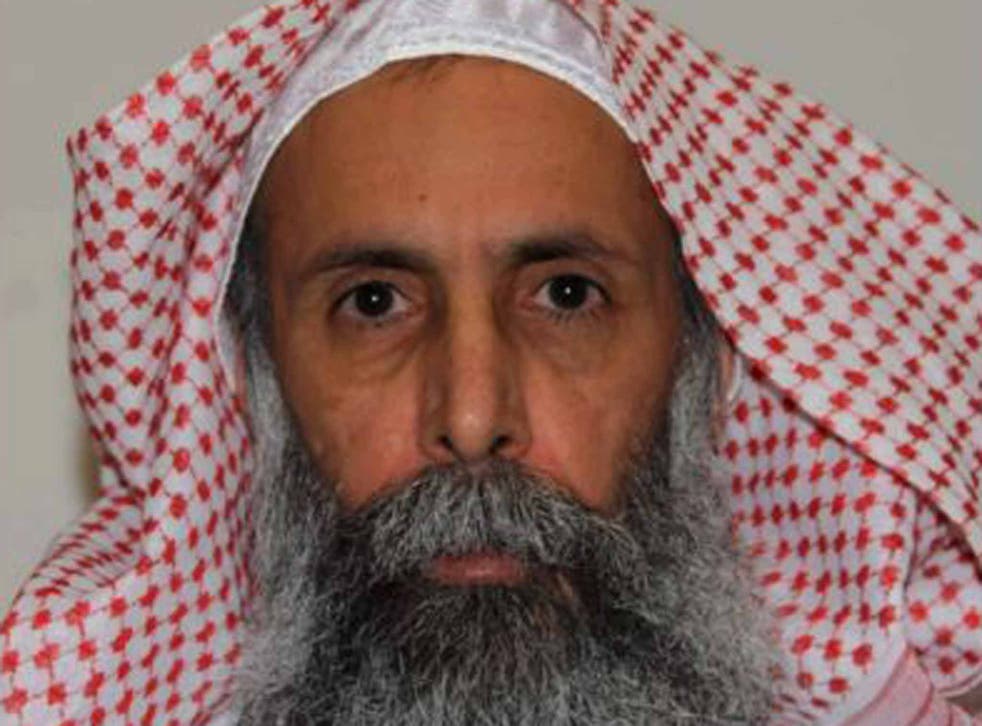 Nimr Baqir al-Nimr, who grew up in poverty in Saudi Arabia's Eastern Province, was by the time of his death a hero among young Shia Muslims, both men and women, who demonstrated in their thousands after his execution by the kingdom's authorities on 2 January.
Born in Al-Awamiyah, in the Al-Qatif region of Saudi Arabia, al-Nimr, who had the title of sheikh, and the rank of ayatollah, stirred hearts and minds by calling on his followers to resist police bullets with "the roar of the word". A charismatic preacher, he told them nevertheless that "the art of good hearing and listening" was often more important than declamation.
His "petition of honour and dignity", asking for freedom of belief for the Shia, who are considered heretics in Saudi Arabia, with its strict Wahhabi version of Sunni Islam, was composed in 2007 and handed to the local governor. Al-Nimr's 2007 petition was considered by his supporters to be "a brave and honest model, and an approach to be followed in demanding rights."
As well as religious freedom, he sought liberty for Shias in the justice system and in education, including schools for girls, as well as the establishment of local government committees, and access for Shias to selection for higher status jobs.
He knew, it was added, "that the Saudi government would not take these demands seriously and practically. However, he proposed them in the context of a gradual political project so he would establish proof against this tyrannical regime in the subsequent steps of his political activity."
He had already been briefly arrested by Saudi authorities in 2004 and 2006.
In 2009, he delivered a speech which took the Saudi authorities' irritation with him to a new level, accusing the religious police of targeting the Shia community after Shia pilgrims clashed with police and security forces at Al-Baqi cemetery in Medina. When, two years later, four Shias were shot dead during protests in Eastern Province in November 2011, al-Nimr called for the release of all those who had been detained, as well as for all prisoners of conscience, both Shia and Sunni, to be freed.
In 2012, by which point the Saudi authorities had become seriously concerned about his influence across the kingdom, as well as his sway in neighbouring Bahrain, a video was posted on social media in which al-Nimr was seen celebrating the death, in June that year, of the Saudi interior minister Prince Nayef bin Abdulaziz al-Saud. His message, "Let the worms eat him", reached millions – and further enraged the Saudi Arabian authorities.
A critic of the ruling Sunni families both of Saudi Arabia and Bahrain, al-Nimr had, in 2009, called for the secession from Saudi Arabia of the Qatif and Al-Ahsa governorates of Eastern Province, where Shias are in the majority, to be united with Shia-majority Bahrain. He also warned the Saudi royal family that if bloodshed was not stopped, they risked being overthrown.
His was arrested after a car chase in 2012 – and lost blood after being shot several times in the thigh. His brother, Mohammed al-Nimr, who was himself arrested immediately afterwards, told shocked followers that al-Nimr was this time accused of sedition, specifically "foreign meddling", disobeying the rulers, and taking up arms against the security forces.
Sympathy for al-Nimr grew when it became known that his wife, Muna Jabir al-Shariyavi, had died, after his arrest, in a hospital in New York.
In prison, he began a hunger strike, and was thought to have been tortured. An appeal against his death sentence failed, and he was one of 47 killed on the same day across Saudi Arabia, sparking worldwide protests. The human rights group Amnesty International said: "The death sentence against Sheikh Nimr Baqir al-Nimr is part of a campaign by the authorities in Saudi Arabia to crush all dissent."
After his death, Iranian authorities compared the Saudi rulers' act in executing him to the atrocities of Isis. He is also mourned by the Yemeni insurgent Houthi movement, and in his home province an eight-year-old boy was among people injured as security forces reacted to protests after the execution. The Iraqi Shia cleric Muqtada al-Sadr also protested his death.
Nimr Baqir al-Nimr was born in 1959 in the village of Al-Awamiyah in the Al-Qatif region of Saudi Arabia. After elementary schooling he left in 1979 to study at a seminary in Tehran, Iran, and then in Syria. His schools are listed as Mohammed Hussaini Shirazi, and Mohammed Taqi al-Modarresi. He is said to have become close to Iran's ruling establishment.
He returned to Saudi Arabia in 1994, and gathered an enthusiastic and youthful following for his sermons as imam in Al-Awamiyah. The Saudi authorities detained him for the first time in 2003, for leading public prayers in the village.
Ayatollah Sheikh Nimr Baqir al-Nimr, Shia Muslim cleric: born Al-Awamiyah, Qatif, Saudi Arabia 1959; married Muna Jabir al-Shariyavi (died 2012); died 2 January 2016.
Register for free to continue reading
Registration is a free and easy way to support our truly independent journalism
By registering, you will also enjoy limited access to Premium articles, exclusive newsletters, commenting, and virtual events with our leading journalists
Already have an account? sign in
Join our new commenting forum
Join thought-provoking conversations, follow other Independent readers and see their replies