Nipsey Hussle: US rapper whose murder rocked the hip-hop world
Part entrepreneur, part social commentator, he counted the giants of the scene among his fans and collaborators
Lily Fletcher
Monday 15 April 2019 10:18 Comments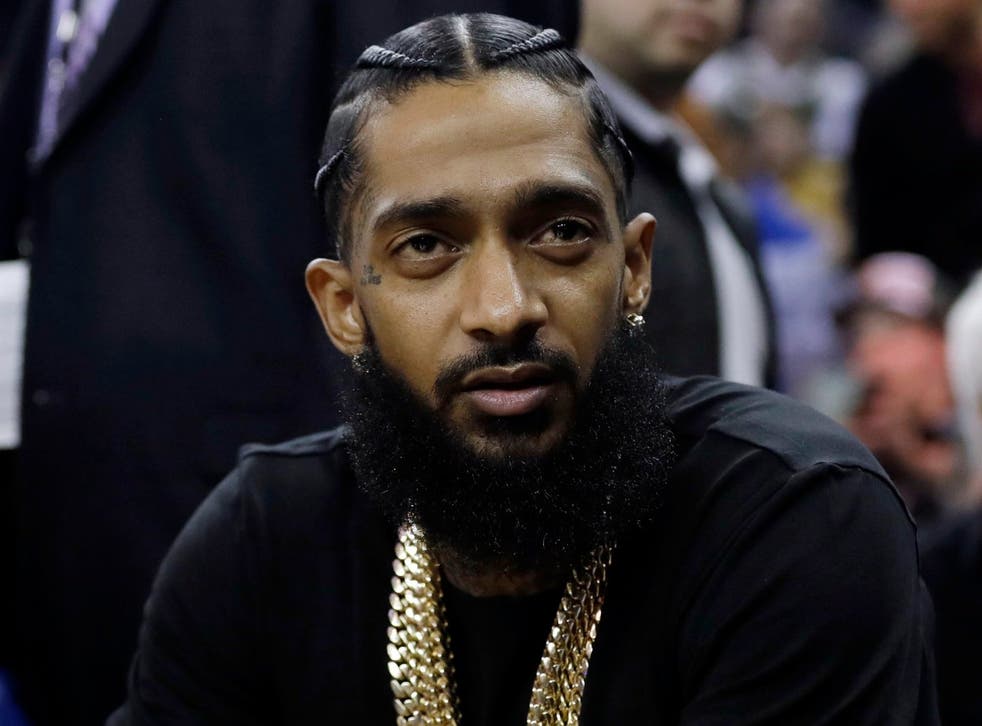 "Pull the trigger, shoot that n***a/ Make sure that you get him" – these are the words Nipsey Hussle dropped in his track "Bullets Ain't Got No Name", from the 2009 album of the same name.
On the last day of March, the 33-year-old was fatally shot in broad daylight outside the clothing shop he owned in South Los Angeles. His gunning down reflects the realities of the mean streets of South-Central LA that he candidly charted in his songs and spoke of in terms of "war" in interviews.
Nominated for a Grammy, the west coast rapper gained an international following with his cutting-edge mixtapes and collaborations with some of hip-hop's most prominent artists.
His studio album Victory Lap, released last year, spoke of a self-assured artist at the top of his game. But although a force to be reckoned with in rap, Hussle's philanthropic ventures and neighbourhood pride are central to his legacy.
Ermias Joseph Asghedom, known professionally as Nipsey Hussle, was born to an Eritrean father and American mother on 15 August 1985 in Los Angeles, California.
Hussle was educated on his African heritage by his father during his upbringing, and in 2004 he made a transformative three-month visit to Eritrea, which was his first time on the continent.
Hussle reflected on the trip to online magazine Complex in 2010 and told of how he noticed a difference in Eritreans' attitudes towards conflict from those familiar to LA gang culture: "You had your fake little pop-up gangs, but that wasn't the culture of that place. It was an actual conflict over land, over the border. A generational, decades-old conflict. That was more or less the culture of the young people. It was like, 'I'm-a-go to war, fight, and go to the front lines for my country'."
Hussle grew up in the Crenshaw neighbourhood of South LA, which has seen the rise of other notable musicians such as Ice T, Skee-lo, Odd Future's Syd, as well as the Duchess of Sussex.
The area's troubled history of violence is something Hussle addressed in his music. Like many who grow up in impoverished areas, he was forced to contend with the violence of the streets and his music was strewn with references to crime and his allegiances. Hussle had been a long-time member of LA's notorious Rollin' 60s Neighbourhood Crips.
"I grew up in gang culture," he told the Los Angeles Times in a 2018 interview. "We dealt with death, with murder. It was like living in a war zone, where people die on these blocks and everybody is a little bit immune to it."
Hussle decided to devote his life to music at the age of 18 or 19 – around 2004. However, at that time Nipsey's older brother Samiel "Black Sam" Asghedom was being investigated by the police, who raided their home. They seized Hussle's production equipment worth $70,000, arresting him rather than his brother because of an unregistered gun in the property that they claimed he had access to. He was sent to jail. "When I came back I fell back into the street, up until about '08, when I got up with Epic and Cinematic Records" he told Parlé magazine in 2010.
Hussle's raspy voice sounded wearied yet imposing, and cut through his extravagant, dramatic beats which either harked back to Nineties LA production or were consistent with current styles.
He released a number of mixtapes, initially sold from the boot of his car. His first was released in 2005 and titled Slauson Boy Volume 1, which soon became the name of his own record label. In 2010 his breakout mixtape The Marathon gained him much wider recognition, having previously had a modest albeit enthusiastic local following. That year he was listed on hip-hop magazine XXL's coveted "Freshman Class of 2010", alongside J Cole, Big Sean and Wiz Khalifa.
With his 2013 mixtape Crenshaw, Hussle only released 1,000 copies and sold them at a pop-up shop for the inflated price of $100 each. The economic model was part of his #Proud2Pay movement, acknowledging and protesting digital piracy that was depriving artists of money. The mixtapes sold out, with Jay-Z notably buying 100 copies.
Throughout his career, Hussle collaborated with hip-hop luminaries such as Drake, The Game, Snoop Dogg, Childish Gambino and Kendrick Lamar. During the 2016 presidential campaign, he and rapper YG released the anti-Trump protest anthem "FDT" (F*** Donald Trump)," with Hussle rapping: "I'm from a place where you prolly can't go/ Speakin' for some people that you prolly ain't know / It's pressure built up and it's prolly gonna blow."
Hussle was a community stalwart in Los Angeles and this local importance cannot be overstated. He realised the potential of how rap money could be implemented, by becoming a businessman and community organiser. According to the LA Times, Hussle was known for buying shoes for students, redeveloping buildings, repaving basketball courts, providing jobs and shelter for the homeless, and paying for funerals for those who couldn't afford to do so.
At the same time as he released his 2018 Grammy-nominated major label debut album on Atlantic Records, Victory Lap, featuring Puff Daddy and Kendrick Lamar, Hussle helped open a large co-working space in Crenshaw to increase diversity in science, technology, engineering and mathematics.
Hussle advocated strengthening the financial base of underprivileged communities who had been forgotten by the establishment. He actively invested in improving the image of his neighbourhood and was committed to making it more of a desirable location, less synonymous with crime.
Chief marketing officer of Hussle's Marathon clothing brand told The New York Times that Hussle "hoped to attract business to an area that might be dismissed as unsafe for an afternoon out".
Marathon's signature lines bear the names of his neighbourhood Crenshaw and Slauson, the adjacent neighbourhood. He encouraged people to wear the names with pride.
Hussle was also involved in the "Destination Crenshaw" initiative, a 1.3-mile open-air museum of art exhibitions planned for Crenshaw Boulevard as a celebration of the largely African-American community in South LA, the largest black community west of the Mississippi River.
However, although lauded for advocating the betterment of his community's image, in January 2018 Hussle was criticised for a photo he posted online that many consider to be homophobic. The photo depicts a group of black men wearing tuxedos with the caption, "They gone feed us every image of our men and boys but this one. No hyper violent...No homo sexual...No abandoners....JUS STRONG BLAC MEN AND YOUNG Men." Hussle was suggesting that there was not only an over-representation of black men as violent and fatherless, but also as homosexual.
After being called out by activist Deray Mckesson and others on Twitter, Hussle responded that he didn't "look down on gay people", but insisted there was a "gay agenda" which was detrimental to society.
Hussle was fatally shot in front of his Marathon clothing shop on the Crenshaw and Slauson intersection in LA, disconcertingly named the same as the pinnacle song on his Crenshaw mixtape.
Two others were wounded in the shooting, and two days later police charged a 29-year-old named Eric Holder in connection with Hussle's death. Hussle had reportedly argued with Holder earlier that day.
Hussle's death has provoked a vast and emotional outcry online with condolences from across the music industry and beyond. Rihanna tweeted, "This doesn't make any sense! My spirit is shaken by this!"
Furthermore, some are not convinced by the police narrative about Hussle's murder and have responded by suggesting conspiracy theories, alleging involvement by the CIA or Illuminati, a mythical organisation that supposedly attempts to control the world via its clandestine operations.
These sceptics point to Hussle's eerie final tweet, "Having strong enemies is a blessing"; how he tirelessly invested his money back into his neglected community; and his involvement in producing a documentary about Alfredo Bowman, the highly controversial Honduran herbalist and healer to celebrities, who claimed to have found cures to terminal diseases such as cancer and HIV.
All of the above have been put forward as reasonable explanations for why "higher powers" may have wished to get rid of Hussle, rather than believing the cause of his murder to be a personal dispute.
Despite his acquisition of fame and fortune, Hussle was not immune or safe from the grim statistics of downtrodden communities such as his, where violence is too often resorted to by those in your milieu who are not necessarily in your camp. Hussle's notoriety, in fact, likely singled him out at even greater risk of falling victim to such an atrocity.
Earlier this week, LA councilman Marqueece Harris-Dawson announced that the Crenshaw and Slauson intersection where Hussle died would be renamed in his honour. He noted that Hussle was "an icon and west coast hero … helping to build an empire that will continue through generations".
Hussle rose to prominence as a local legend during an era in which figures like him were a profound rarity, which is perhaps why he only latterly received the national and international respect he deserved.
He leaves behind his two children and fiancee, actor Lauren London.
Nipsey Hussle, rapper, born 15 August 1985, died 31 March 2019
Register for free to continue reading
Registration is a free and easy way to support our truly independent journalism
By registering, you will also enjoy limited access to Premium articles, exclusive newsletters, commenting, and virtual events with our leading journalists
Already have an account? sign in
Join our new commenting forum
Join thought-provoking conversations, follow other Independent readers and see their replies