Obituary: David Nobbs - Creator of everyman Reginald Perrin, memorably brought to life on TV by Leonard Rossiter
Rossiter insisted that he would only play the role again if Nobbs wrote another Perrin Novel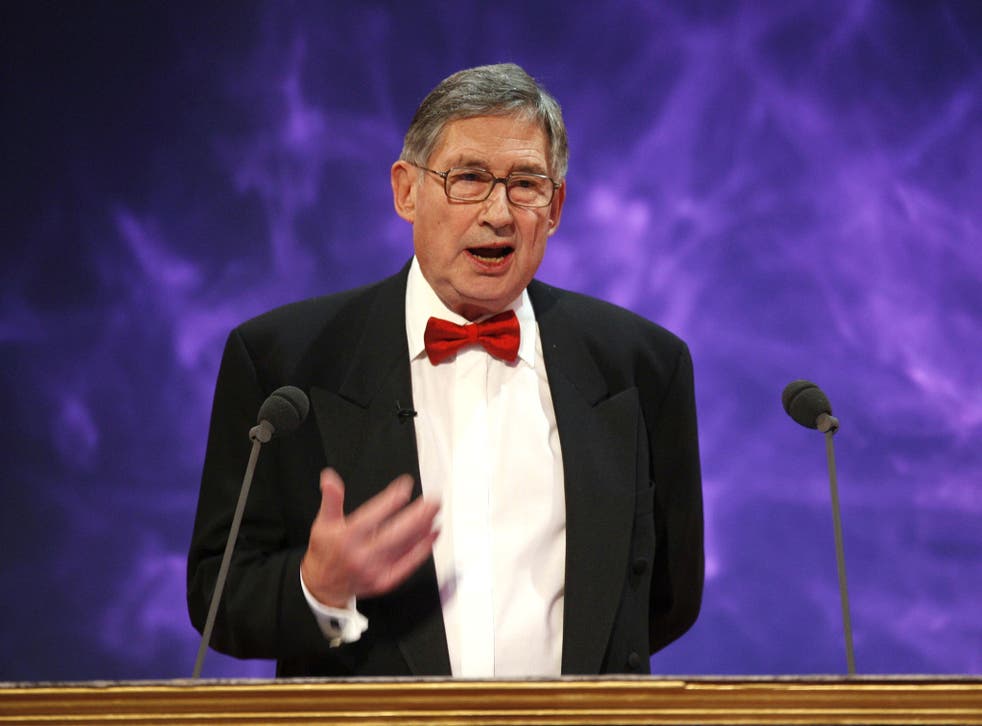 David Nobbs was the comedy writer who created Reginald Perrin, the immensely popular character whose "fall and rise", in escaping the daily drudgery by faking his own death, became a delightful and insightful comic commentary on what it is to be human.
The Fall and Rise of Reginald Perrin began life as a novel first published in 1975. In the television adaptation, Perrin, played by Leonard Rossiter, is a middle-aged man trapped in a dull home life and the tedium of a daily work routine. Leaving Coleridge Close, Climthorpe, every morning for his job as an executive at a desserts company, his wife says to him, "Have a good day at the office" – and the reply comes back, "I won't". Every day the train is delayed, with the latest excuse ("Twenty-two minutes late, badger ate a junction box at New Malden...") announced by Perrin on his late arrival at the office.
As Perrin's midlife crisis takes hold, he resolves to fake his own death. In the famous title sequence he leaves his clothes on the beach, to give the impression that he has drowned, and embarks on a new life. But in a bizarre twist, he is drawn back into his previous world – including his old job, where nothing has changed – and eventually marries his former wife, in disguise. Catchphrases such as "I didn't get where I am today without..." or "A bit of a cock up on the ... front" have entered into popular idiom – and are still used 40 years on. Nobbs was amazed by their endurance.
When, following the success of Fall and Rise, the BBC requested a second series, Rossiter insisted that he would only play the role again if Nobbs first wrote the novel, feeling that this formula had already worked so well. In The Return of Reginald Perrin, the character reveals his true identity and resumes life as Perrin, opening a shop called Grot, selling useless products such as round dice and square hoops. "So much rubbish is sold these days under false pretences," Perrin tells a customer, "that I decided to be honest about it."
The third and final series, based on the novel The Better World of Reginald Perrin, sees Perrin and his wife establish a commune to help people improve as human beings. The programme ran for a total of 21 episodes, from 1976 to 1979, and is still much repeated on British and US television.
In 2009, Reggie Perrin was revived for the new millennium, with Martin Clunes as the lead character and a script by Nobbs and Simon Nye, who had previously created Men Behaving Badly. Reprising the motifs of its earlier incarnation, Nobbs enjoyed the 21st-century take on the idea, whose themes of boredom and monotony – and of escape – had not altered. "I asked myself two questions," he said. "Does it say something to the modern world, and has enough changed for us to have a new shot at it? And my answer was yes to both."
Nobbs was a passionate humanist and a patron of the British Humanist Association (BHA). His mother's death in 2010 had changed his attitude towards the end of life. "I no longer fear the moment when I will cease to exist, I no longer resent my mortality, I no longer worry about the brevity of life," he said of this moment of realisation. For Nobbs, rejecting religion was an opportunity to discover faith of a different kind – in people, rather than in an external god.
In his BHA role he had actively campaigned against the state funding of the Pope's visit to the UK in 2010, one of 54 public figures to sign an open letter, published in The Guardian. The letter blamed the Catholic Church's opposition to condoms for causing overpopulation and helping the global spread of Aids. It went on to criticise the church for its failure to properly deal with the clerical sexual-abuse scandal.
Last year, Nobbs was one of more than 100 high-profile people to challenge David Cameron's assertion that Britain is a "Christian country", a claim not supported by census or church attendance figures.
Andrew Copson, chief executive of the BHA, said: "He was a British humourist in the best tradition: strong characters, warm wit, great fun, and deep understanding of human frailty. His writing was always sharp and acutely aware of what made people tick.
"David was a passionate individualist – he believed that meaning was something we were all charged with creating in our own lives. He wrote beautiful stories which captured the essence of the human experience, tapping into the emotions and experiences we all share. His books and scripts got to the heart of what it is that makes us human."
Nobbs was born in Petts Wood, Kent in 1935 and educated at Bickley Hall, Chislehurst and Marlborough College. His journey to school on the 8.16 from Orpington to Chislehurst, on which he first saw the commuters' daily grind, became the inspiration for Perrin's journeys to work.
He began reading classics at Cambridge, but soon opted for English, which he regarded as an easier choice.
On graduation Nobbs worked as a reporter for the Sheffield Star. He got his first big break during the mid-Sixties, when he phoned the office of That Was The Week That Was and offered to send in some sketch ideas. Nobbs also wrote for The Frost Report, Frankie Howerd and The Two Ronnies, including the classic "Pismronunciation" sketch for Ronnie Barker.
For Radio 4 he penned The Maltby Collection, a sitcom on an improbable theme, being based in a small provincial museum and following the lives and loves of its staff. This was broadcast over three series from 2007 to 2009.
Aside from the three Perrin novels for which he is best known, Nobbs also wrote 17 other works of fiction, beginning in 1965 with The Itinerant Lodger, the tale of a man constantly on the move who changes his name each time he changes his residence.
His wonderfully titled autobiography, I Didn't Get Where I Am Today, came out in 2003. Nobbs's final novel, published last year, was The Second Life of Sally Mottram, a story of courage and determination in which the title character seeks to save her home town from terminal decline. Here, as in all his writing, it is the strength of his characterisations and appreciation of the fragility of the human condition that stands out.
Shane Allen, controller, comedy commissioning at BBC Television, told The Independent: "David's name ranks up there at the very top of the British comedy-writing pantheon, with work spanning five decades and a classic sitcom that will endure for plenty more years to come.
"Reggie Perrin captured a quintessential part of the British national character – a person who subversively rails against the dreary mundanity of the 9-to-5 office life – and brought so much joy to millions over its long run. It continues to be an influence and reference point to many."
David Nobbs, writer: born Petts Wood, Kent 13 March 1935; married 1968 Mary Goddard (marriage dissolved 1998, three stepchildren); married 1998 Susan Sutcliffe (one stepchild); died Harrogate, North Yorkshire 8 August 2015.
Register for free to continue reading
Registration is a free and easy way to support our truly independent journalism
By registering, you will also enjoy limited access to Premium articles, exclusive newsletters, commenting, and virtual events with our leading journalists
Already have an account? sign in
Register for free to continue reading
Registration is a free and easy way to support our truly independent journalism
By registering, you will also enjoy limited access to Premium articles, exclusive newsletters, commenting, and virtual events with our leading journalists
Already have an account? sign in
Join our new commenting forum
Join thought-provoking conversations, follow other Independent readers and see their replies