Oliver Hunkin: Pioneering head of religious programmes at the BBC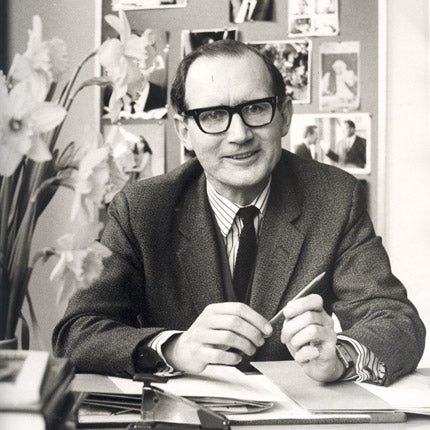 In its early days, BBC Television made a number of unconventional appointments, few more so than that of Oliver Hunkin as head of religious programmes in 1960.
For sure he had the right pedigree – his father was Bishop of Truro – and relevant experience: he had read theology at Oxford, served as an assistant priest at Peterborough and worked for a few years in the film industry. Yet he was far from being a traditional Christian, and several of his programmes provoked protests from leaders of the established church.
In his trenchant memoir A World That Has Lost Its Way (1994), he declared himself at odds with much of "what passes for religion" in our time. "We have to admit there is an air of antique unreality about organised religion," he wrote. "The majority of people do not see the point." And he wondered: "Have we lost track of the fact that religion is a specific experience rather than a system of dogma?"
It was when he sought to raise such questions on air that he got into trouble with church leaders. A series entitled Doubts and Certainties was damned in the Church Times for its very title, the critic arguing that the purpose of religious television was "not the airing of doubts, not the desperate asking of questions, but the communication of certainties."
The specific experience that defined his own spiritual life, according to his memoir, was an epiphany that occurred as he was driving his nine-seater Armstrong Siddeley through narrow Cornish lanes one March evening. "I felt totally at one with the landscape, and with myself, and with all creation... The mood continued for several weeks, and the memory of it has affected my attitude to life ever since... It has become a part of me, incorporated into my personality."
Born in 1916 in Beckenham, Kent, Hunkin spent his childhood on the move, as his father progressed from one ecclesiastical post to the next. He attended King's College School in Cambridge and then Rugby, when his father became the school chaplain. He returned to King's as an 18-year-old classics undergraduate at the same time as the family moved to Cornwall on his father's appointment to the Truro diocese. At Cambridge he developed a talent for drawing cartoons, first published in the student magazine Granta. He maintained this sideline until late in life, drawing principally for his friends and family, signing himself "Hunk".
The cartoons, as well as the little verses sometimes accompanying them, expressed the playfulness that was an essential part of his character. He loved entertaining people in both senses of the word. He enjoyed telling a story of an escapade at his father's palace in Truro, where there was a tradition of bringing in the Christmas pudding in unusual ways. Guests crowded round the window to see a steaming pudding lowered from an upper floor, then toppling to the ground. Horrified, they returned to the table, only to find the real pudding waiting: Hunkin had constructed the other from mud, adding boiling water to make the steam.
After graduating from Cambridge he became a tutor in classics at Eton for five years, then decided to return to university, reading theology at Oxford before taking up a clerical appointment at Peterborough. That was followed by another career shift, when he became a scriptwriter at Ealing Studios and made documentaries for the Crown Film Unit.
In 1946, at Shakespeare's church in Stratford-upon-Avon, he married Sally Wilson, eight years his junior, who, as Sally Hunkin, has since gained a considerable reputation as an artist. She still lives in the house at Kew, London, that he bought soon after their marriage. He is survived, too, by their daughter Tessa, a mosaicist, and son Tim, also a cartoonist, as well as an engineer and creator of the Channel 4 series The Secret Life of Machines.
Hunkin joined BBC Television in 1957 as an assistant in the religious programme department, becoming its head three years later. His 17 years in that role were characterised by his enthusiasm for giving air time to unorthodox views. He started a Sunday-evening strand called Meeting Point, whose cast of participants included such free thinkers as the writer Malcolm Muggeridge, the broadcaster Ludovic Kennedy and the singer Adam Faith. Among other series he introduced was The Way Back, looking at the plight of ex-prisoners and the unemployed.
"We were regarded in some quarters as a guerrilla band," he wrote, although he did have his admirers. When the direction in which he was taking his department became clear, a New Statesman writer welcomed "the revolutionary change that has recently come over television religious broadcasting."
The revolution did not involve eliminating all that had gone before. He successfully initiated more traditional and less controversial religious programming, such as Things They Say, examining popular misconceptions about Christianity. In 1961, soon after his appointment, he launched Songs of Praise, with the simple formula of churchgoers singing uplifting hymns. To this day it remains for many a highlight of BBC1's Sunday-evening schedule.
He was thoroughly committed to his job, but not at the expense of family life. He would take his children to the Lime Grove studio to see his programmes being made and wrote stories and drew cartoons for them almost daily. Tessa, who went to school near the studio, remembers being invited for tea there quite often.
In 1977, after he had turned 60, he retired from the Corporation. Later he was to write regretfully: "From the 1980s onwards, controversy has been practically eliminated from the schedules."
His departure did not mark the end of his career, for he was quickly commissioned to make a number of programmes for Yorkshire Television, mainly to introduce young viewers to religion. One of the first was When the Saints Go Marching in, a series describing the lives of 24 saints, broadcast across the ITV network in 1978. He adapted it into a book, published in 1983, with illustrations by his son, Tim. Another series was God's Story, a telling of the Gospels which, adapted by the writer Jenny Robertson, formed the basis of The Ladybird New Testament (1981).
When the programme-making stopped he formed a monthly luncheon club at his local pub, for people like him who had begun to work from home after years of going to an office, so that they could continue to exchange the gossip, views and anecdotes that he relished. He wrote and drew copiously until becoming bedridden for the last two years of his life. One of the last cartoons he drew was of a shaky character saying to his friend: "Bad news, I'm afraid: I'm dead." Michael Leapman
In May 1945, as a result of the common entrance exam, I arrived at Eton as an inky 12-year-old, from a prep school which had never before sent a boy there, writes Tam Dalyell. I was put into the Upper Fourth, and my first form "beak" or master was the severe and scholarly Doctor H K Prescott who believed – he was an outstandingly good teacher – that new boys should be given a shock to their system. My solace was that I was allocated to be one of the members of the "pupil room" of Oliver Hunkin. "Hunk" – the nickname was given to him by Eton boys, and he later used it as a cartoonist – was the antidote to the fierce Doctor; relaxed, comforting, charming, and marvellously witty with a sense of the ridiculous.
Those of us in his pupil room were distraught when we discovered that Hunk had vanished from Eton. After 65 years the grief is still with me. The reason given was that he had to make way for masters "coming back from the war with their DSOs and MCs", and that he had only been a member of staff because he had been declared unfit for military service. We thought, however, we had discovered the real reason – namely that the head man, Claudius Aurelius Elliotus, as he styled himself, and those two classical heavyweights, Walter Hamilton, later headmaster of Rugby, and Richard Martineau, Craven Scholar, thought that the doodles and cartoons with which Hunkin embellished our report cards were unseemly. Maybe some stuffy parents had complained, but my mother loved them. Hunk was sent on his way by Eton, to great things at the BBC and in the national press.
Oliver Hunkin, television executive and writer: born Beckenham, Kent 7 April 1916; married 1946 Sally Wilson (one son, one daughter); died London 3 January 2011.
Join our commenting forum
Join thought-provoking conversations, follow other Independent readers and see their replies