Ottavio Missoni: Fashion designer who transformed the world of luxury knitwear
Rosita developed the shape of the range while Ottavio was the colourist and technician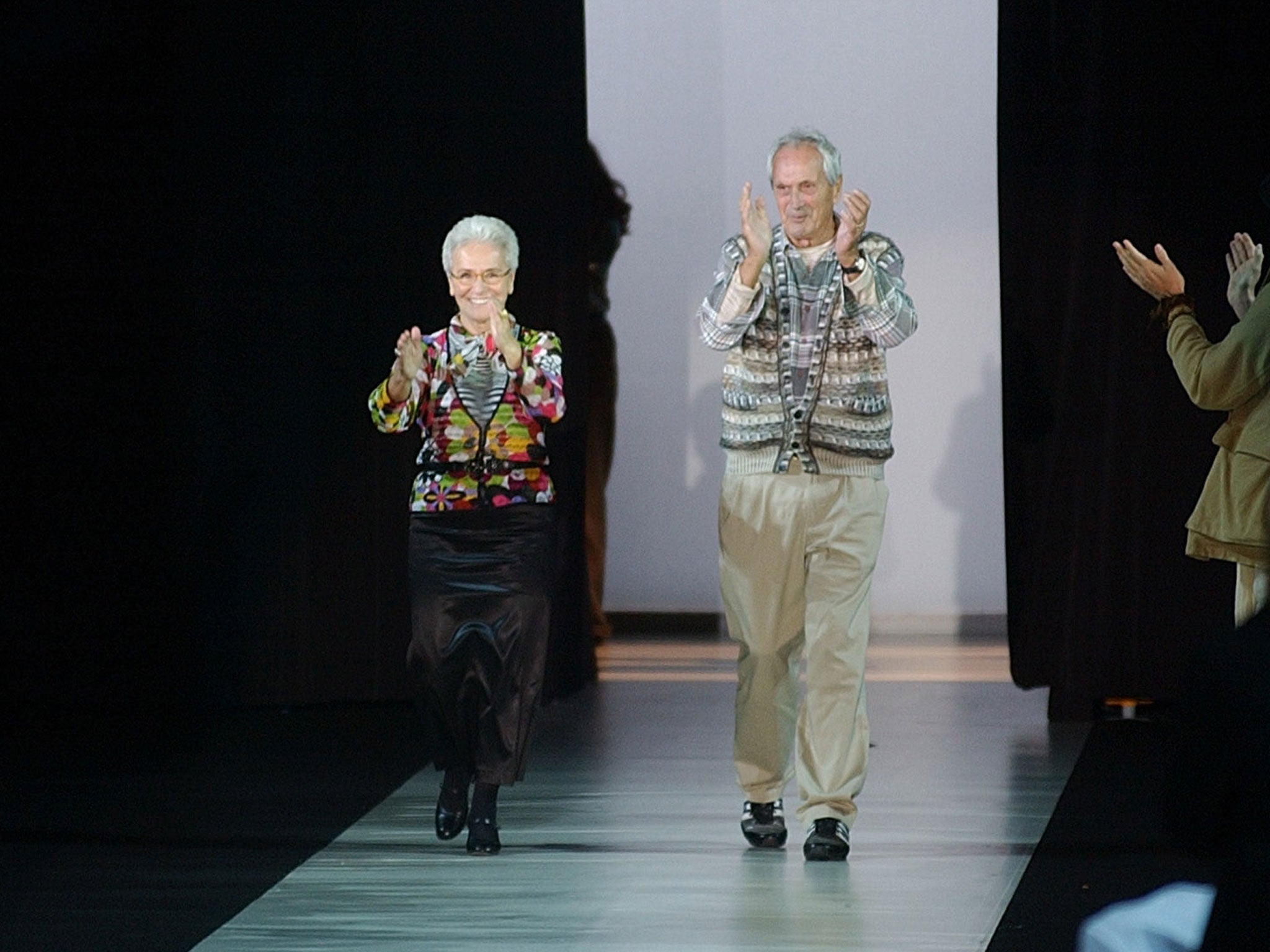 The formulator of a new breed of knitwear which became the basis for a global lifestyle brand, Ottavio Missoni built an fashion empire on a signature zigzag and kaleidoscopic stripe.
A world class sportsman with an eye for pattern and an antennae for incomparable quality, Missoni was an artisan who had the rare ability to combine historic technique with futuristic technology. The style he masterminded – luxury knitwear which could be translated into related products – transformed a sector of the industry firmly rooted in tradition.
He was born in Ragusa (now Dubrovnik) on the Dalmatian coast in 1921; his mother was a countess, his father a sea captain. A natural athlete and fitness fanatic, Ottavio – also known as Tai – was already an established figure on the sports circuit when, as an infantryman in the Italian army, he was captured by the Desert Rats at El Alamein. Held at a British POW camp for four years, on his release he produced sportswear in Trieste with his friend and fellow sportsman Giorgio Oberweger. An inspired partnership, they merged their insider knowledge of athletic attire and designed tracksuits for the Italian Olympic team in 1948.
Missoni retained his standing as an accomplished international athlete who specialised in track and field events, competing in the 1948 Olympics in the 400 metre hurdles. He encountered Rosita Jelmini in London during the event, marrying her in Golasecca in 1953. "We met at Piccadilly, under the statue of Eros, and I fell in love with Tai and London at the same time," she recalled.
Settling in Gallarate, they founded a knitwear studio called Maglificio Jolly. "I loved using the knitting machines," said Rosita, whose family also had a business making shawls. "I thought it was a very modern way to make clothes." With Rosita developing the shape of the range and Ottavio taking the role of colourist and technician, each played to their strengths and the Missoni brand was born.
Despite their unmistakeable make-up, Missoni garments initially made an anonymous entrée into the fashion world, appearing without their signature label for a Biki boutique in Milan and minor Italian department stores. In 1958 Missoni quietly launched its own capsule range and a series of striped shirt dresses were sold to the Italian department store La Rinascente. Four years later, Missoni were becoming increasingly experimental and inadvertently invented their multi-coloured signature zigzag pattern. By now they had been discovered and promoted by the fashion editor Anna Piaggi, who was to say: "they really started a knitwear revolution."
Missoni's first catwalk show took place in Milan in 1966. The following year it was staged at the venerable Palazzo Pitti in Florence. The couple accidentally caused a minor scandal when the models wore Missoni knitwear without any underwear, which became clearly transparent under the unforgiving catwalk lights. "What do they think, that Pitti is the Crazy Horse?" wrote one affronted journalist. Two years later the Missonis met the legendary editor Diana Vreeland at the Grand Hotel in Rome. On seeing their collection her reaction was conclusive: "Look! Who's said that only colours exist? There are also tones."
The 1970s were Missoni's golden years. At the start of the decade Bloomingdale's in New York opened an in-store Missoni boutique. Picked up by Vogue, the Missoni signature style was given its own fashion phrase, "the put-together look"; the magazine stated: "Count on Missoni to give you a sweater you never owned before."
With the brand identity gradually gaining momentum, Missoni knitwear was shot by the elite of fashion photography: Henry Clarke, Helmut Newton, Deborah Turbeville and Richard Avedon. A roster of famous Missoni customers that included Lauren Bacall, Marcello Mastroianni and Rudolph Nureyev, was imbuing the label with celebrity credibility. In November 1973 The New York Times declared: "Missoni's knitted clothes have become international status symbols, like Vuitton bags and Gucci shoes." The 1978 spring collection was accompanied by a retrospective at New York's Whitney Museum, and later that year Missoni showed its first men's collection.
With their signature zigzag firmly imprinted on the fashion consciousness, by the 1980s Missoni was on a mission to re-invent itself. The first Missoni fragrance was launched in 1982, followed by Missoni Home a year later. The Missoni pattern was now applied to almost everything – from a crochet knit bandeau bikini to a scented candle. Commissions were undertaken to imbue Fiat and Mazda cars with the Missoni sensibility and costumes were designed for La Scala. In 2009 Missoni took the idea of designer interiors one stage further, opening its first hotel in Edinburgh.
In the tradition of Italian dynasties – Gucci, Fendi, Versace et al – the Missoni founders took a back seat in the mid 1990s while family members were assigned creative and corporate roles. Earlier this year, tragedy struck when Ottavia's eldest son, Vittorio, disappeared with his wife and four others flying in a light aircraft plane on holiday in Venezuela.
Ottavia, who was once named one of the most elegant men in the world was still training in shot put and javelin at 88. Two years later he published his autobiography. "Colour?" he wrote. "What can I say? I like comparing colour to music: only seven notes and yet innumerable melodies have been composed."
Ottavio Missoni, fashion designer: born Ragusa (Dubrovnik), Kingdom of Yugoslavia 11 February 1921; married 1953 Rosita Jelmini (two sons, one daughter); died Sumirago, Italy 9 May 2013
Join our commenting forum
Join thought-provoking conversations, follow other Independent readers and see their replies