Oumar Ly: Photographer whose archive commemorates timeless rural life of West Africa
'Oumar Ly is a very important person for Senegal'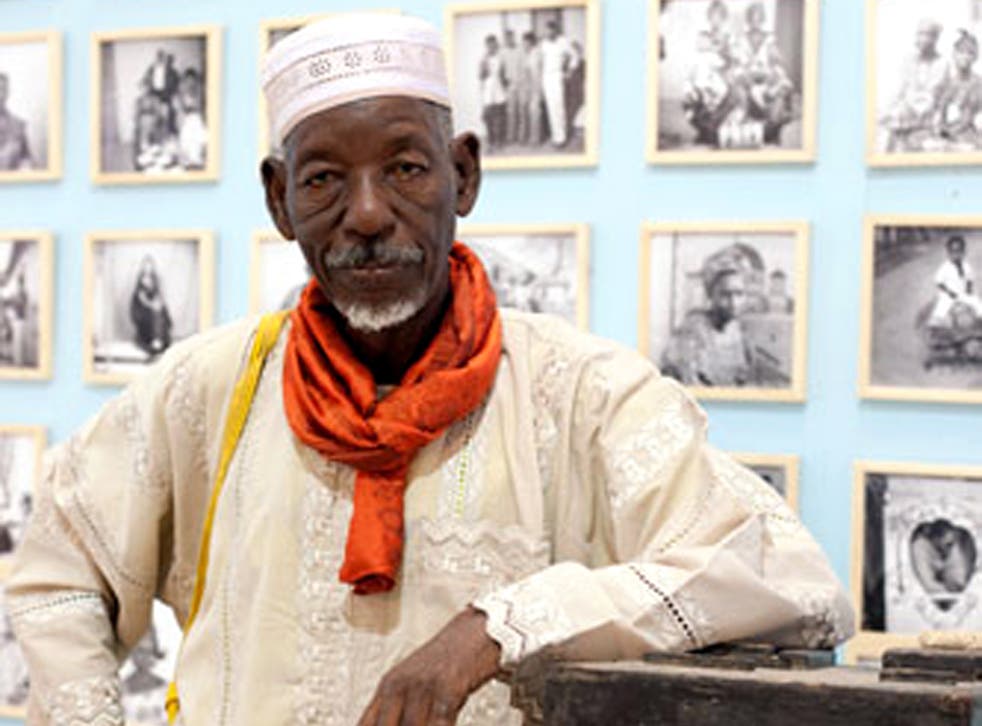 The dusty old French fort in Podor in northern Senegal is now a ramshackle museum. Lining some walls are pictures by Oumar Ly, who has become recognised as one of the great West African photographers; his black and white portraits, an archive of more than 5,000 images, commemorate a timeless rural existence.
Some of these images are of a teenage Baaba Maal, the great Senegalese musician, another native of Podor, a small river border-town that faces Mauritania. "Oumar Ly is the person who documented daily life in this part of Senegal in the second half of the last century," Maal told me. "When he took those early pictures of me he gave me a lot of confidence. I love the simple forms in which he works: they say everything about the truth of life in the Sahel."
The son of a shop-owning marabout, the future photographer was sent for seven years to the local Koranic school. This brief formal education was largely unsuccessful, and he emerged essentially illiterate.
It was outside Podor's French fort that the seeds of Ly's future art were sewn. By his early teens he was selling vegetables there. After a picture was taken of him conducting his business, he discovered a fascination with photography. Saving up, he bought a Kodak Brownie camera, sending his films off for development. While carrying out his national service in Dakar, the Senegalese capital, Ly discovered the existence of photographic studios. He also found a mentor in Demba Assane Sy, a pioneer of photography in West Africa, who offered him innumerable tips
Returning in 1963 to Podor at the age of 20 he opened his Thiofy studio, in a small street off the market area. By no means all his photographs were taken there: he would often travel into the local bush. On such forays – in the manner of Seydou Keita, the great Malian photographer – Ly would employ cloth backdrops. A feature of his always uncropped pictures, as comprehensively illustrated in his Belgian-published book Oumar Ly: Portraits de Brousse, Podor 1963-1978, was the additional shots he would take of his subjects in front of such backdrops, ones in which the natural environment would also be revealed: a celebrated postcard shows the image of a seated woman as her husband, whose rear head is evident, holds against his own back the cloth in front of which she sits.
The consistent financial staple of Oumar Ly's work was the production in his studio of portraits for identity cards. Evincing his sense of humour, these would be taken against painted canvases of a departing Boeing 747; the plane's arrival in Mecca; and a palm-fringed beach.
Following the publication in Belgium in 2009 of Portraits de Brousse, recognition came to the photographer. The next year Ly was featured in Brighton's Photo Biennial; and there were further exhibitions in Dakar, Bamako, Paris and Lyons. Last November he was a jury member at the documentary film festival in Saint-Louis, Senegal's second city. "Oumar Ly is a very important person for Senegal," said Baaba Maal.
Oumar Ly, photographer: born Podor, Senegal 1943; died Podor 29 February 2016.
Register for free to continue reading
Registration is a free and easy way to support our truly independent journalism
By registering, you will also enjoy limited access to Premium articles, exclusive newsletters, commenting, and virtual events with our leading journalists
Already have an account? sign in
Register for free to continue reading
Registration is a free and easy way to support our truly independent journalism
By registering, you will also enjoy limited access to Premium articles, exclusive newsletters, commenting, and virtual events with our leading journalists
Already have an account? sign in
Join our new commenting forum
Join thought-provoking conversations, follow other Independent readers and see their replies