Pat Eddery: Champion jockey regarded by many, including his peers, as one of the greatest in the history of his sport
Eddery was at the top of his game for nearly 30 years and had 4,633 domestic winners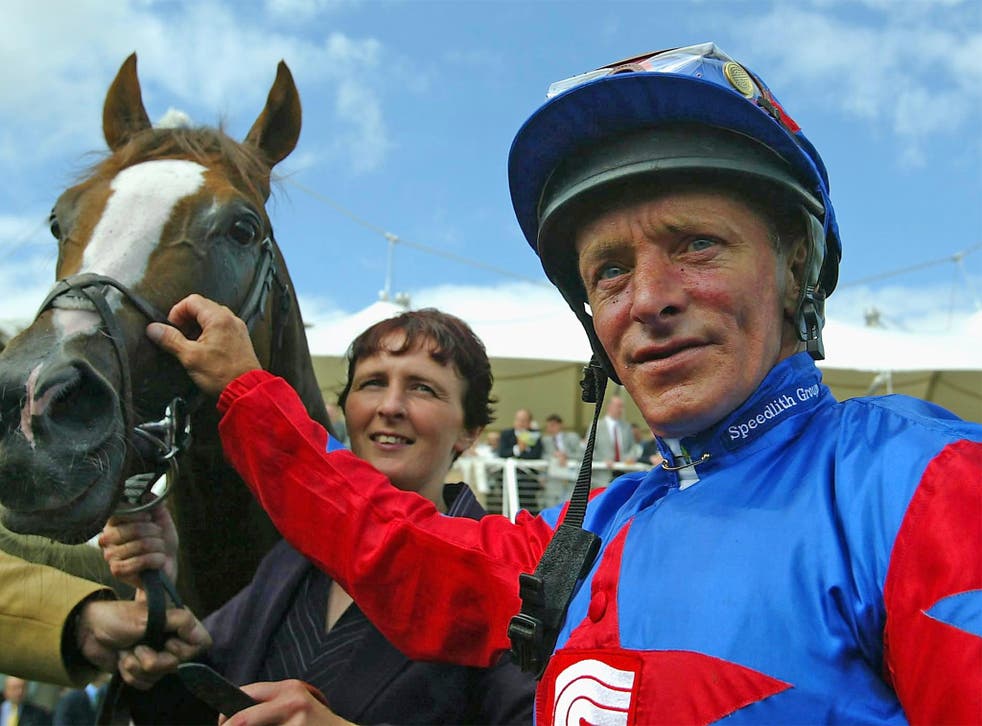 Anyone with any sporting soul who was at Ascot on 26 July 1975 or at Longchamp on 5 October 1986 can count themselves fortunate. They will have seen, and been emotionally rocked by, two of the great horse races of the 20th century – or indeed any other century.
In the former, the King George VI & Queen Elizabeth Diamond Stakes, the Derby winner Grundy mastered his top-class older rival Bustino, who had had the assistance of two pacemakers, by half a length after a sustained blow-for-blow, head-to-head duel the full length of the straight. In the latter, the Prix de l'Arc de Triomphe, the magnificent Dancing Brave came from nearly last place with an electrifying burst of acceleration down the centre of the track, sweeping imperiously past the five Group 1 winners who had been fighting it out, as if they were standing still.
Two masterclasses of jockeyship, with the common factor the man in the saddle, Pat Eddery. Those races were 11 years apart, but then Eddery – who has died after suffering a heart attack at the age of 63 – was at the top of his game for nearly 30.
In what was a golden age for riders – weighing-room rivals included Lester Piggott, Steve Cauthen, Willie Carson and Joe Mercer – he was champion 11 times, equalling Piggott. Over his 36-year career he had 4,633 domestic winners, putting him behind only Sir Gordon Richards (4,870) on the all-time list, and more than 6,000 worldwide. He recorded a century of winners 28 times, a British record, and achieved the rare enough feat of seven winners in a day, at Newmarket and Newcastle in June 1992.
He won all five of the British Classics at least once each – the first the 1974 Oaks on Polygamy, the last the 1997 St Leger on Silver Patriarch – for a total of 14 that includes three Derbys, in 1975 on Grundy, in 1982 on Golden Fleece, and in 1990 on Quest For Fame. He won the Arc four times, on Detroit in 1980, then three in a row on Rainbow Quest, Dancing Brave and Trempolino, and four Irish Derbys, on Grundy, El Gran Senor (1984), Law Society (1985), and Commander In Chief (1993).
The statistics are impressive, but behind them were qualities more difficult to measure. As a tactician he was masterful and versatile, rarely in the wrong place, and he saw opportunities to find the right position in a field that others did not; he soon earned the nickname "Polyfilla" because he could go into any gap. His style, a vigorous bumping action, was not conventional, and once prompted a US commentator, before he knew any better, to say "Ride 'im, cowboy".
Eddery had strength, nerves of steel and an implacable will to win. And, perhaps above all, he had the gift of what is known in the trade as "hands". A rider largely communicates with his mount through the reins, the thin strips of leather linking the metal bit in the equine mouth to the human fingers.
Eddery had exceptional hands, in turn sending messages to settle and calm, or give confidence and inspiration. Horses would run willingly for him – even through the pain barrier, like Grundy that day at Ascot. The acknowledgement from no less than AP McCoy, 20 times jump champion, was simple: "He was a true genius".
Eddery was born in 1952 in Dublin into an Irish racing family, the sixth of 13 children. By the age of eight he was riding racehorses at the Leopardstown stables of Seamus McGrath – where his father Jimmy, a successful jockey and winner of an Irish Derby, was attached – and at 14, when he could officially leave school, took up his apprenticeship.
The saddle was Eddery's natural habitat, which he knew early in his life. "I was not a self-confident child," he once said. "But on horseback I was instilled with a confidence and self-belief I never felt at other times."
He had to wait 18 months for his first race-ride with McGrath, which proved inauspicious, last of seven at the Curragh in August 1967. A move to England soon followed, to Cheltenham-based Frenchie Nicholson, who was renowned not only for his tutelage of young jockeys, but the harshness of their regime. Eddery had his first ride for Nicholson in March 1968, but his first winner did not come until April 1969, on Alvaro at Epsom.
His slow start in the business was soon forgotten as his talent, allowing for the youthful inexperience and impetuosity that brought a series of bans, became apparent. He was runner-up for the apprentice title in 1970, won it the following year, and in 1974, by then riding for the powerful Peter Walwyn stable, won his first senior title, making him the youngest champion since Richards in 1925 and the quickest of any to bridge the gap from leading apprentice to leading jockey.
Through his career, Eddery secured some of the most coveted jobs in his sport, with the biggest names. His eight-year association with Walwyn brought him four championships in a row and his partnership with Grundy, whose victory in the Irish Derby came 20 years after his father had won on Panaslipper.
His next retainer involved a move back to Ireland, where he replaced Piggott (who had transferred to Henry Cecil's yard) at Vincent O'Brien's Ballydoyle. For that powerhouse, with Robert Sangster then involved, Eddery's first major strike was the Arc on Detroit, and other prestige prizes came on the likes of Storm Bird, Lomond, El Gran Senor, Caerleon, Law Society and Golden Fleece.
During that time he won the 1982 Irish jockeys' title and also notched major prizes for "outside" stables, including another of his celebrated victories, on the Clive Brittain-trained, Sheikh Mohammed-owned Pebbles in the Breeders' Cup Turf at Aqueduct in New York. Rounding the final tight turn, Eddery sent "England's superfilly" through an almost impossible gap on the rails, and after she burst clear judged her reserves to perfection to repel Strawberry Road.
Then came perhaps Eddery's most successful partnership of all, his eight years as first jockey for Khaled Abdullah, whose Juddmonte racing and breeding empire was starting to establish itself as one of the best. The Saudi prince's horses were (and are) based in many different stables; the best that Eddery rode in the pink and green silks most famously carried lately by Frankel include Rainbow Quest, Zafonic and, of course, Dancing Brave.
Self-critically, he felt he had led too soon on the latter when pushed to less than a length by Shardari in the King George, and terrified the colt's trainer, Guy Harwood, with the announcement of his race tactics before the Arc. "I'll wait," he said, "and then I'll wait a bit longer. I'll be the last to challenge, you'll see." His unflappable, ultra-cool running produced a sight none who saw it will forget.
As a freelance, Eddery took his final title in 1996, the year he won the 1,000 Guineas on Bosra Sham the Oaks on Lady Carla, both for Cecil. His final Classic victory, on Silver Patriarch, came for another major supporter, John Dunlop, as did his last winner Spotlight, in November 2003.
Eddery, awarded an honorary OBE in 2005, was loyal, generous, easy-going and grounded, and a remarkable natural horseman, but his second career, as a trainer at stables near Aylesbury, reached nothing like the heights of his first; he had one top-level success, with Hearts Of Fire in Italy. He had only one winner this year, the last of just 117, and his final runner finished last at Chelmsford on Saturday. For several years he had suffered personal problems – his marriage, which produced three children, ended in 2009 – and frail health, exacerbated by alcoholism.
As a rider, there had been no showboating, just total professionalism and a contented knowledge of his own abilities. He never really came to terms with life out of the saddle, but in it he had few peers.
SUE MONTGOMERY
Patrick James John Eddery, jockey and trainer: born Dublin 18 March 1952; honorary OBE 2005; married 1978 Carolyn Mercer (divorced 2009; two daughters, one son); died 10 November 2015.
Register for free to continue reading
Registration is a free and easy way to support our truly independent journalism
By registering, you will also enjoy limited access to Premium articles, exclusive newsletters, commenting, and virtual events with our leading journalists
Already have an account? sign in
Register for free to continue reading
Registration is a free and easy way to support our truly independent journalism
By registering, you will also enjoy limited access to Premium articles, exclusive newsletters, commenting, and virtual events with our leading journalists
Already have an account? sign in
Join our new commenting forum
Join thought-provoking conversations, follow other Independent readers and see their replies