Pat Halcox: Trumpeter with the Chris Barber Band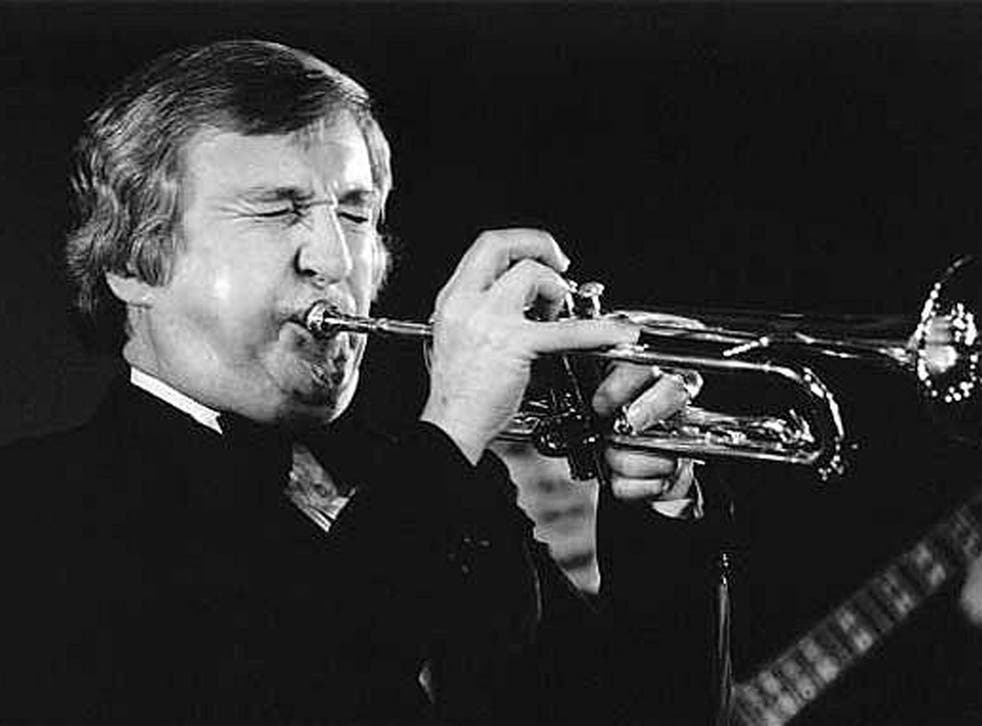 Between 1954 and 2008, the trumpeter Pat Halcox played over 10,000 performances with Chris Barber's Jazz and Blues Band. His farewell tour ended the longest partnership in jazz; at nearly 80 years old, Halcox had finally tired of the travelling.
Pat Halcox was born in Chelsea in 1930 – and his parents thought that he might be a childhood prodigy, as he was playing the piano from the age of four. He stopped a few years later, but he returned to the instrument in 1945. He played boogie woogie and formed a makeshift jazz band with his friend Mick Mulligan.
Halcox was conscripted in 1948 and was asked to play trombone in an RAF band. No sooner had he learnt the instrument than he was switched to trumpet. He was to cite his influences as Muggsy Spanier, Tommy Ladnier and Louis Armstrong.
In 1950, Halcox worked in a laboratory and studied for a degree in chemistry, save for the evenings when he was playing with Colin Kingwell and the Brent Valley Stompers. They won a talent contest organised by the detergent Whisk; as a result, they received huge quantities of the product.
In 1952, Halcox joined the Albermarle Jazz Band and they secured a residency at the White Hart in Southall. Meanwhile, the trombonist Chris Barber and the clarinetist Monty Sunshine were forming their own professional group and wanted Halcox on trumpet. A club session in Soho in December went well, but Halcox's parents persuaded him to stick with his studies.
Barber and Sunshine had a prickly relationship with their trumpeter, Ken Colyer. Halcox was impressed by their performances, but in May 1954 the whole band deserted Colyer – and this time Halcox was ready to join. Even then he planned to play for a couple of years to get it out of his system and then become a research scientist.
Having a strong business sense, Barber was an excellent bandleader. Halcox told me, "The whole basis of jazz is that the collective thing is bigger than any individual; and even though Chris is the bandleader and makes the final decisions, he does give everybody the chance to express themselves. I don't think I'd have been in the band so long if I hadn't had that chance."
Many American artists toured the UK with the band, including Muddy Waters, Sonny Terry and Brownie McGhee and Sister Rosetta Tharpe. Recordings of these artists with the band have been released, and one of Halcox's favourite albums was Take Me Back to New Orleans (1980), which the Barber band made with Dr John.
The 1950s albums that the Barber band made for Decca and Pye have been reissued many times. They include New Orleans Joys (1954), Echoes of Harlem (1955) and several "in concert" albums. Halcox has notable solos on "Bugle Boy March" and "You Took Advantage of Me" (both 1958).
Halcox only played a minor role on the band's biggest success, "Petite Fleur" (1959). "I turned the amplifier up for the guitar solo. Monty was playing in this rather weird key of B flat minor. We later found that his record player had been running fast and Sidney Bechet's original recording was really in A Minor."
The triumvirate of Barber, Bilk and Ball led the Trad boom, but Halcox could see it wouldn't last. "The Trad boom made us more popular certainly, but it led to a proliferation of bad bands. More and more clubs were opening and the craze more or less killed itself as the clubs were hiring those bad bands."
The band played on the soundtracks of Look Back in Anger (1959) and The Loneliness of the Long Distance Runner (1962) and are featured in It's Trad, Dad! (1962). The same year, they also played in a jazz concert in Washington for President Kennedy.
The Barber band maintained an astonishing workload and Halcox would even guest with other bands on nights off. In 1977, when Barber took a summer break, Halcox formed his own All Star Band and continued this for several summers. He undertook cruise work and played on sessions, notably Elton John's album A Single Man (1978). Another passion in Halcox's life was photography and his work is in many of the band's programmes.
Halcox was an affable, friendly man, always willing to help up-and-coming musicians. Indeed, many of the current Barber band acknowledge their debt to him. He said, "I always did it for the music. It was much more important than the money."
Pat Halcox, trumpeter: born Chelsea 18 March 1930; married (one son); died 5 February 2013.
Join our new commenting forum
Join thought-provoking conversations, follow other Independent readers and see their replies