Patricia Medina: Actress who found fame in Hollywood as a siren in costume dramas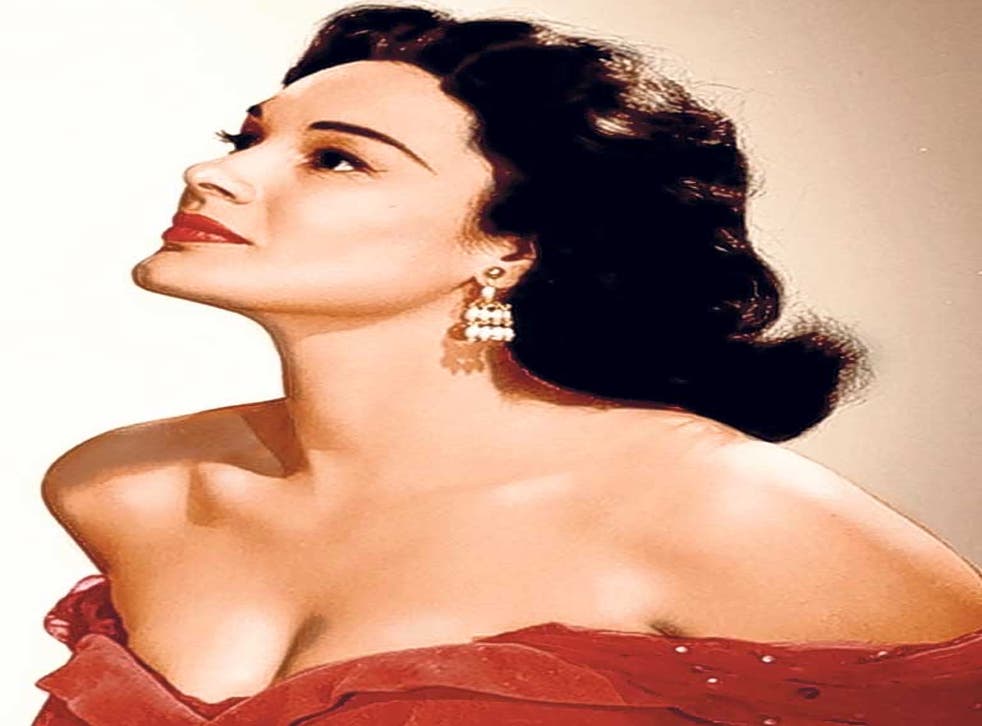 The actress Patricia Medina was a beautiful brunette whose striking features were ideally suited to costume melodrama. British-born, she had a modest career in the UK before moving to Hollywood with her first husband, the actor Richard Greene. Though she played leading lady to such stars as Douglas Fairbanks Jr and Alan Ladd, she never attained major-star status, though she was a spirited performer and voluptuous siren in several swashbucklers and occasionally revealed a latent flair for comedy. Her second husband was another actor, Joseph Cotten, whose prolific career included Citizen Kane, Shadow of a Doubt, Duel in the Sun and The Third Man, and theirs was considered one of Hollywood's happiest marriages, lasting until his death in 1995.
The middle sister of three, Patricia Medina was born in Liverpool in 1918 to a British mother and Spanish father, Laureano Medina, a grandee and barrister who also sang in opera under the name Nevotti. She was educated at Tolmers Park, an exclusive boarding school in Hertfordshire, but spent the summers abroad with her parents, who would let out their large house in Stanmore (complete with stables).
One of their lessees was film producer Joe Rock, who had a studio in Elstree, and he told them that Patricia's looks would be ideal for the screen. A test at the studio led to her film debut with a one-line role in Dinner at the Ritz (1937) starring David Niven. She played her first leading role, in Simply Terrific (1938) starring Claude Hulbert, and followed it with the espionage thriller Secret Journey (1939).
The fine wartime drama The Day Will Dawn (1942), in which she played a Norwegian girl, and They Met in the Dark (1943) with James Mason, followed her marriage to Greene, who was under contract to 20th Century-Fox in Hollywood. He had returned to the UK to fulfil military duties during the Second World War, though hearing difficulties eventually freed him, and he starred with Medina in the engagingly quirky comedy satirising British tradition, Don't Take It To Heart (1944). Medina supported James Mason again in the thriller Hotel Reserve (1944) and played a flirtatious Viennese in the operetta Waltz Time (1945).
Greene was then summoned back to Hollywood, where Medina was tested by MGM and given a role in the psychological drama The Secret Heart (1946), starring Claudette Colbert, whom she described as "the kindest movie star I ever worked with", followed by the part of the maid, Kitty, in The Three Musketeers (1948) with Gene Kelly and Lana Turner. She left the studio to appear with Douglas Fairbanks Jnr (and husband Greene as a villain) in a light-hearted Napoleonic tale of derring-do, The Fighting O'Flynn (1949).
Greene was also having problems with his career (he found his greatest fame starring as Robin Hood on British television), and the marriage foundered. "We were both so young," Medina was to confess. "We were a nice, handsome couple who should have been brother and sister." They were divorced in 1951, a year after Medina starred in Fortunes of Captain Blood, as the first of several swashbuckler heroines with which she would become identified. The Lady and the Bandit (1951), The Lady in the Iron Mask (1952), Captain Pirate (1952) and Pirates of Tripoli (1955) were others, plus such exotica as The Magic Carpet (1951) and Siren of Bagdad (1953).
She also was a droll comic foil in Abbott and Costello in The Foreign Legion and opposite Donald O'Connor in Francis (both 1950), in both of which she played a voluptuous French spy. She supported Alan Ladd and James Mason in Botany Bay (1953) and the following year she returned to the UK to appear opposite Ladd again in the Viking adventure, The Black Knight. She was the heroine who inspires love in a professor, a crazed scientist and an ape in a 3-D version of Edgar Allan Poe's The Phantom of the Rue Morgue (1954), and the following year she had a rewarding role in Orson Welles' troubled production, Mr Arkadin (aka Confidential Report) – later she was to call Welles the greatest director she worked with. "He reached right inside an actor, discovered what they could do best, and then made them do it better."
Medina and Joseph Cotten (a widower) married in 1960 at the home of their close friends, the producer David O Selznick and actress Jennifer Jones. They were described by the reporter Vernon Scott as "a curious pair. She is a vivacious extrovert, Cotten a gentlemanly Virginian, a quiet, considerate man".
Medina was a deliciously wicked Queen in Snow White and the Three Stooges (1961), with skating star Carol Heiss as her daughter, but roles were scarce in the 1960s, and her last notable role was that of a dominatrix in Robert Aldrich's overwrought transcription of the stage hit The Killing of Sister George (1968). She made her Broadway debut with Cotten in 1962, starring in the thriller Calculated Risk. The couple did much stage work, including a successful tour of The Reluctant Debutante, and Medina spent several months as a regular panellist on the British version of the television show What's My Line?
In 1981 Cotten had a massive stroke, and later he developed throat cancer. Medina nursed him through the years until his death in 1995. In her autobiography, Laid Back in Hollywood (1998), she wrote, "All of these years later, I ponder and wonder why I didn't become a bigger star. The only blame was mine, my stupidity. Since the start I had always wanted to play comedy parts, and not until many years later and on the stage did I play comedy successfully. In movies, I was never offered anything but sexy bad girls."
Patricia Medina, actress: born Liverpool 11 November 1918; married 1941 Richard Greene (divorced 1951), 1960 Joseph Cotton (died 1995); died Los Angeles 28 April 2012.
Register for free to continue reading
Registration is a free and easy way to support our truly independent journalism
By registering, you will also enjoy limited access to Premium articles, exclusive newsletters, commenting, and virtual events with our leading journalists
Already have an account? sign in
Register for free to continue reading
Registration is a free and easy way to support our truly independent journalism
By registering, you will also enjoy limited access to Premium articles, exclusive newsletters, commenting, and virtual events with our leading journalists
Already have an account? sign in
Join our new commenting forum
Join thought-provoking conversations, follow other Independent readers and see their replies