Patricia Neal: American actress and former wife of Roald Dahl who won an Oscar for her performance in 'Hud'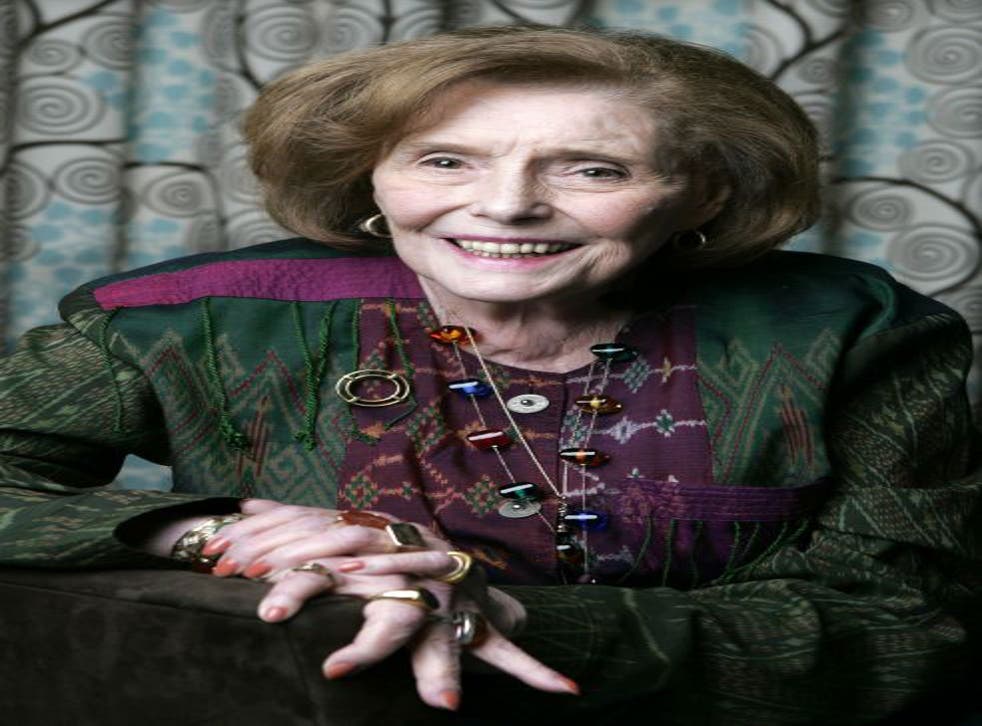 Patricia Neal's career started on a high and she won an Oscar for Hud. Later, despite being buffeted by tragedies, including failed love affairs, the death of a young daughter, a nervous breakdown and a series of strokes, she repeatedly returned to the screen – and set up a world-class facility for the care of stroke victims
Initially from Kentucky, Neal's family moved to Knoxville, Tennessee and she studied drama at Northwestern University, Illinois. Moving to New York to become an actress, she understudied on the hit play The Voice of the Turtle. Her first proper role was as Regina, the daughter of an amoral Alabama dynasty in the long-running Broadway production of Lillian Hellman's Another Part of the Forest (1946-47). Neal won a Tony – the first year they were awarded – though Ann Blyth took her role in the 1948 film version. Neal regularly appeared in the Tony's telecast until she was the last surviving winner from the first year.
Other Broadway appearances included Hellman's The Children's Hour (1952) and The Miracle Worker (1959) – although again she did not transfer to the film versions – and A Roomful of Roses (1955).
Nevertheless, Neal entered the film industry at the top, with three starring roles in 1949. In John Loves Mary she played Ronald Reagan's fiancé. Based on a Broadway play, it was one of a number of post-war dramas about returning soldiers, though this one took a more comedic view, including a green-card marriage. The following year (as often happened at the time) it was adapted for radio, and Neal and Reagan reprised their roles for both the Lux Radio Theater and the Camel Screen Guild Theater. Neal also starred in Lux's radio version of One Sunday Afternoon.
Again opposite Reagan and again in a post-war drama, The Hasty Heart (1949) saw Neal as a nurse caring for a man who doesn't know that he is fatally wounded.
In the same year, she also starred in King Vidor's delirious adaptation of The Fountainhead, Ayn Rand's great statement of Objectivism. Howard Roark (Gary Cooper) is an architect – modelled on Frank Lloyd Wright – who refuses to compromise even the smallest detail of his vision. When one of his buildings is altered without his permission, he dynamites it rather than see his work traduced. Neal played Dominique Francon, a woman so intensely attracted to Roark's uncompromising manliness that she almost begs him to rape her. The film is heavy with the scent of hyperventilating romance and violent sex: we first see Cooper in a quarry, stripped to the waist, personally drilling the rocks he has chosen for his building. The broad-brush ideology, elemental imagery and striking, modernist compositions left little room for subtle performances, but both Cooper and Neal stood up well.
Meanwhile, art bled into life and Cooper and Neal began a romance. Cooper, 25 years Neal's senior, was a notorious womaniser, and when his wife discovered the affair, she demanded that it end. Cooper acceded and persuaded Neal, who was pregnant, to have an abortion. Even so, the Coopers temporarily separated and Neal later had a nervous breakdown.
As a recognised romantic lead, Neal played a seductress in the noir The Breaking Point (1950), Michael Curtiz's adaptation of Hemingway's To Have and Have Not, though in The Day the Earth Stood Still (1951) she played a widow who befriends the alien Klaatu (Michael Rennie) who comes to try to persuade earthlings to live in peace.
In 1951 Neal met Roald Dahl at a supper party held by Lillian Hellman. Despite ignoring Neal throughout supper, Dahl rang a couple of days later and, when rebuffed, a couple of days later again. In 1953 they were married. In 1955, they had their first child, Olivia, and Tessa followed in 1957.
That year, Neal starred in Elia Kazan's A Face in the Crowd, playing a radio producer who discovers a country and western singer. Having made him famous, she is revolted by his cynical approach to his career and after being betrayed, decides to destroy him.
In 1960 Neal and Dahl's first son, Theo, was born – but at four months he was almost killed when a taxi hit his push-chair, leaving him brain-damaged. In 1962 personal tragedy struck again, when Olivia contracted measles and died, aged seven.
In 1961, Neal had appeared in the classic Breakfast at Tiffany's, playing Emily Eustace Failenson who, from her first names, is known as E. In 1962, after the death of Olivia, Arthur Penn made a film version of his Broadway production of The Miracle Worker – but, unsurprisingly, Neal was in no fit state to play Helen Keller's mother, Kate, and was replaced by Inga Swenson.
However, in 1963 she starred opposite Paul Newman in Hud, playing Alma, the housekeeper of Homer, a strictly principled Texan rancher, his hedonistic and amorally callous son, Hud, and Hud's gentle teenage nephew, Lonnie. When the drunken Hud attempts to rape Alma, Lonnie's admiration for his uncle is shattered. Both leave the ranch and Homer dies, leaving Hud alone but, apparently, unconcerned. Neal's dignified forbearance brought her an Oscar. In 1965 she added a BAFTA for In Harm's Way, in which she played the divorcee lover of a naval captain (John Wayne).
But in February 1965 she had a series of strokes so serious that Variety magazine prematurely reported her death. Neal was pregnant, and although she had been in a coma for several weeks, her daughter Lucy was safely born. She went on to recover using a rehabilitation regime devised by Dahl and, following her experiences, she set up the Patricia Neal Rehabilitation Centre in Knoxville and worked tirelessly to support its work.
Nevertheless, she felt unable to take on large roles for a while, and turned down the part of Mrs Robinson in The Graduate (1967), leaving it clear for her old friend Anne Bancroft.
Her return to the screen came in 1968 in The Subject Was Roses, yet another post-war drama, in which a soldier struggles to come to terms with his parents' deteriorating marriage. As the mother, Neal struggled to remember some of the longer speeches – but it was her eventual success that convinced her that she could return to acting. Though Ulu Grosbard had directed the Broadway production, this was his first film and the critics were generally cool. Despite this, Neal was seen as the film's highlight and she was Oscar-nominated.
The Night Digger (1971), a perverse love story, proved something of a departure for Neal. Two sisters, "one of them blind – the other, broken", live in a mansion that is visited by a young stranger. Adapted by Dahl from Joy Cowley's novel, it is typical of his Gothic sensibility and Neal adds to the powerful mood.
From the 1970s onwards, television increasingly took up her time, though there had already been occasional outings, such as a 1959 BBC production of Clifford Odets' Clash by Night, about the violent outcome of an affair. In 1971 she played the mother in The Homecoming: a Christmas Story, the pilot episode of The Waltons, though Michael Learned took over for the series proper. In 1979 she played the hero's cancer-ridden mother in a TV version of All Quiet on the Western Front.
In 1981's The Patricia Neal Story she and Dahl were portrayed by Glenda Jackson and Dirk Bogarde. Based on Barry Farrell's book Pat and Roald and graced with a cameo by the subject, its "authorised" nature did not detract from its power.
In 1983 Neal and Dahl divorced, after his affair with their friend Felicity Crosland, a set designer whom Neal had met while shooting an advert. She was particularly hurt that it had been going on for over a decade with their children's knowledge.
Though her work-rate naturally slowed, Neal continued to appear on screen, often in significant roles, though the title role in Robert Altman's 1999 suicide-comedy Cookie's Fortune was her last major one. After the short trans-generational female drama For the Love of May (2000), her last credit was Flying By (2009), about a property developer facing a midlife crisis.
Having overcome the strokes, Neal succumbed to lung cancer. At times she likened her life to a Greek tragedy and in 1988 wrote an autobiography, As I Am, and, unsurprisingly given the trials she had survived, identified stubbornness as one of her qualities. But, despite all the sadness, she remained positive and, close to death, told her family: "I've had a lovely time."
Patsy (Patricia) Louise Neal, actress: born Packard, Kentucky 20 January 1926; married 1953 Roald Dahl (divorced 1983, four daughters, one son); died Edgartown, Massachusetts 8 August 2010.
Register for free to continue reading
Registration is a free and easy way to support our truly independent journalism
By registering, you will also enjoy limited access to Premium articles, exclusive newsletters, commenting, and virtual events with our leading journalists
Already have an account? sign in
Register for free to continue reading
Registration is a free and easy way to support our truly independent journalism
By registering, you will also enjoy limited access to Premium articles, exclusive newsletters, commenting, and virtual events with our leading journalists
Already have an account? sign in
Join our new commenting forum
Join thought-provoking conversations, follow other Independent readers and see their replies